The Untold Truth Of Once Upon A Time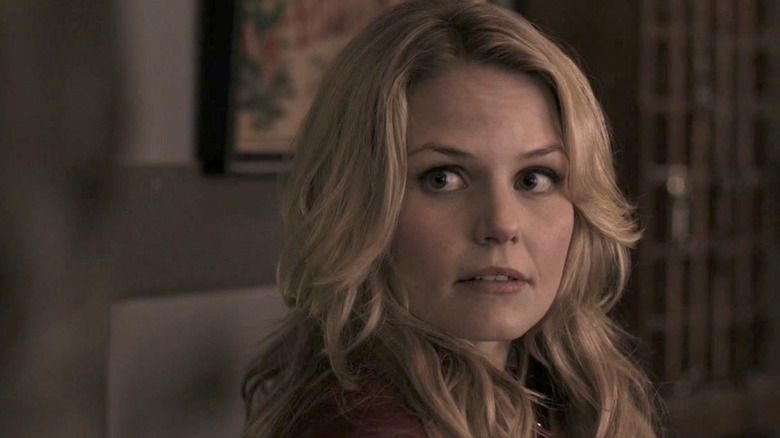 YouTube
Seven magical seasons into the hit ABC series Once Upon a Time (or OUAT, for short), fans have become accustomed to spontaneous revelations and secrets materializing seemingly out of thin air. The characters that inhabit the mystical town of Storybrooke, Maine — and the realms beyond — are nothing if not full of surprises. 
What fans may not realize, though, is that there are just as many unexpected things happening behind the scenes of the otherworldly series. From unhappy departures to filming inconsistencies, there's much more than meets the eye to OUAT. Spoilers ahead.
The time on the clock tower is an Easter egg for Lost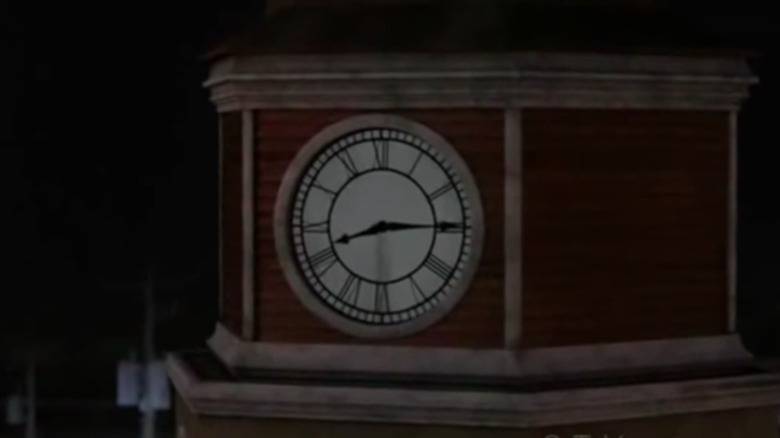 YouTube
In OUAT's pilot episode, viewers follow Emma Swan's journey to the small town of Storybrooke, Maine after being tracked down by the biological son she gave up for adoption. That son, Henry, explains to an incredulous Emma that the people of the town are all fairy tale characters who've been placed under a curse that keeps them from remembering who they are. At the crux of Henry's seemingly tall-tale is the town clock tower, which has been stuck at 8:15 as long as anyone can remember — until, that is, Emma moves to town and the clock once again begins to work. 
From the start, fans of the show began to speculate about the significance of the time. Why was the clock stuck at 8:15 for 28 years? What happened at 8:15? Well, according to co-producer Edward Kitsis, it had little to do with the residents of Storybrooke and everything to do with another show Kitsis and co-producer Adam Horowitz worked on: Lost. "We just can't help ourselves," Kitsis told Entertainment Weekly of programming the clock time as a reference to the island mystery's Oceanic Flight 815. 
Ariel and Emma Swan are BFFs in real life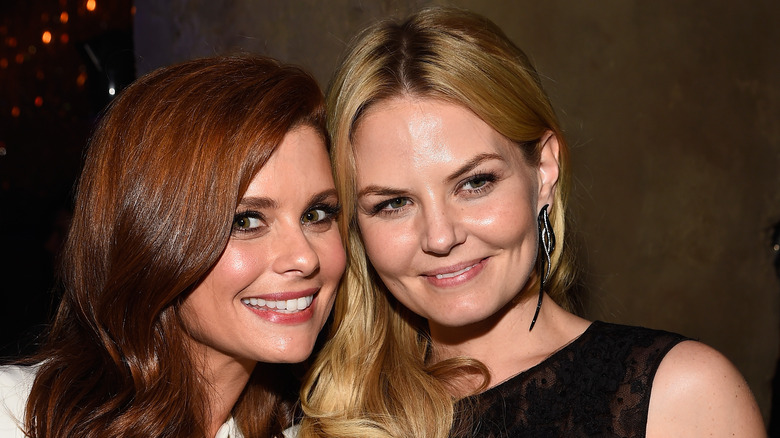 Getty Images
When JoAnna Garcia joined the cast as Ariel, it wasn't just getting to play every little girl's favorite mermaid that had the former Reba star stoked. In an interview with TVLine, Garcia revealed she had an ulterior motive in accepting the role — getting to spend time with one of her best friends 
"She's one of my closest girlfriends, yeah," Garcia said of Jennifer Morrison, who plays Emma Swan. "She was at my wedding, and at every big monumental moment in my life, and I think she's so fantastic. One of the reasons I watched the [Once Upon a Time] pilot is because I watch everything that my girlfriends do, and I was like, 'Whoa, this is spectacular.' I instantly became a fan, so I was excited to be able to do this!" 
Jennifer Morrison's favorite scene as Emma was…
After six seasons in Storybrooke, Jennifer Morrison announced she would not be returning for the magical series' seventh season. Citing her hectic network schedule for the past 13 years on shows like OUAT and House, Morrison explained that she simply wanted the chance to spend more time with loved ones and to pursue other creative opportunities. But when asked by Deadline about her favorite moment as Emma Swan, Morrison was happy to reflect. 
"It was definitely very special to do the musical episode and have Emma marry Hook in it. I think it was such a beautiful culmination of her journey," Morrison said of season six's "The Song in Your Heart" episode. She continued, "The scene in the Mayor's office where she realizes that song would unleash some power in her to be able to fight the final battle and to have strength against the Black Fairy — I really saw that as her true, true transition from the ugly duckling into the swan, her final step of really embracing who she truly is and truly embracing the power that she has within her. I thought the song was beautiful, I loved that scene, and then I also really loved the wedding scene." 
There was drama with Robin Hood's fate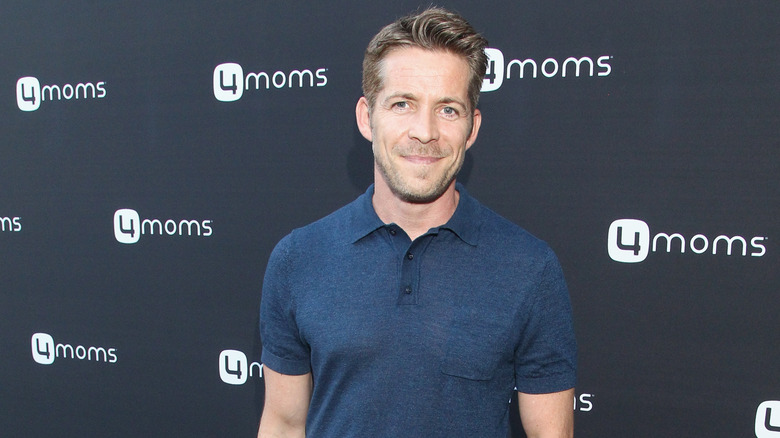 Getty Images
Uh oh! Despite Sean Maguire being a fan favorite on OUAT, it would seem things were not all good in the (Robin) Hood. After being killed off on season five's penultimate episode, Maguire — the man who brought the mythical benevolent thief to Storybrooke — didn't mince words about his disappointment over his character's fate. In short, Robin Hood sacrificed himself for the woman he loved, Regina. However, Maguire told The Hollywood Reporter that he wasn't expecting the fictional couple's love story to end as it did. 
"They told me in January, and I was surprised, because the way the writing had gone had alluded to Robin and Regina being soul mates, as I've often said, hope and a happy ending. But in this character's case, that wasn't going to be the way it was going to go," he revealed. Maguire went on to emphasize that he wasn't happy with Robin Hood's untimely demise, saying, "I felt like it was an abrupt end; I didn't feel like the character had any development this year and wasn't really written for. That was disappointing for people who liked Robin Hood and liked him and Regina together." 
Producers feared Ginnifer Goodwin would quit her first day
It's hard to imagine the first season of OUAT without the seminal scene when Snow White is awakened from her poison apple slumber by Prince Charming's kiss. But that was precisely what co-producers Kitsis and Horowitz feared — that Ginnifer Goodwin would quit her first day on set and the scene would never transpire. Why? Well, they didn't exactly ease Goodwin into filming. 
"We decided that the coffin would be a hollowed-out tree. We really hollowed out a tree. We were two hours away, there was no cell service, it was snowing, and we brought Ginny out in that gown,"  Kitsis told Entertainment Weekly
, explaining that they had written the part specifically for Goodwin after watching her in Big Love. "We brought her out to the set and there she sees she has to be in this dress in the cold getting snowed on and lay in this hollowed-out tree trunk. She has this look on her face. She goes, 'Is that the coffin?' and we said, 'Yes.' Inside, I'm like, 'Oh God, this is going to be a problem.' We were like, 'Yeah, what do you think?' She just looked at it and goes, 'F***ing awesome.'"
Regina's shoes "magically" change throughout episodes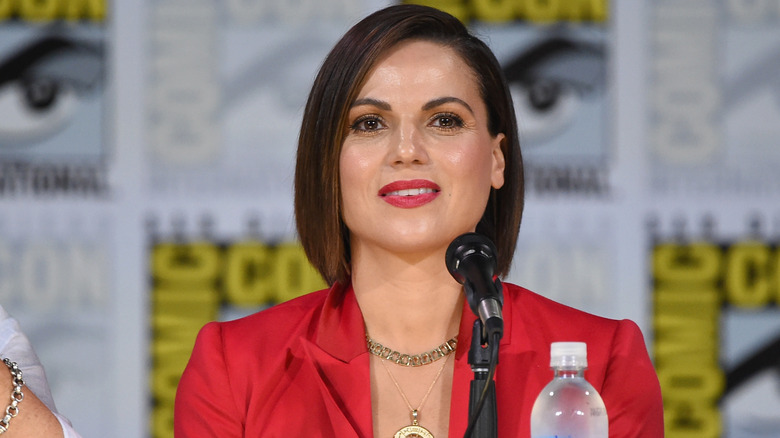 Getty Images
If you've been looking for a solid excuse to binge-watch OUAT from the beginning, here's one: Regina's shoes. Discussing the show's seventh season reboot with Moviefone, actress Lana Parrilla divulged a fun (and funny) fact about the fickle queen's footwear. The revelation slipped out when Parrilla was asked about her character's wardrobe, and she quickly confessed of Regina's transition from mayoral chic to biker chick, "I do not miss running in the forest in heels!" 
When prompted to further elaborate on Regina's shoes, Parrilla made a comical confession. "Oh, I've said, 'We've got to change these shoes. No more running in the forest.' If you actually watch the last six years, you can see our continuity is all over the place. I'm in heels, and then I'm in high boots, and then I'm in rubber boots. It rains all the time," she said. As for how they intended to explain away this inexplicable parade of footwear should an eagle-eyed viewer take offense, Parrilla shared, "And then our excuse is we're magical. We can make anything happen, we just change our shoes." 
Lana Parrilla has an out-of-this-world idea for Regina's next love interest
Poor Regina, she just can't seem to catch a break when it comes to love — unless her heart breaking counts, of course. After losing another soulmate with the death of Robin Hood, Regina once again became a single woman in mourning. If actress Lana Parrilla has anything to do with it, though, her character would have a new love interest that is, ahem, memorable, to say the least. 
Chatting with Gold Derby, Parrilla suggested, "I think we should somehow incorporate Star Wars [in Season 7]. I would say Darth Vader would probably be a better love interest for the Evil Queen, but now she's taken!" Even if the infamous intergalactic dark lord doesn't make the cut romantically, Parrilla thinks he'd make an excellent foe. "It would just be fun to sort of battle him. I've seen crazy fan art with the Evil Queen versus Darth Vader and they're both holding light sabers — I just love that!" she gushed.
Ginnifer Goodwin has an ironic (yet fitting) tattoo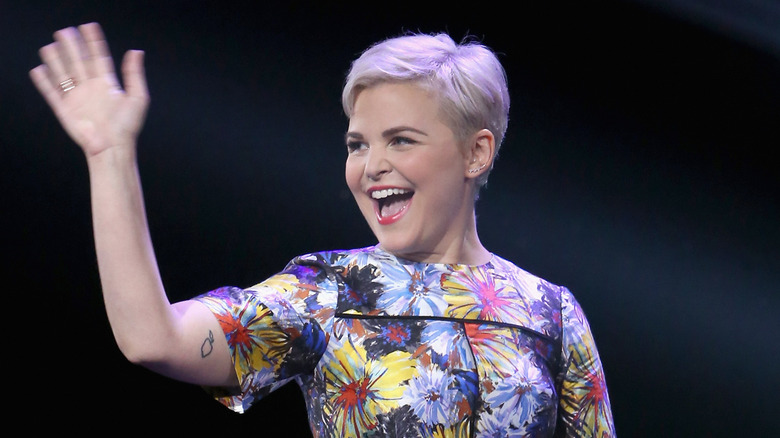 Getty Images
Snow White has an understandable aversion to apples, given she was put into a poison-induced coma with one. And Snow's Storybrooke alter-ego, Mary Margaret, starts the season with a true distaste for the fruit, although she doesn't quite know why. Then there is Ginnifer Goodwin, who brings both personas to life. She likes apples so much she got a tattoo of one on her inner arm. 
"To me, apples symbolize wisdom and purity, but I love the thought that the apple is something Snow White uses as a symbol of survival. This is the thing she overcame. It's like a reminder to her," Goodwin told Movieweb. It's unclear whether Goodwin got the tattoo before or after landing her role in OUAT, but it certainly makes a poetic choice either way. 
Rumpelstiltskin gets his fair share of young fans, too
Hey, bad guys need love, too! Besides, Rumpelstiltskin (a.k.a. Mr. Gold) isn't always bad. He's had more than his fair share of redeeming moments, so it's no wonder actor Robert Carlyle receives quite a bit of fanfare over his character. Of course, Rumple's relationship with the lovely Belle doesn't hurt his street cred. "There's some kind of community that has gathered, and the notion of Beauty and the Beast is a big thing for them — that anyone is capable of love and being loved," Carlyle told Herald Scotland. 
Carlyle also shared an anecdote about a run-in with two fans far outside of his typical demographic. "The other day I went to the Glasgow Art School degree show and, when I was coming out, two wee girls who were about eight years old came up to get a photograph taken with their dad," Carlyle shared. "Those girls don't know Trainspotting or any of those things. They know Rumpelstiltskin." 
A pop star almost played the Blue Fairy
Based on a character from Disney's Pinocchio, the Blue Fairy flits around granting the wishes of those with pure hearts. She played a central role in the first season, in that she told Snow White the magic tree could only protect one person (baby Emma) as opposed to two (baby Emma and Snow). Still, despite being a tiny fibber at times, the Blue Fairy is a pretty fabulous character. 
Although the part is played in the show by Keegan Connor Tracy, the role was very nearly filled by a monster — Mother Monster, to be precise. At New York City Comic Con, co-producer Kitsis revealed that the writers really wanted pop superstar Lady Gaga to play the Blue Fairy. They even enlisted the help of the head of ABC Music to try to reach out to Gaga's manager. Alas, Mother Monster could not honor the commitment. Perhaps there is still hope for a Gaga cameo on OUAT, though, as Kitsis says "the invitation stands."
Rebecca Mader channeled being bullied as a child into her wicked vibes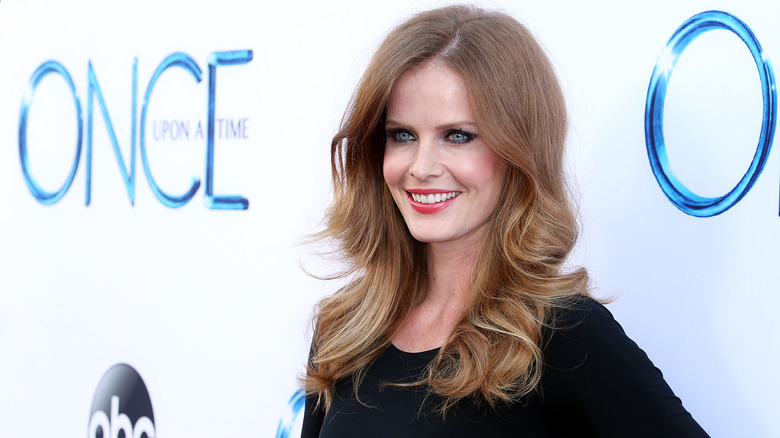 Getty Images
If Rebecca Mader seems especially convincing as Zelena the Wicked Witch, there's a good reason. The actress digs deep into real-life pain from her past in order to amplify Zelena's anger and angst. 
"I was bullied a lot growing up from the age of 4 to 14, and that was some really yummy stuff I was able to use for this character. It was really cathartic," Mader explained to Den of Geek. When asked why she was a target, Mader revealed a surprising truth. 
"In England, it's really not cool to have red hair and so I was bullied for my hair, and I have been this tall since I was 11 — I was the person that was the tallest in my year — and I was heavier and had acne on my chest and back. Girls would pick on me and have a boy come kick me at lunchtime. I had a difficult time at school and I'm grateful for it, because if I had grown up a pretty, skinny girl at school, I would have become a different person," she said, before adding, "I think I had to develop different aspects of my personality: I developed a sense of humor, I worked really hard at school, and I became a more well-rounded person. And I think it's made me a better actor." 
It really was love at first sight for Ginnifer Goodwin and Josh Dallas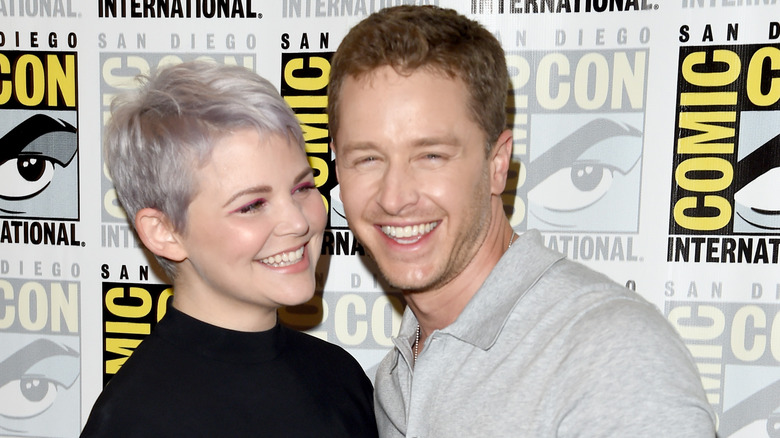 Getty Images
Just when you thought real-life husband and wife Ginnifer Goodwin and Josh Dallas couldn't get any cuter, consider this: their love story is every bit as fairy-tale-like as their onscreen counterparts, Snow White and Prince Charming. In fact, you could say theirs is even more so, as Dallas says it was pretty much love at first sight for the now happily married couple — and we all know it took Snow a minute to warm up to Charming in OUAT. 
"I think falling in love is always a surprise, right?" Dallas told People of meeting and falling for Goodwin on set. "It hit me like a blinding light. I thought, 'I'm in trouble now.'" Dallas further confessed he had never fallen so hard and so fast for anyone in his entire life, and he "would like to think she felt exactly the same way." 
Dallas and Goodwin married on April 12, 2014 after a relatively brief engagement of around six months. At the time of their wedding, Goodwin was pregnant with the couple's first child, son Oliver Finlay, whom they welcomed a month after their big day. In June 2016, their precious family expanded again with the addition of little brother Hugo Wilson.