Why A Forgotten Moment Between The Queen And Prince William Has Everyone In Tears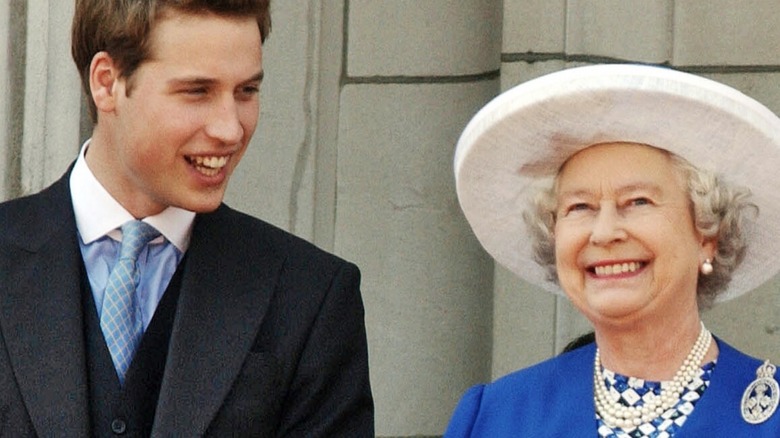 Anwar Hussein/Getty Images
On Saturday, September 10, the next generation of royals greeted members of the public outside the Windsor estate. William, Prince of Wales, and Catherine, Princess of Wales, were joined by Prince Harry, Duke of Sussex, and Meghan Markle, Duchess of Sussex, as they remembered the former monarch Queen Elizabeth II and thanked the public for their support during this difficult time of grief.
It was the first time the four had been seen together in quite some time, with many royal watchers noting how the death of their grandmother united Harry and William in grief. The two brothers shared a close bond with their grandmother, who would be instrumental in shielding a young William and Harry when their mother, Princess Diana, suddenly died in 1997 (via YouTube).
Their bond was unwavering, and Elizabeth adored watching her two grandsons grow into the men they are today — especially regarding their military careers.
Prince William couldn't keep a straight face during this encounter with the queen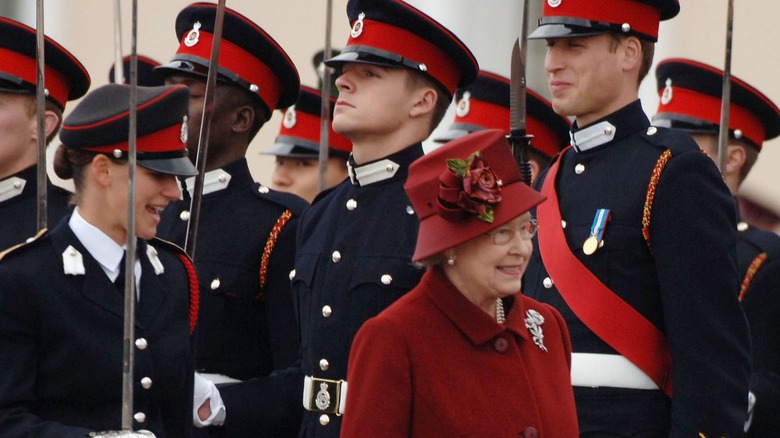 Anwar Hussein/Getty Images
When William, Prince of Wales, graduated from the University of St Andrews in 2005, he soon began his military career (via Forces.net). He joined the Royal Military Academy Sandhurst that same year, graduating as a British Army officer in December 2006. Standing alongside other military school graduates, he partook in a parade that just so happened to be inspected by his grandmother, Queen Elizabeth II (via CBS News).
Following the queen's death, a video of their adorable interaction on that day resurfaced. As the queen reached her grandson, she stopped directly in front of him, causing William to crack into a smile as they said something to one another. While it's hard to tell what words were exactly exchanged, a Twitter user suggested that the queen asked William his "rank," to which he replied, "Wales, his surname."
The former monarch had a similar interaction with Prince Harry, Duke of Sussex, during a the same ceremony in April 2006, which saw Harry break out into a similar grin as his grandmother approached (via BBC News).
Prince William and Prince Harry adored their grandmother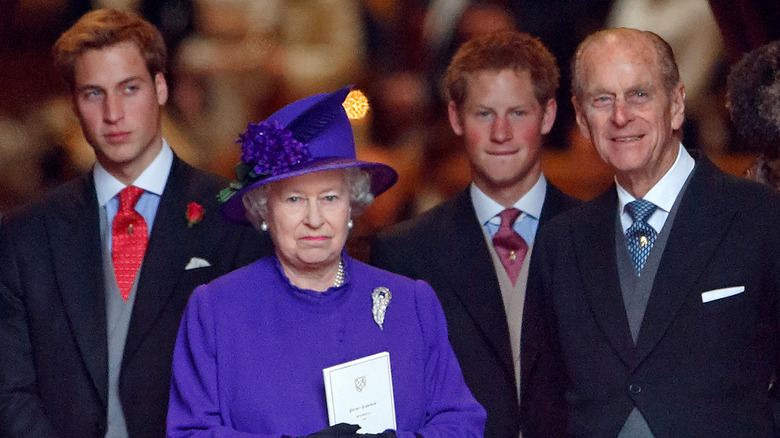 Max Mumby/indigo/Getty Images
Queen Elizabeth II was obviously incredibly proud of her two grandsons, and they were equally in awe of her. "Growing up and having this figurehead, this stability above me, had been incredible," William, Prince of Wales, said of his grandmother during an ITV special for her 90th birthday (via Metro). "She's been so supportive and I really appreciate her guidance. But she has never dictated what we should do. So I've been able to explore, understand and carve my own path." He also considered her to be "a very strong female influence" in his life, particularly after the loss of his mother. "She understood some of the more complex issues when you lose a loved one," he explained. "Having lost my mother at a young age, it's been particularly important to me that I've had somebody like the queen to look up to."
In the same documentary, Prince Harry, Duke of Sussex, explained that while she was his grandmother first and foremost, he still viewed her "more as the queen" (via Hello! Magazine). Through his service in the military, Harry viewed her as his boss first and foremost, "but occasionally as a grandmother," he added.