The Best-Dressed Stars At The 2022 Emmy Awards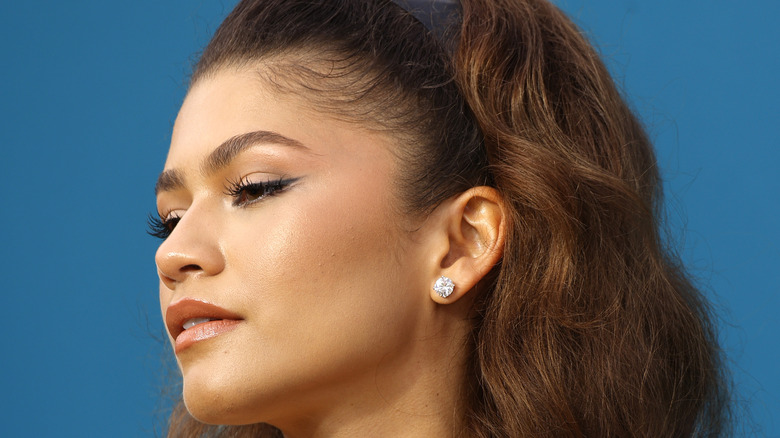 Frazer Harrison/Getty Images
Stars, stars, stars as far as the eye could see were flaunting their fashions on the 2022 Emmys red carpet. From Alexandra Daddario to Laura Linney and from Hannah Waddingham to Issa Rae, the actors who walked the carpet on September 12th did not disappoint fans, dressed in Versace, Dolce and more. 
As far as trends, we felt it was all about individuality. Unlike past years where we might have seen a ton of black dresses or all-white looks, this year it seemed like every star who walked onto the red carpet was dressed in their own personal best. From coral to bright yellow (wow Geena Davis) and from skin-tone simplicity to sparkly metallics, the queens of TV brought their self-expression to the Emmys and we aren't mad at it. 
Read on for our picks for the gowns that got our attention and had us cheering for our favorites right from the couch.
Britt Lower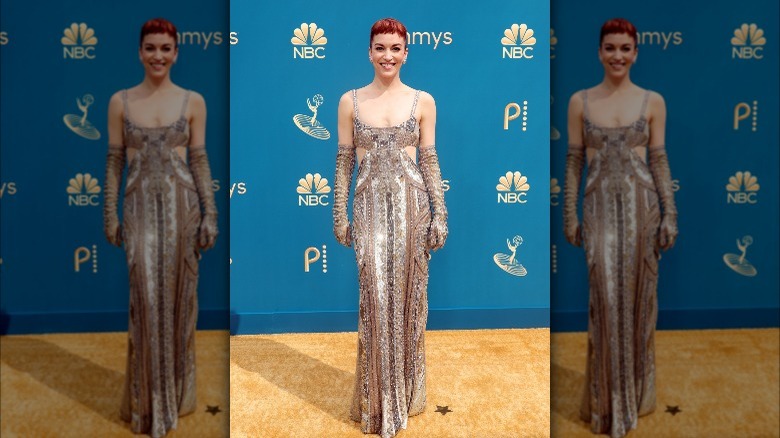 Momodu Mansaray/Getty Images
"Severance" star Britt Lower served up bold, geometric beauty from head to toe with a body-hugging metallic gown featuring gloves that looked both futuristic and fabulous. And those choppy, short bangs? Lower can pull anything off, clearly, and we love her for it.
Laura Linney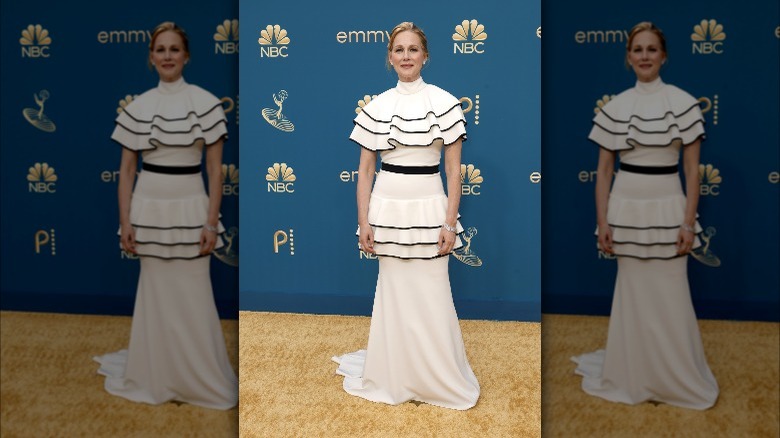 Frazer Harrison/Getty Images
Layered, lovely, Laura Linney. The "Ozark" actress was a vision in a black-and-white tiered gown that fit her like a glove. Whether she wins or loses tonight, Linney already deserves a statue for best dressed.
Connie Britton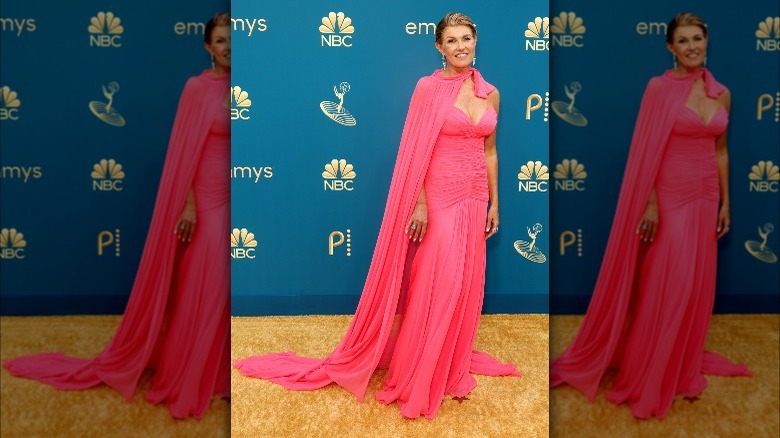 Momodu Mansaray/Getty Images
"The White Lotus" actress Connie Britton chose a lovely and fresh-hued coral Monique Lhuillier gown for the 2022 Emmys that featured a stunning, flowing cape and had us feeling grown-up Little Red Riding Hood vibes — if the fairytale character went to a beach in Hawaii perhaps.
Elle Fanning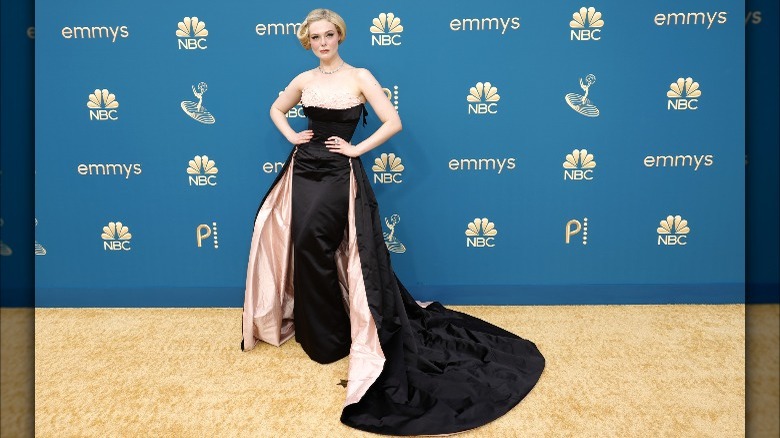 Frazer Harrison/Getty Images
Elle Fanning looked simply regal in a black-and-soft-pink sleeveless gown with floral detailing and a jaw-dropping skirt that looked so elegant, she could have worn it to the Oscars. But as Fanning said on the E! red carpet pre-show, this occasion marked her first Emmys so she went all out. Mission accomplished!
Alexandra Daddario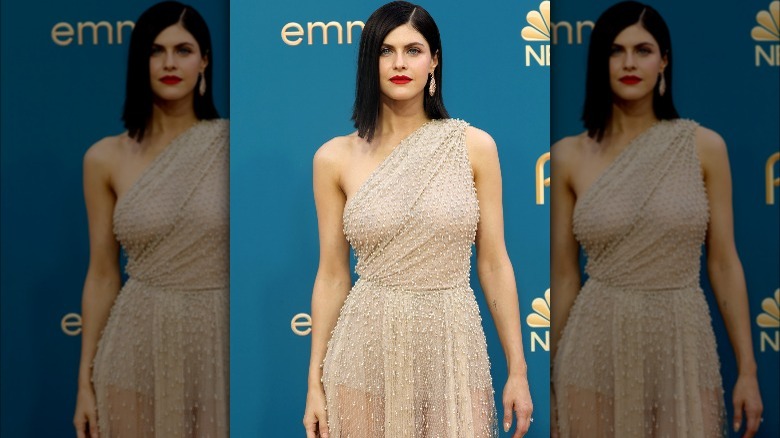 Momodu Mansaray/Getty Images
The "most understated look that we love" award goes to Alexandra Daddario. The hand-beaded, skin-toned gown was the only one "The White Lotus" star tried on as she shared on the E! pre-show and we can see why. The simple hair and makeup complemented the stunning look perfectly.
Hannah Waddingham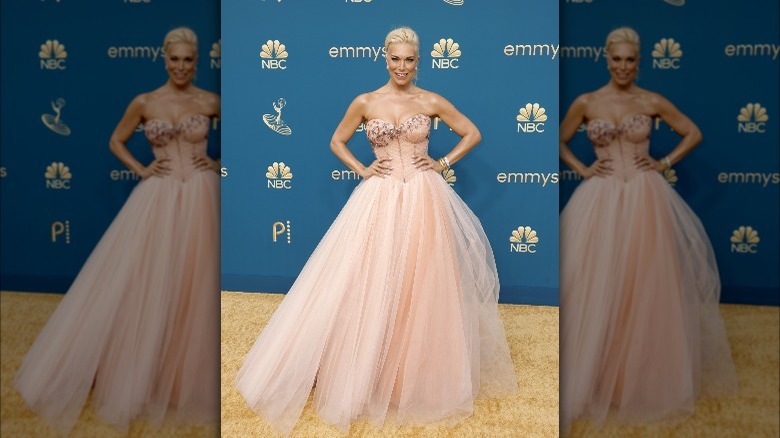 Frazer Harrison/Getty Images
Hannah Waddingham, who took home an Emmy for Best Actress last year, was the princess of the show this year in a Dolce & Gabbana pink confection fit for royalty. She paired the glam look with sparkling high-top sneakers, which only makes us love this "Ted Lasso" star more than we already did — if that was even possible.
Kerry Washington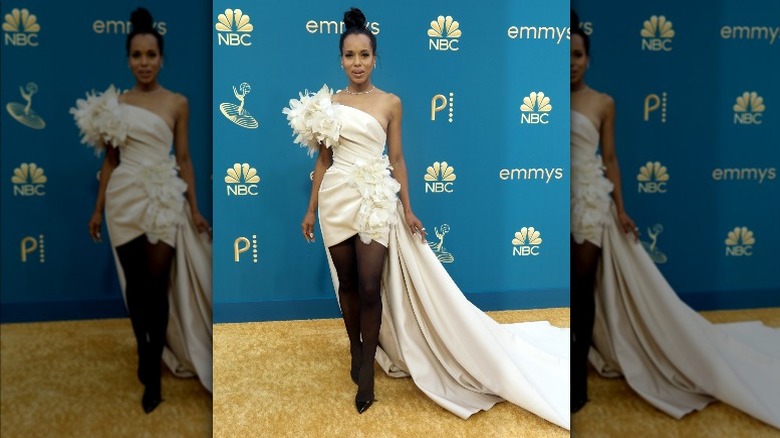 Momodu Mansaray/Getty Images
Oh yes she did! Kerry Washington paired a white, 1980s-style mini-dress with black pantyhose and we are over-the-top obsessed. Kerry, you are a fashion queen and we love you endlessly. By the way, we are going to copy this look ASAP, or at least the next time we're invited to the Emmys.
Lily James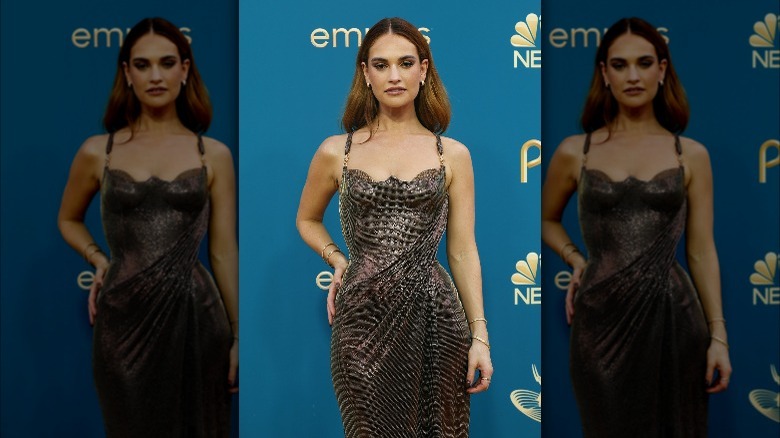 Momodu Mansaray/Getty Images
Lily James, on hand due to her performance in "Pam & Tommy" was wrapped in a Versace, copper-toned dress that literally matched her hair color and made such a powerful statement on the Emmys red carpet.
Jean Smart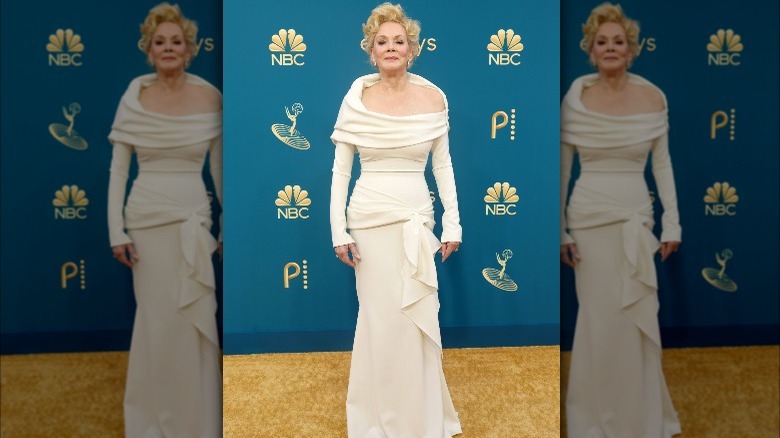 Momodu Mansaray/Getty Images
Jean Smart looked sexy and elegant in a very-flattering, long-sleeved white gown designed by Christian Siriano. The "Hacks" star proved tonight that you can look incredible at any age.
Sydney Sweeney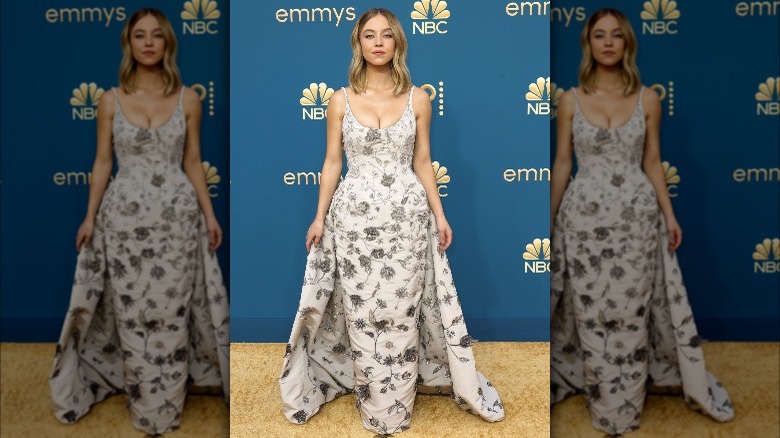 Frazer Harrison/Getty Images
Sydney Sweeney represented "Euphoria" and "The White Lotus" and high fashion when she stepped out on the 2022 Emmys red carpet. Her sophisticated floral gown was seriously Academy Awards-worthy, but we'll totally take it on TV's biggest night.
Rhea Seehorn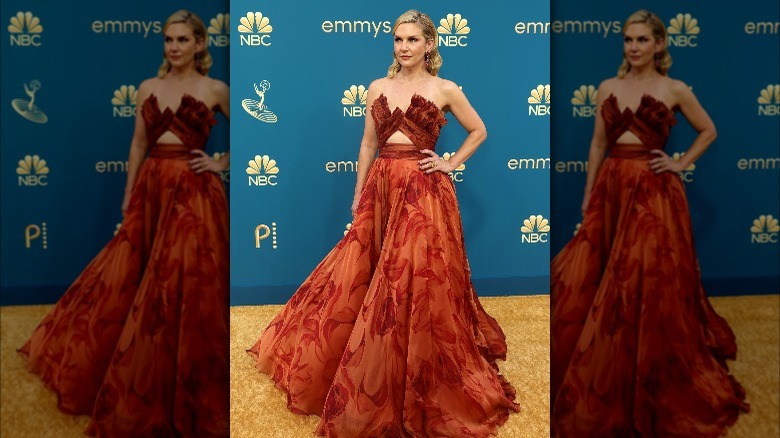 Momodu Mansaray/Getty Images
Rhea Seehorn from "Better Call Saul" slayed in a copper-colored ball gown with a skirt that featured a floral motif and a top with eyelash detailing that made our jaws hit the floor. Kim Wexler, you go girl! 
Zendaya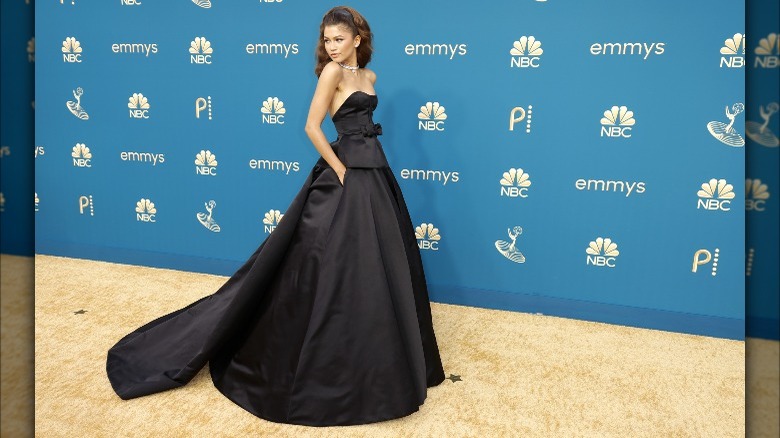 Frazer Harrison/Getty Images
Zendaya, stop it. You are such a diva tonight that we can barely stand it. How impossibly chic, how incredibly stunning you are! We are obsessed with every detail of this gown, from the pockets, to the bow at the waist, to the voluminous skirt. Zendaya, you stole the show.
Amanda Seyfried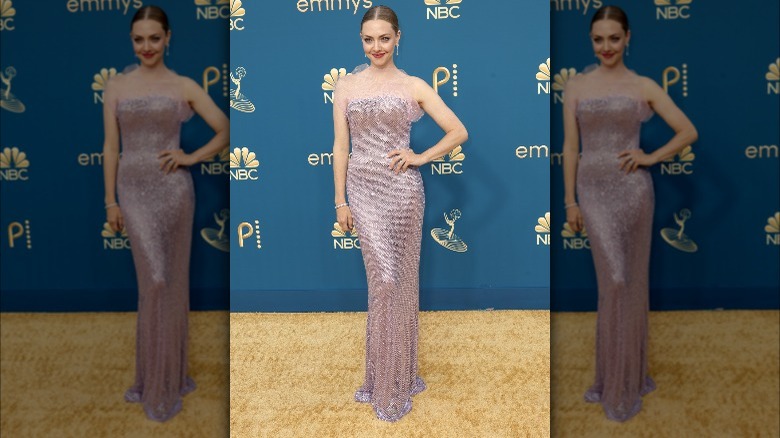 Frazer Harrison/Getty Images
Here's hoping Amanda Seyfried doesn't "Dropout" out of the fashion high she is on tonight. The sparkling, body-hugging gown the actress donned on the Emmys red carpet was a breath of fresh air given its mermaid-like neckline detailing and eye-catching pink hue. Seriously, this look is so good, it could even make fetch happen.
Issa Rae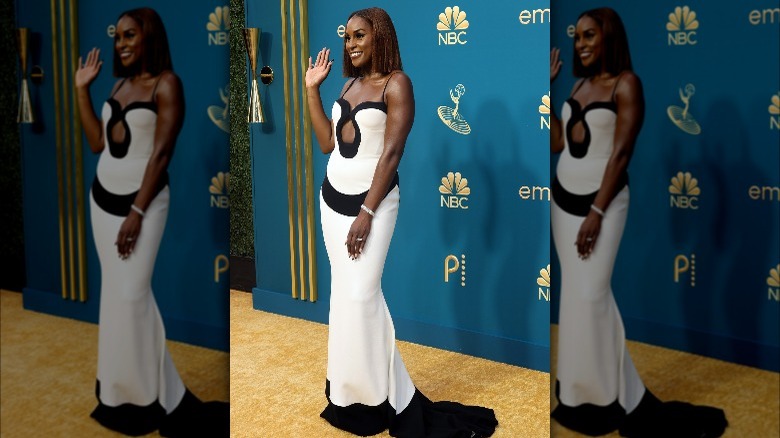 Momodu Mansaray/Getty Images
Issa Rae was on hand to represent "Insecure" for the last time, but her fashion is here to stay. The crisp, black-and-white gown was simple yet elegant and looked like it was made for the star, whose easy hair and makeup were the perfect finishing touches.