Carmen Rene Opens Up About Her Work As A Body Acceptance Advocate - Exclusive Interview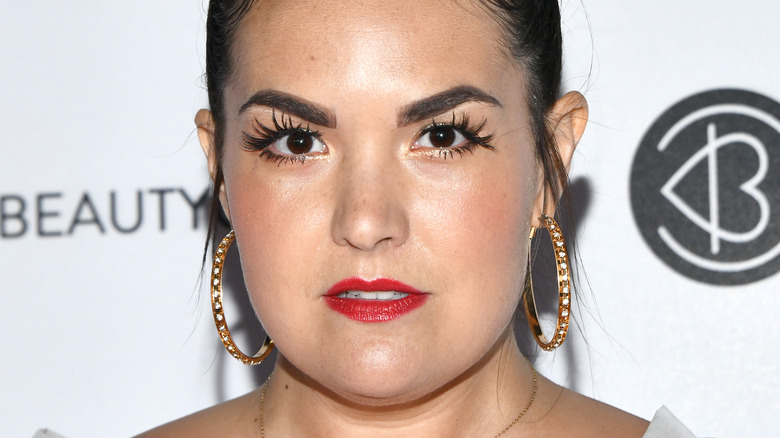 Araya Doheny/Getty Images
Carmen Rene is a body positivity advocate and brand ambassador for Shapermint, an online marketplace for shapewear brands that are size inclusive and prioritize comfort and confidence. It only takes checking out her Instagram, @eatthecaketoo, to see Rene's passion for body acceptance as she raises awareness for her own co-occurring conditions, lipedema and lymphedema. 
As Rene shared with fans in a video, lipedema is a buildup of fatty tissue, potentially due to hormonal changes (per Vein Health). Secondary lymphedema results from interference with the lymphatic system, and it is a condition in which the lymphatic system is unable to drain fluid, resulting in swelling (per Mayo Clinic).
Per her Instagram post for World Lymphedema Day, Carmen Rene experiences swelling primarily in her legs, arms, and feet. In spite of these challenges, Rene embraces the mantra that "all bodies are good bodies" and even has her own merchandise telling her fans to "take up space." In her exclusive interview with The List, Carmen Rene dished on growing an online community via social media, her mental health journey, and how she celebrates all bodies through her advocacy work.
Social media gave her much-needed community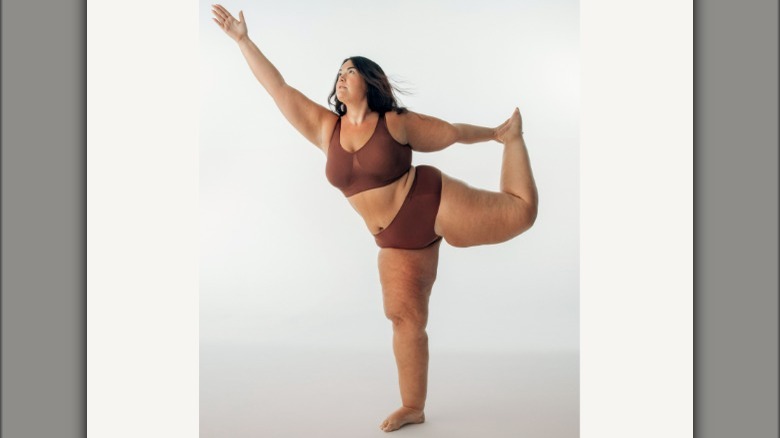 Ashley Batz
What has it been like connecting with others who have primary or secondary lymphedema, either online or through in-person events?
Being a part of the lymphedema community has truly been life-changing for me. Until I started my journey on Instagram, I didn't know anyone else who suffered from this condition. Crazy, right? It is pretty amazing how powerful online communities can be and all of the relationships I have been able to form personally.
Did you ever imagine that you would be able to build community in the way you have via social media?
If I'm being honest, NO! I never imagined the reach I would have or all of the amazing women I'd be able to connect with. Social media can be such a complicated space, but my core community and mission never waver. It is just proof that so many of us are looking for that positive, vulnerable space to feel seen and supported.
I'm obsessed with your Take Up Space merch. What was your journey toward creating your own clothing designs and drawings with body-positive messaging?
Thank you! All of my designs are inspired by lessons or daily affirmations that have helped me along my journey. I am certainly not the first to create designs in the body acceptance space, but I did see a need for more body types to be represented. Through all of my designs, I want women to be able to see a part of themselves and feel celebrated. Take Up Space has been one of my favorites to work on. Each summer, I have updated the bodies to try and incorporate more and more beautiful babes!
She's done making herself small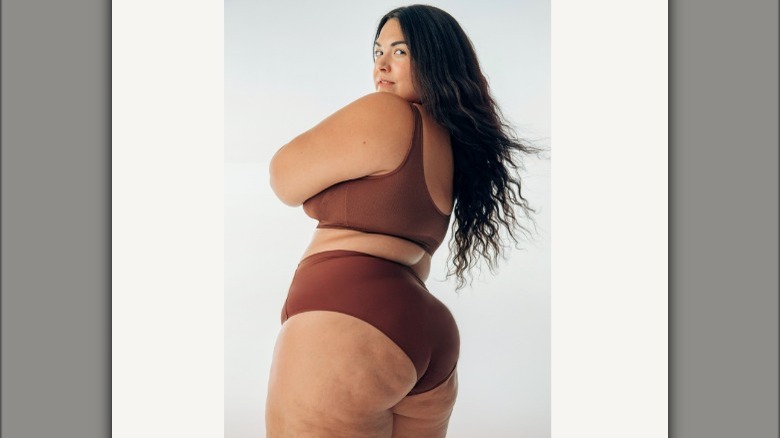 Ashley Batz
How has your partnership with Shapermint changed your perception of shapewear and body-type inclusion in the clothing industry?
The days of restrictive shapewear are over! Or at least they should be. Shapermint products are comfortable and supportive and are the only shapewear products I have ever worn. More importantly, they are really committed to creating a space and brand that encourages us to celebrate our bodies. I started working with them at the beginning of the year, creating body empowerment videos for their Shapermint Club, and was really impressed by their desire to be a positive voice in this space. Through their photo shoots, you can see how important inclusivity is to them, and we need to see more of that in this industry!
How has the concept of taking up space changed your perspective on how women are socialized to take up as little space as possible?
The concept of taking up space is one that a lot of women have to relearn to see as a positive. For me, I remember going through the majority of my life trying to make myself smaller, trying to take up as little space as possible physically and also with my voice in order to avoid unwanted attention on my body. Those days are over! As women, we need the reminder that we are allowed to enter every room with all the power we hold in our beautiful bodies, voices, ideas, and confidence. We do not need to make ourselves small in any way, shape, or form in order to make others comfortable.
Advice for those struggling with mental or physical health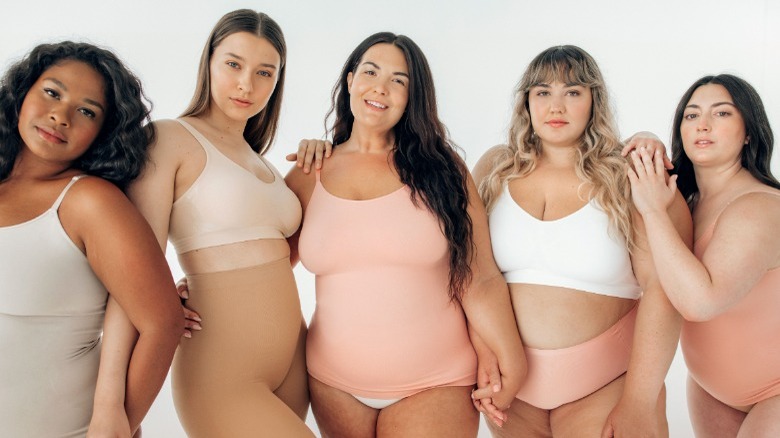 Ashley Batz
What advice do you have for young people first figuring out their lymphedema diagnosis, and what do you wish someone had told you earlier in your journey?
Find your tribe! My hope is that you have a great doctor, but most of us do not have that experience. There are great online groups on Facebook and Instagram that are super supportive and helpful. Ninjas Fighting Lymphedema (@ninjas_fighting_lymphedema) is an organization run by the incredible Amy Rivera (@thisisamyrivera). They offer support in more ways than one, often being able to provide help with compression garments or covering the cost of consultations. I wish someone had told me that I was not alone and shared all of the best ways to manage this condition much earlier in life.
You've talked about your mental health journey on your social media; how do you manage your anxiety while occupying a public-facing position as a body positivity advocate?
Sharing my struggles with mental health has certainly become a large part of my platform. At first, I was very apprehensive to share, but I quickly realized [not only] how therapeutic it is but also [how] extremely important [it is] in destigmatizing mental health. As open as I try to be, I also recognize when my anxiety tells me I need a break. I'm grateful to have such a supportive community that understands and reminds each other that we are not alone.
You've also talked about implementing low-impact exercise and lifestyle changes to manage your lymphedema. What resources have helped you learn how to take care of your lymphatic system, and what would you recommend to others?
Unfortunately, I still have struggled to find solid support from a medical professional in regard to lymphedema. The most useful management tools have come from my own research and the support from the online community. For me, consistent low-impact exercise, an anti-inflammatory diet, compressions, and heavy water intake have been my best management tools. Everyone's journey is different, but we can all benefit from learning from one another.
Shapermint is a community that focuses on body confidence and an online marketplace for size-inclusive intimate apparel.