The Real Reason Prince William And Catherine Middleton Don't Hold Hands In Public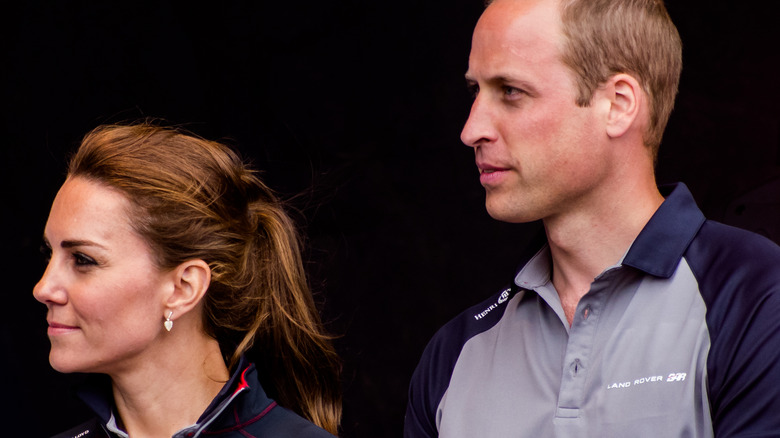 Simev/Shutterstock
Prince William and Catherine Middleton appear to be the perfect royal couple. The Prince and Princess of Wales have been in the spotlight together for more than a decade and have rarely made a misstep when it comes to their reputation. They always seem to know exactly what to do and how to behave in the public eye. 
However, they haven't always followed the rules of the royal family. According to Heart, William and Kate have actually broken royal protocol several times during their relationship, and many may not have noticed. 
One way William and Kate strayed from the rules is when they opted to skip Christmas with the royal family at Sandringham in 2012 and 2016 in favor of spending the day with her side of the family. 
The couple's photo habits also tend to stray from protocol as they've posed for selfies and photos with fans in the past as well as shared candid snaps of their family on social media, per Good to Know.
William and Kate have also broken a major royal family traveling rule by flying together with their children, which negates the rule that senior members of the royal family shouldn't travel together, especially by plane, in case of a tragedy. 
The royals have also been seen sharing some romantic moments in public, but they appear to know when and where to show their affection for each other.
Prince Harry and Meghan Markle were criticized for holding hands while honoring Queen Elizabeth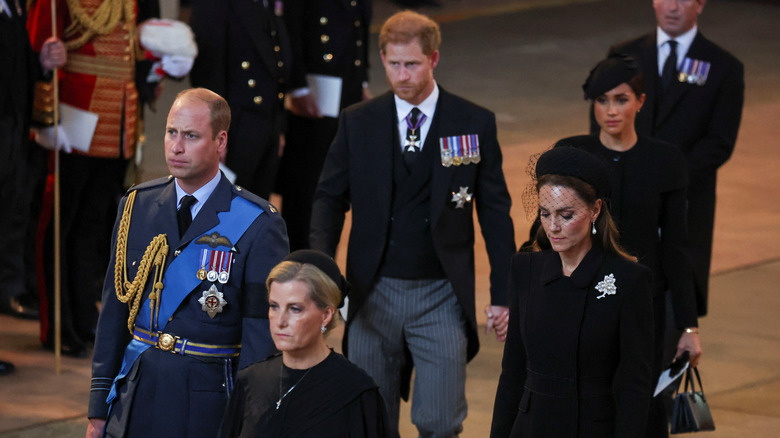 Wpa Pool/Getty Images
Following a service to honor the late Queen Elizabeth II, Prince William and Catherine Middleton were praised for their behavior and stoic response as they left the service side-by-side with somber expressions on their faces, per BuzzFeed News.
However, William's brother, Prince Harry, and his wife, Meghan Markle, were criticized for holding hands while exiting the service. Once fans on social media spotted the Duke and Duchess of Sussex engaged in the public display of affection, many began to speak out in disapproval.
Yet, supporters quickly chimed in to reveal that Zara Tindall, daughter of Anne, Princess Royal, also held hands with her husband, Mike Tindall, following the service. Others also pointed out that, during Prince Philip's funeral in April 2021, Princess Beatrice and her husband, Edoardo Mapelli Mozzi, left the service holding hands (via Insider).
Royal enthusiasts know that Meghan and Harry are often seen holding hands during their public outings and appear to have no qualms about showing affection for each other in front of the cameras. 
However, the Prince and Princess of Wales are much different in that regard, and it's rare that fans see them affectionately touch while performing their royal duties. So, why do William and Kate remain so formal in public?
William and Kate choose not to hold hands in public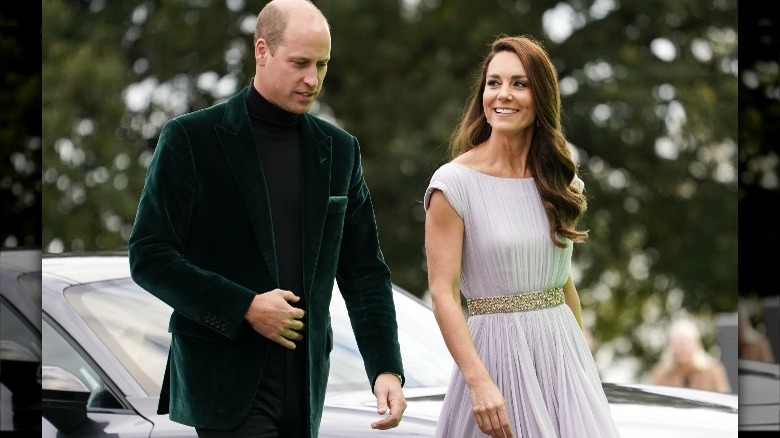 Wpa Pool/Getty Images
According to body language expert Judi James, Prince Wiliam and Catherine Middleton are usually seen walking next to each other in close proximity with their hands at their sides (via Express). While Prince Harry and Meghan Markle like to hold hands during outings, the Prince and Princess of Wales take a different approach, and they know exactly what they're doing. 
"William and Kate's habit of not holding hands in public seems to be based on a conscious decision rather than any aversion to this particular form of PDA," James stated, adding that they've been spotted happily holding hands away from the prying eyes of the cameras in the past. "Their more tactile PDAs include back-touches or placing an arm around each other's waists."
James also revealed that William and Kate likely choose not to hold hands to follow the example of the kings and queens before them, who wouldn't show displays of affection in public (via The U.S. Sun). 
"As future king and queen they will always have been aware of using similar signals to previous wearers of the crown, which entail no hand-holding in public," James said, adding that hand-holding can often portray a youthful stage of a relationship, which William and Kate are certainly no longer in.
While the couple has been known to show some love to each other in the past, it seems that, when officially representing the crown, they like to keep things formal.