How Many Children Does Ivanka Trump Have?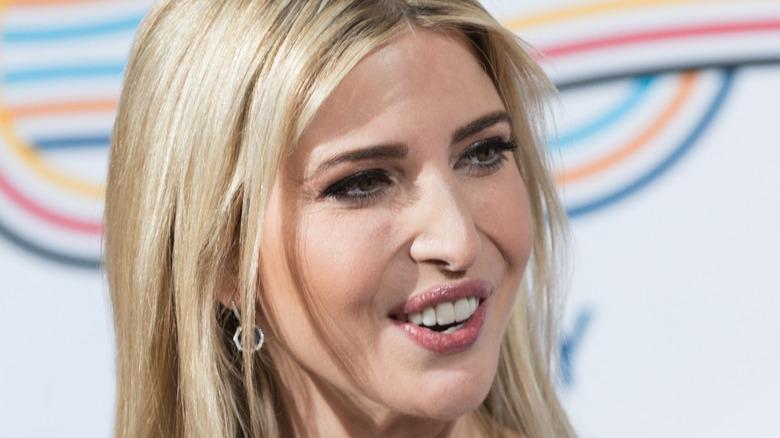 photocosmos1/Shutterstock
Ivanka Trump was born on October 30, 1981, in Manhattan and had a childhood framed by the limelight of famous parents, real estate mogul Donald Trump and socialite-model Ivana Trump, per Biography. But the real estate developer, reality star, and founder of the Ivanka Trump clothing placed herself in the scrutiny of the public eye most when she took up the role of adviser to her father when he became the U.S. president.
From 2017 to 2021, Ivanka and her husband Jared Kushner were senior advisers to the president, according to Business Insider. She and the businessman met when they were 25 at a business lunch in 2007, according to Us Weekly. Trump converted to Orthodox Judaism, which is her husband's faith because Kushner's religious beliefs were important to him. In fact, the couple was briefly separated in 2008 because of religious differences. The pair tied the knot in 2009 and have since become parents — but how many children do they have, exactly?
Ivanka Trump has shared insight into her daily life as a mom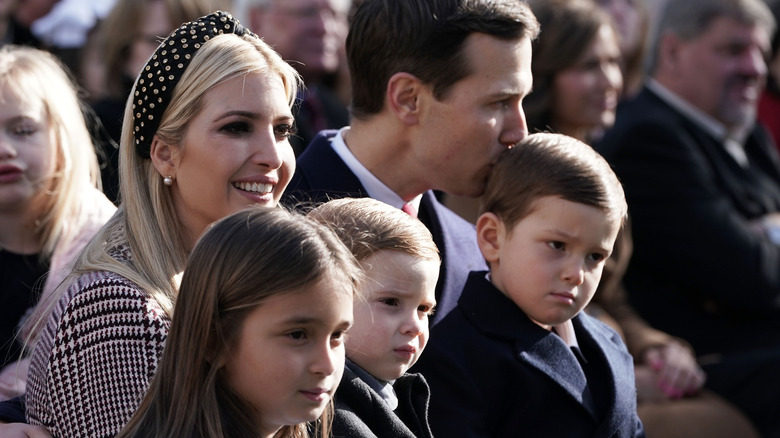 Alex Wong/Getty Images
Ivanka Trump and Jared Kushner have three children. They welcomed their first child, Arabella Rose Kushner, in July 2011, per Us Weekly. Their second child, Joseph Frederick Kushner, arrived in 2013; the boy was named after Kushner's paternal grandfather. Their youngest child was born in December 2016 (in the middle of her father's presidential campaign) and is named Theodore James Kushner.
Speaking to My Morning Routine, Trump offered insight into how she starts her days as a working mom. After waking up at 5:30 a.m., Trump says she typically gets in a workout and/or meditates before her kids wake up at 7. She also revealed that she always gives her kids two choices, so she can "avoid making a big decision out of breakfast": Greek yogurt and berries or "fancy oatmeal." If her kids choose oatmeal, she "gets out all sorts of toppings — chia, berries, flaxseed, goji berries, cinnamon, walnuts, and almonds" —  and her children get to "decorate" their meal.
Although the Kushners have a busy weekday routine, weekends are strictly for family time and unplugging. Trump told Vogue in 2015 that converting to Judaism has been a "great life decision" for her in this way. "I really find that with Judaism, it creates an amazing blueprint for family connectivity." She also told Vogue how the family observes Sabbath. "From Friday to Saturday we don't do anything but hang out with one another. We don't make phone calls."
Ivanka has shared what she's learned from motherhood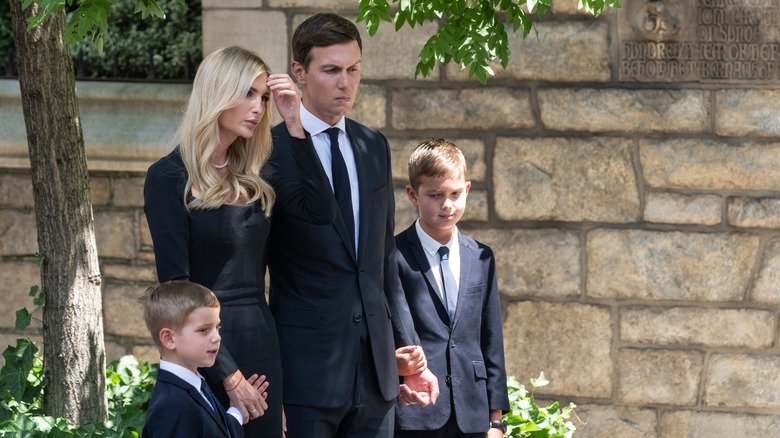 lev Radin/Shutterstock
Ivanka Trump has opened up about the lessons she's learned through parenting. In an article she wrote for Business Insider, she shared how being a mother has made her a better leader. "You can't instruct your children to respect people and have good manners if you yourself don't say 'please' and 'thank you,'" she wrote. "As a leader, you also set the tone."
Furthermore, the mom of three noted that being a caregiver can be an "incredibly demanding job, and it's not always fully appreciated until you've walked that path yourself," per Business Insider. Team-building is yet another lesson Trump has learned from her kids. "My three children have very different personalities, and it's taught me to be much more malleable, in terms of how I treat each one to bring out the best in him or her," she wrote.
Trump has played many roles, from starting off as a model to successfully handling being a businesswoman and mom today. "An important part of parenting is recognizing that life is a marathon, not a sprint," she wrote for Business Insider. "You likely have a big-picture dream of what you hope to accomplish for your children over the long term in order to best position them to enjoy their own happiness, success, and fulfillment. Everything you do funnels into that."