The 70s And 80s Eye Shadow Shade That's Back With A Vengeance In 2022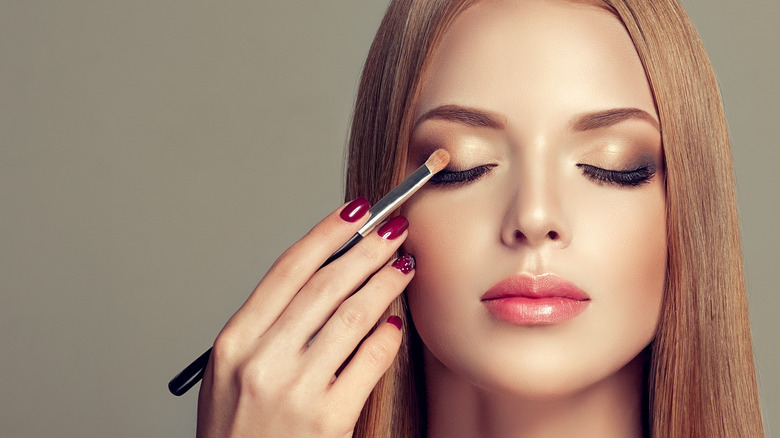 Sofia Zhuravetc/Shutterstock
They say history sometimes repeats itself, and this statement has never been as true as when it comes to the world of fashion and beauty. The 1970s and 1980s were filled with flirty, sky-high hairstyles, blinding neon colors, and good times, and we continue to appreciate those years for all the iconic looks they brought. Popular styles from those decades regularly grace the covers of today's magazines, such as this March 2020 cover of Vogue Spain where Hailey Bieber can be seen giving off serious "flower child" vibes.
People just connect to these decades of genuine self-exploration, writes Newsweek. For people living during the 1980s, the 50s were looked at with the same lens of fond nostalgia. That's why movies like "Grease" were such a big hit back then. The same thing is happening to us now, the site claims. There's a reason so many people are totally digging the nostalgic vibes present in the hit Netflix show "Stranger Things." We hold the paranormal thriller largely responsible for the 1980s fashion trends being brought back this year.
Like it or not, some of those famous (and admittedly infamous) fashion trends from decades gone by are popping back up on the fashion scene in 2022, like this 1970s and 1980s eyeshadow shade that's only growing in popularity. 
Baby blue eyeshadow is making a comeback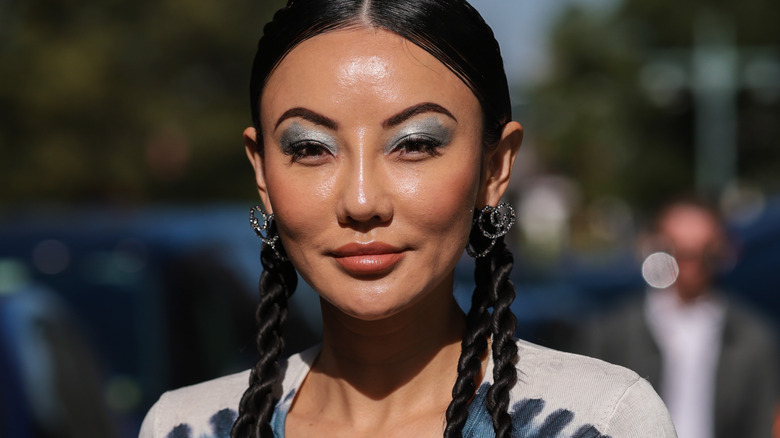 Jeremy Moeller/Getty Images
From the 1960s to the 1990s, people could not get enough of baby blue eyeshadow. We have the one and only Barbie to thank for bringing this softest shade of blue eyeshadow to the eyes of budding fashionistas worldwide; the blue-lidded collectible children's doll made its debut in 1959 and quickly became something of a trendsetter (via V Magazine). From there, celebrities like Twiggy, Elizabeth Taylor, and even Aaliyah would further popularize the eyeshadow shade by wearing it on-stage and on the big screen.
Today, blue eyeshadow has made its way back into our hearts with a vengeance, and there's a reason for our interest. Like decades before, celebrities are taking the reins when it comes to setting bold fashion trends. Season 2 of HBO's "Euphoria" served audiences some majorly jaw-dropping makeup looks that had fans of the show hurrying to Instagram to share their thoughts on. According to Seventeen, blue was the color that really made an impression with viewers. Most of the main cast has been shown rocking baby blue eyeshadow during the show, so it's no wonder we're keen to recreate that look.
This is how to pull off blue eyeshadow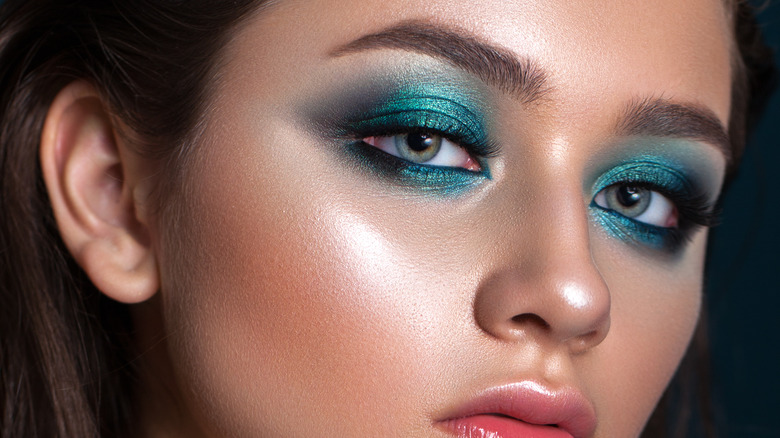 Tata Mamai/Shutterstock
If you want to wear blue eyeshadow like your favorite 1970s fashion icons, then it's important to keep it trendy by blending it with more modern makeup looks, says Glamour. It's all too easy to look dated when trying to go for a retro look. Glamour recommends new makeup-wearers and those uncomfortable with louder makeup ease into the vintage-inspired shade by swapping out their black liner for a shimmering dark blue. You can also try adding a sheer layer of baby blue eyeshadow to your upper lid for a youthful glow.
L'Oréal Paris reminds makeup users to keep your skin tone in mind when it comes to wearing this 1970s and 1980s makeup look. Blue eyeshadow looks absolutely stunning on all skin colors, so the real tricks come down to how you prep your eyes and your shade choice. You can always play it safe by going with a soft icy blue, since this shade is universally beautiful on all skin hues.