The Documentary You Never Knew Sean Penn Narrated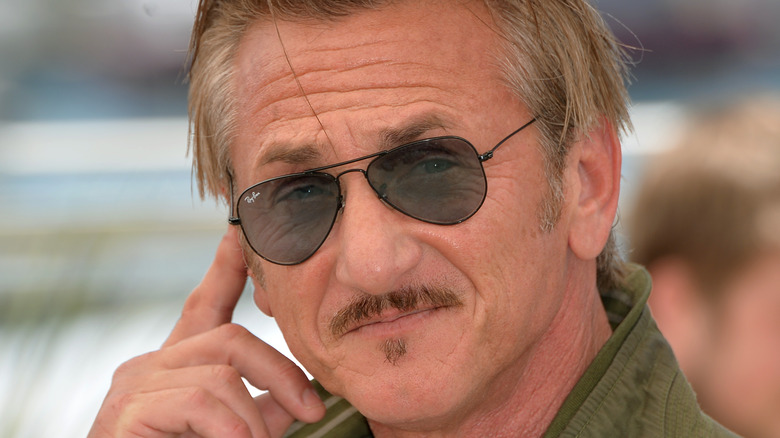 Featureflash Photo Agency/Shutterstock
Sean Penn is known for a lot of things — his roles in films like "Milk," "Mystic River," and "Fast Times at Ridgemont High" to name a few (via IMDb). Born to actress Eileen Ryan and director, actor, and writer Leo Penn, it seems like show business was a no-brainer for the Oscar winner. The 62-year-old actor, whose net worth is calculated to be around $70 million — according to Marca — is also recognized for his activism (per Variety). Penn was in the news early last year for his stern comments directed at some staff members of his nonprofit Community Organized Relief Effort (CORE). According to The Cut, the workers claimed in the comments section of a New York Times story that the working conditions of his COVID-19 testing and vaccination site at Dodger Stadium were less than satisfactory, and Penn's comments were aimed at setting the record straight.
Penn has been married three times — his most recent wife, Australian actress Leila George, filed for divorce in October 2021, according to People. Penn was also married to Madonna between 1985 and 1989. His longest marriage was to "Forrest Gump" star Robin Wright, with whom he shares two children (per Page Six).
Aside from his Hollywood blockbusters, marriages to other celebrities, and activism, you might also be aware of Penn's narration talents. 
Sean Penn narrated this documentary
In 2001, Sean Penn narrated the Stacy Peralta documentary "Dogtown and Z-Boys." The film about skateboarding in the 1970s was co-written and directed by Peralta who, according to Rotten Tomatoes is himself a "skateboard legend-turned-filmmaker." The film gives life to what Rotten Tomatoes calls the "organic American pop culture phenomenon" that is skateboarding and elevates it to what the sport is today — "an extreme and acrobatic sport in its own right," per IMDb. It is no wonder then that the documentary is subtitled "The Birth of Extreme."
Penn's interest in narrating the documentary could be linked to his own personal experience of having "lived and surfed near the Dogtown area," according to IMDb. The film features a mix of past and present interviews and includes footage capturing the lives of the "legendary Southern California skateboarding clique" Zephyr Boys (via TV Guide).
Called "a compelling piece of mythmaking" by the National Museum of American History, "Dogtown and Z-Boys" won the Documentary Audience Award and Documentary Directing Award at the 2001 Sundance Film Festival and the Best Documentary Award at the 2002 Independent Spirit Awards (via IMDb).
Other facts we never knew about Sean Penn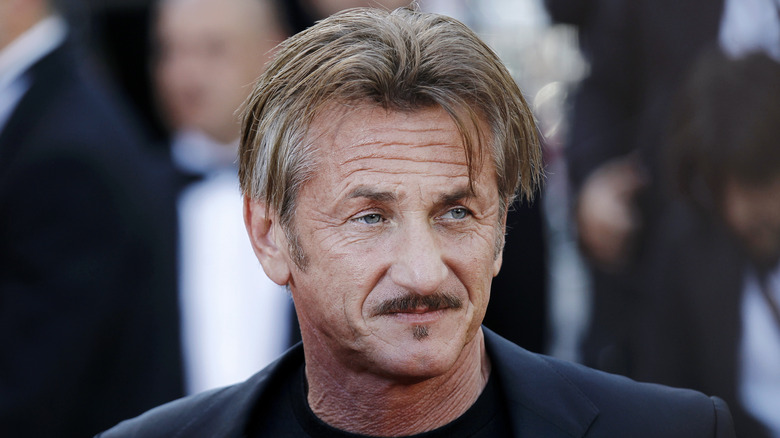 Andrea Raffin/Shutterstock
"Dogtown and Z-Boys" is not the only movie about boarding that Sean Penn was involved in, nor was it the first. Penn played the role of the "perpetually stoned surfer dude" — Jeff Spicoli — in the 1982 movie "Fast Times at Ridgemont High" directed by Amy Heckerling (via IMDb).
He's also narrated quite a few other documentaries including "Deflating the Elephant: Framed Messages Behind Conservative Dialogue," "Witch Hunt," and "War Made Easy: How Presidents & Pundits Keep Spinning Us to Death," as TV Guide noted.
According to IMDb, Penn was thrown in jail and served time for 32 days for "hitting an extra" in 1987 and he is known for starring in movies that "reflect his liberal political views". One last thing about this charismatic actor that we would probably have gathered if you've watched many of his movies is the fact that his roles often tend to slant towards being "unsympathetic and cruel characters with a hidden moral center," IMDb reported.