Why Interior Designers Can't Wait To Ditch Irregularly Shaped Mirrors In 2022
About 100 years ago, Art Deco design was thriving, accentuating homes across the world in all its geometric glory. Just a decade ago, Tuscan Kitchens and accent walls were all the rage, making constant cameos on HGTV shows like "House Hunters" and "Love It or List It," per BuzzFeed. Interior design is marked by constantly-evolving styles, the pendulum swinging between minimalism and maximalism, functional and simply aesthetic — see why interior designers can't wait to ditch non-functional decor in 2022. Just as quickly as styles fade, there will always be new fads to embrace (and spend way too much money on at IKEA).
As 2022 quickly disappears in the rearview mirror, interior designers are eager to part ways with some recent trends — hopefully for good. As Texas decorator Audrey Scheck told Forbes, "I hope that the trend of keeping everything white continues to take a back seat." According to designer Kevin Francis O'Gara, speckled countertops look "perpetually dirty." When it comes to irregularly shaped mirrors, specifically, Kiva Brent has had enough.
Irregularly shaped mirrors aren't functional
Though she admits irregularly shaped mirrors can be "cool" and "funky," interior designer Kiva Brent is tired of distorted reflections. In 1995, IKEA first introduced the "KRABB mirror," a squiggly, full-length design that functioned almost-exclusively on an aesthetic level. As noted by Refinery29, the KRABB became popular in the early 2000s, a "quirky" accent that one social media manager labeled "the dysphoria creator." Throughout the past two decades, irregularly shaped mirrors have only grown more ubiquitous, advertised everywhere from Architectural Digest to dwell.
However, Kiva Brent hopes they're finally on the outs. After all, the curvaceous KRABB was eventually discontinued. "The reason I don't think they're going to last," Brent explains, "is that they are a little bit more difficult to make." They also "tend to be a little bit pricier," which can be frustrating given how much they distort reflections. Brent got her start in interior decorating shortly after the onset of the pandemic, developing an expertise in affordable buys and DIYs, according to domino. Ultimately, antiqued and curvy mirrors aren't "performing a functional purpose," according to Brent. It's time to phase them out.
How to stay stylish without the squiggle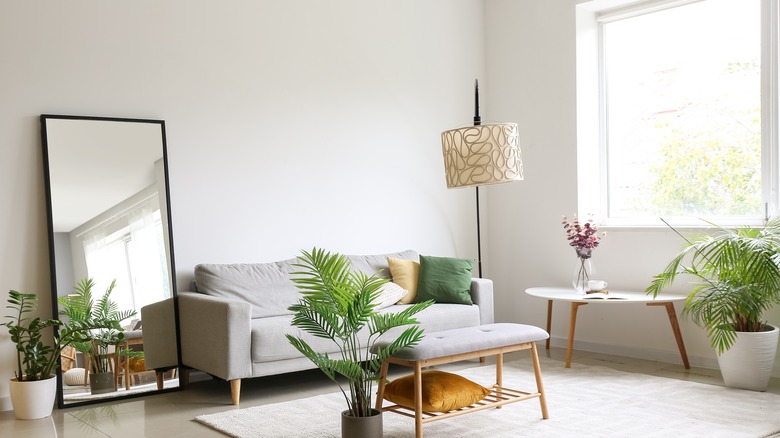 Pixel-Shot/Shutterstock
It's all about placement. Mirrors can make a room feel both larger and brighter, according to Architectural Digest. As Interior Fox founders Jen and Mar told Homes & Gardens, "Placing mirrors where the light naturally falls is one of the oldest but best tricks in the book." Fortunately, there are plenty of regularly-shaped (yet beautiful) mirrors on the market that can complete a room without distorting your reflection. As noted by Homes & Gardens, "Regencycore" is very much in style after the massive success of "Bridgerton." House Beautiful recommends mirrors with gilded, decorative frames, perfect for adding a touch of Shonda Rhimes-approved glamor while also remaining current.
Even without embracing an irregular shape, you can still get quirky with your mirror selection. As suggested by Apartment Therapy, using bright paint to refurbish a frame adds a touch of creativity to a tired space. Alternatively, mirrors with deep frames act as another method of shelving, introducing dimension and functionality to a room. Ultimately, as noted by Kiva Brent, "A mirror really is to look at yourself, to assess what's going on, and you want a mirror that can actually show you what you really look like."