Huge Fashion Trends You Need To Know In 2018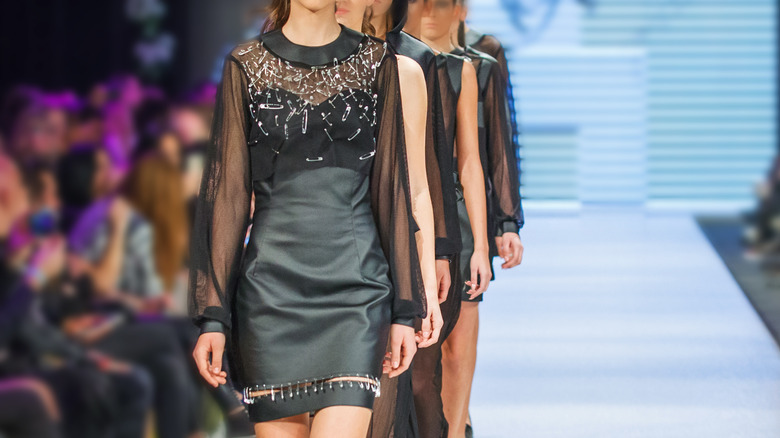 Shutterstock
Fashion trends are constantly changing and it can be hard to keep up. A new year means a whole slew of fun fashion trends to try and to incorporate into your already fabulous wardrobe and 2018 is no exception. What silhouettes, fabrics, colors, and concepts will reign sartorially supreme in 2018? Which decade will come back into vogue over the next 12 months? What sort of accessories should be thinking about to accent your ensembles? What sort of wardrobe updates do you need to do? 
So many questions! But don't stress, you've got this. All of the huge fashion trends that you need to know are coming up in 2018 are collected right here.
Women's suits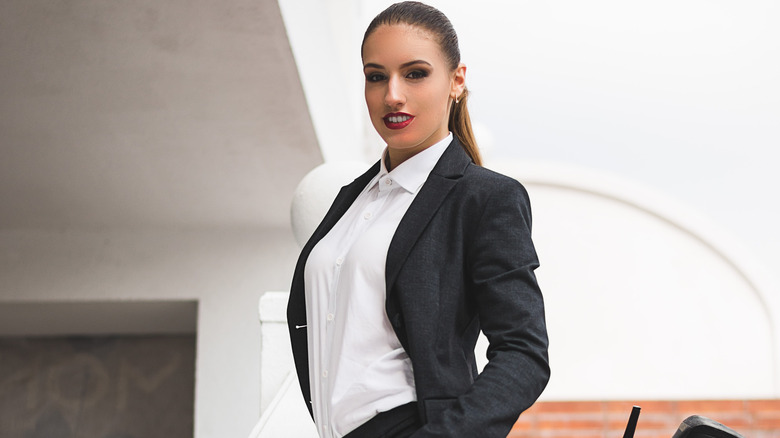 Shutterstock
As gender lines become further beautifully blurred and women become increasingly empowered, the fashion will, well, follow suit! Yes, women in suits will be even more prominent in 2018. Taralyn Thuot, who serves as creative director of edgy fashion brand Wildfang, tells me, "2017 was the year for women: the women's march, the #metoo movement, etc. This empowering cultural moment is impacting fashion trends we will see in 2018.... Women are looking for clothing that expresses their confidence."
Suits are more androgynous these days, so much so that they can no longer be called "menswear." Suits are now also womenswear! "We are seeing badass women everywhere rocking the suit on the streets and the red carpet, from Blue Ivy to Blake Lively. Suit up. We've got work to do," Thuot said.
'70s-inspired fashion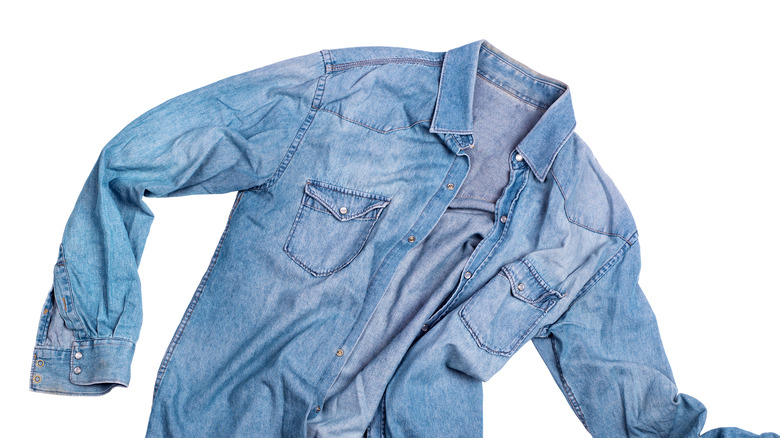 Shutterstock
Fashion trends and details from decades past are always cyclical. Nostalgia for the '90s has been dominating pop culture for the past few years, with the era's music and fashion being further visible in both high-end stores and in the malls. But in 2018, style will hark back to the '70s. 
"With the resurgence of Calvin Klein under Raf Simons, we are seeing an androgynous and minimal modernization of the '70s trends: elongated collars, H2T denim, and a retro color palette. We are especially feeling the western-inspired button ups," says Thuot.
Nerd chic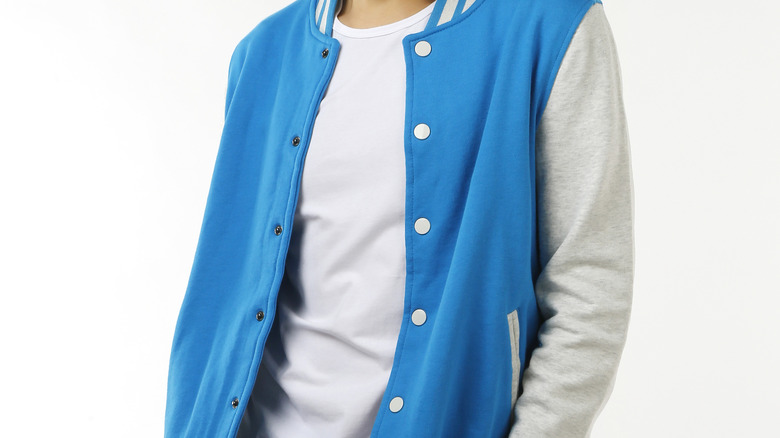 Shutterstock
The Star Wars hype is currently infiltrating pop culture and it has generated several co-branded, The Last Jedi fashion and beauty lines in 2017. But fangirl or nerd chic styles aren't simply related to the films that cruise into the multiplexes. Nerd chic will continue to assert itself in 2018 beyond the realm of graphic tees. Attire and silhouettes long associated with nerdiness and the collegiate environment, as seen by Rihanna's recent Puma Fenty University collection, will shift to a high fashion skew. 
Thuot says we can expect "striped polos, aviators, varsity sweaters, all in a classic primary color palette. Just say Gucci made us do it." When in doubt, always blame Gucci.
Geometric minimalism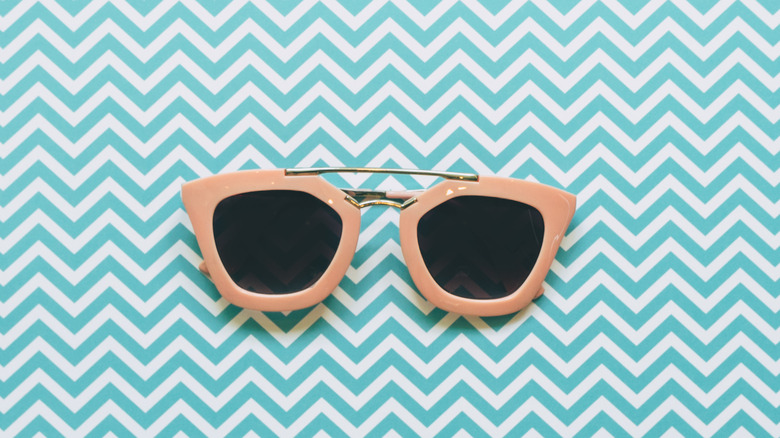 Shutterstock
Stark shapes will influence fashion, especially when it comes accessories, in 2018. Valani jewelry designer Heena Shah tells me, "Geometric minimalism is going to be a driving trend in 2018. Specifically, hexagon and kite shapes will be finding their way into fashion, fine jewelry, and home decor." So geometric and gold jewelry, sunglasses and bags will be all the rage with you accoutrements.
Denim on denim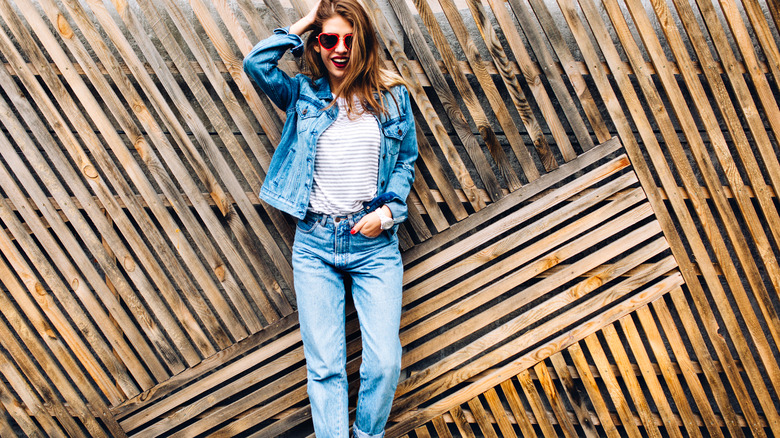 Shutterstock
Jeans are a staple of every wardrobe, but the denim-on-denim trend can be hard to pull off and Canadian tuxedos are never truly cool. However, Jessica Mastriano, the buyer/curator of the TANGO Brooklyn boutique, tells me that the classic fabric will reach new sartorial heights next year. She says, "Denim is one of the biggest American heritage fashions we have. Wearing different washes and colors together will be big, and even fashion designers, like Raf Simons for Calvin Klein, showed that kind of look." 
But it's not just about light washes or distressed details when it comes to denim, either. "You can also expect to see patchwork styles and darker shades of denim," Mastriano furthers. "2018 is the year to get creative with denim." Her predictions indicate that denim looks will have a '70s vibe, which is another on-deck trend.
Velvet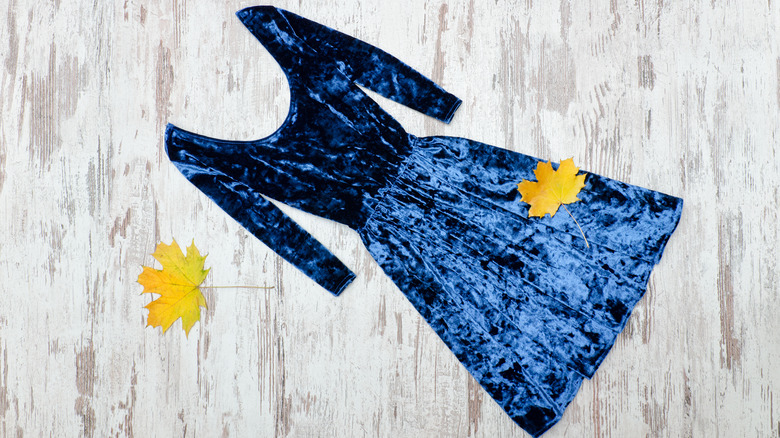 Shutterstock
No, velvet is not simply the domain of tacky Elvis Presley paintings. Lindsey Bennett, the lead designer with Azazie, sees the super soft-to-the-touch fabric known as velvet continuing its reign into 2018 — and it won't only be favored during cold weather months, either. 
"This luxe fabric is usually reserved for the fall and holiday seasons, but now you have the chance to wear velvet year-round," she tells me. "For Spring 2018, you will see softer neutral velvet blazers, and even stretch velvet slip dresses and camis. Incorporating these lighter colors into a classic summer piece will give this heavier fabric a modern update." Avoiding velvet during warmer months is a thing of the past. 
Purple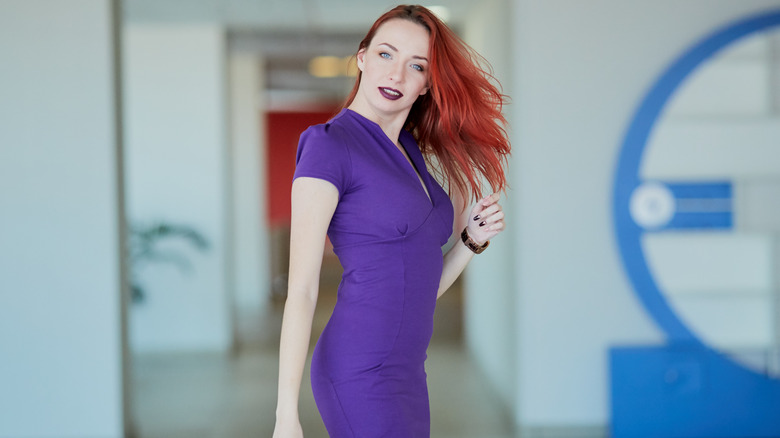 Shutterstock
Pantone just selected Ultra Violet as its Color of the Year for 2018, so of course the shade will dominate fashion. Bennett says, "Shades of lavender and lilac are going to bring a softer and more romantic vibe to this regal color. From pastel, Easter egg shades for the spring and summer to dusty, muted tones for fall and winter, you'll be able to incorporate this subdued hue into your wardrobe throughout the year." Prince would be proud — he knows well that this versatile shade translates to so many pieces and has so many different tones. 
Devoreaux Walton, an image and style expert and consultant at The Poise Pursuit, also called out purple as a major 2018 trend. "Two 'it' colors for Spring 2018 are going to be lavender and pink," she says. "Lovely lavender will cover clothing and accessories in the soft, luxurious shade of purple. Lots of trendy fashionistas will be pretty in pink this spring as they sport all shades of the perky, positive color!" Purple reign, with a side of pink!
Large floral prints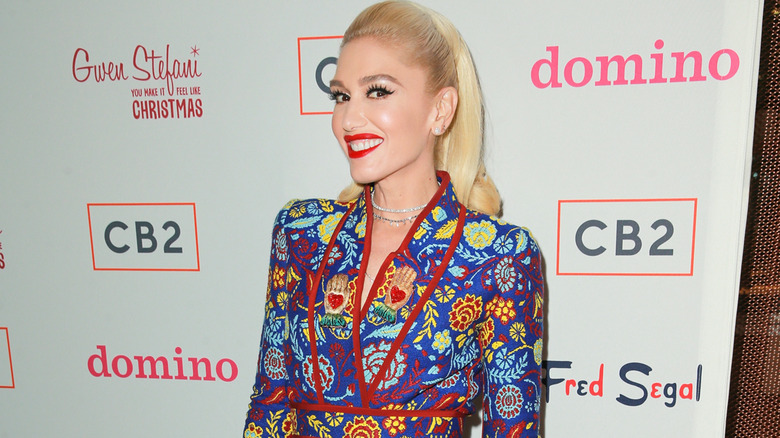 Getty Images
If you're laboring under the illusion that floral prints are reserved for the closets of grannies or for outdated table cloths, think again! Walton confirms that "florals in large, bold prints" will assert themselves in the coming year. It's a twist on the pattern, nixing small prints and pastels in favor of striking prints. The increased size and shape gives the floral print a more modern and fashion forward touch. Florals are dowdy and dated no more.
French Riviera style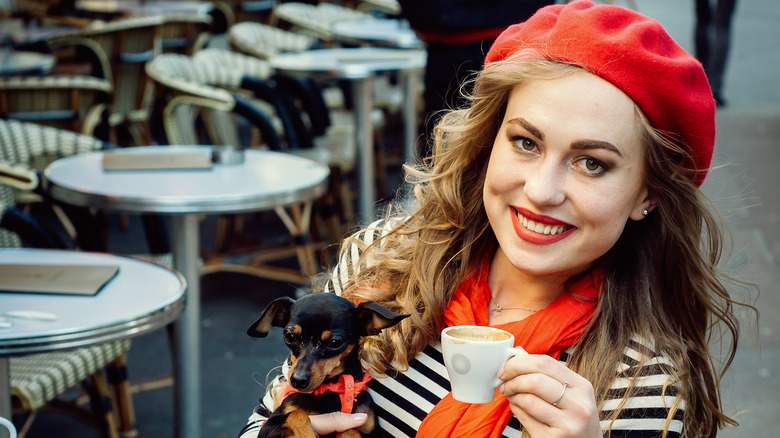 Shutterstock
French girl chic is always in. But in 2018, it's about the French Riviera and nautical looks. "French-inspired styles, like subtle mariner stripes, feminine detailing, and clean, minimalist lines, all in whites and light blues, will add that certain je ne sais quoi to warm-weather looks," according to Genevieve Hartmann Colom, the Style Training Manager for Trunk Club.
Statement accessorizing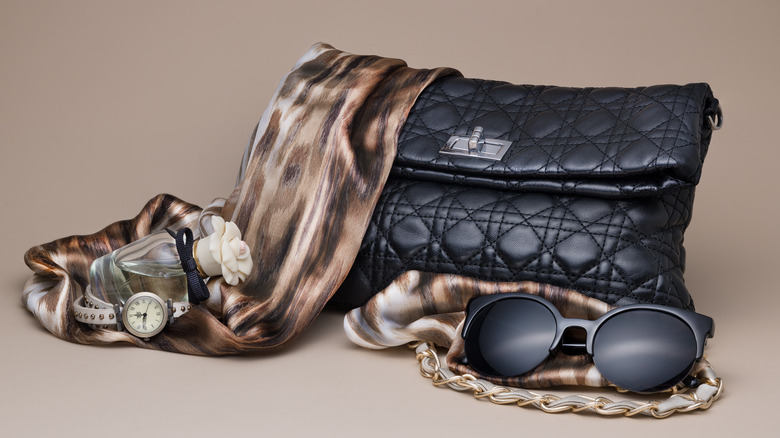 Shutterstock
No look — even a casual, athleisure ensemble; even when you are throwing on a simple tee and jeans with sneakers — is complete without statement accessories. A bold accessory turns the volume way up on a casual ensemble. 
Hartmann Colom states, "This trend trickles over from the saturated velvets and rich brocades of fall and winter. Expect to see sandals, sunglasses, handbags, and accessories adorned with embellished details in pearl, feather, floral and diamanté detailing." Strong accessories are the period at the end of your outfit's sentence.