Where Was Pippa Middleton At The Queen's Funeral?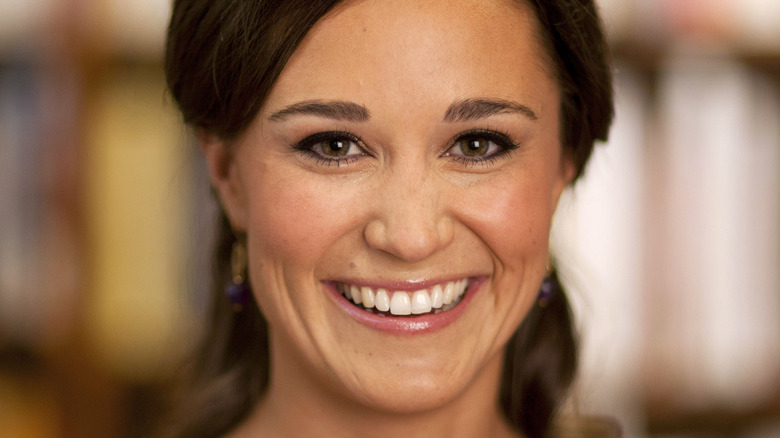 David Levenson/Getty Images
Pippa Middleton made quite the to-do when she sashayed down the aisle at the royal wedding of her big sis, Kate Middleton, and the Duke of Cambridge — now formally known as William, Prince of Wales. While Kate stunned the world in an ivory satin dress complete with lace sleeves and a full bodice, it was Pippa who turned heads in a sleek, form-fitting number. "As I have found out, recognition has its upside, its downside, and — you may say — its backside," she later joked about the iconic body-hugging bridesmaid dress at the Women in Advertising and Communications dinner in 2014, per E! News. She then went on to confess that while she was just "glad it fitted," perhaps "In retrospect, it fitted a little too well." Still, others argued that Pippa nailed it. "If the brief for Pippa's dress was 'classically elegant', Pippa certainly looked every bit the part," Daena Borrowman of JewelleryBox Ltd gushed to Express.
But now the famous kid sister is making headlines once again... only this time it's not for her fashion choices. On September 19, Pippa was notably absent at the funeral of Queen Elizabeth II. But where was she? While she was certainly missing in action she may have a good reason for being absent after all.
Pippa Middleton gave birth to her third child in July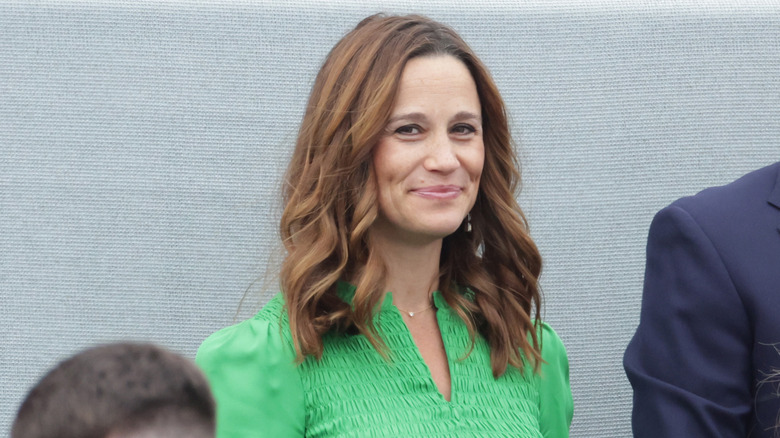 Chris Jackson/Getty Images
And then there were three.
Though her exact whereabouts are unknown, there may be a simple explanation for Pippa Middleton's absence at the queen's funeral. There's a good chance Pippa was simply unable to physically pay her respects to the queen as she was at home tending to her newborn.
While Pippa did not make it to the funeral, she was spotted celebrating the queen in June at the Platinum Jubilee party at Buckingham Palace. Photos obtained by The Mirror show Pippa sporting a green dress, a big smile, and... a baby bump at the festivities. Surprise!!! And in July, it was reported that Pippa gave birth to her third child — a baby girl — with husband James Matthews. As you may recall, the couple welcomed their first child in October 2018 and their second child not quite three years later in March 2021.
Maybe Pippa Middleton didn't have a ticket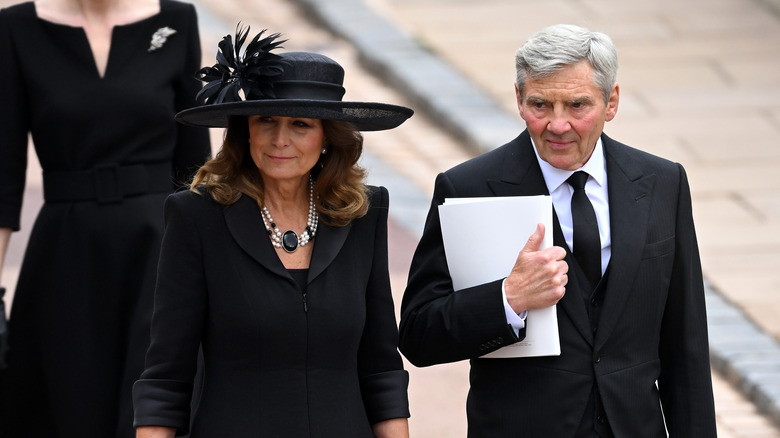 Leon Neal/Getty Images
Perhaps, however, Pippa Middleton's absence all boils down to royal rules and logistics.
According to Hello! magazine, another theory is that only two tickets were dispersed to each household and Pippa Middleton simply didn't have a ticket. Per the New York Post, Westminster Abbey has a maximum capacity of 2200 people. It's reported that only President Joe Biden and first lady Jill Biden were invited from the United States. "This is a decision that is made for the UK government. They decide who gets invited," White House press secretary Karine Jean-Pierre said of the decision.
Fortunately, it appears Kate Middleton's parents, did score an invite. As reported by Express, both Michael and Carole Middleton were in attendance at the somber event. It's reported that just like her daughter and granddaughter, Kate Middleton and Princess Charlotte of Wales, Carole donned an all-black outfit and a hat for the somber occasion. But that's not all. Along with her attendance at the funeral, the founder of Party Pieces, honored the queen with a tribute on her company's Instagram account. "We are deeply saddened by the death of Her Majesty The Queen," the post read. "For over 70 years she dedicated her life to service for the people of the United Kingdom and the Commonwealth. We offer our heartfelt sympathy to The Royal Family at this time of great sadness." And there ya have it, folks.