How To Pull Off A Fairytale Nursery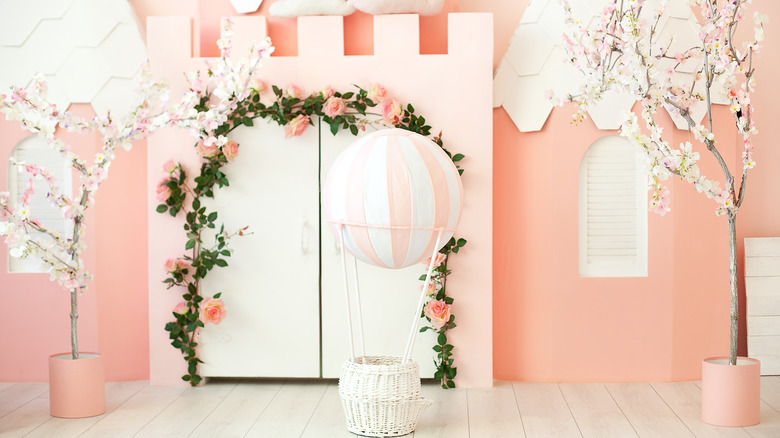 stock_studio/Shutterstock
When you have a baby on the way, there are a lot of things to think about. Prepping the nursery can be one of the best ways to get ready for your bundle of joy to arrive. Not only is nesting an important pre-baby phase but having a welcoming space for your little one to come home to can be calming for parents-to-be. From when to paint your baby's nursery to how to babyproof, there are many things about prepping your baby's space that can feel overwhelming. The fun part, though, is the design. 
The first part of designing a nursery? Choosing a theme. If you're considering a fairytale room for your little one, you're definitely not alone. It feels like fairytale-themed nurseries have been around forever –- and for good reason: Fairytales are an important part of any child's development and can help jumpstart their cognitive abilities and budding imaginations (via Diamond Bar Montessori Academy). Most of us expose our little ones to fairytales in the form of movies and books, and some people are even naming their babies after fairytales. So, why not surround your little one with them?
While fairytale nurseries are classic, when you choose a nursery theme that's a tale as old as time, you run the risk of a nursery that looks dated or drab. Luckily, there are ways to create an updated fairytale-themed nursery to keep your little one safe in their tower while letting their imagination soar (via Babygaga).
Identify your fairytale focus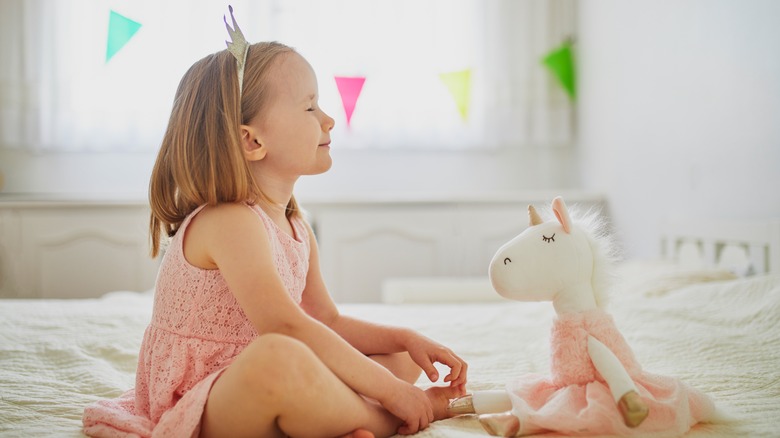 Ekaterina Pokrovsky/Shutterstock
There are several ways to tell a fairytale story with your baby's space. The first step to building the perfect fairytale nursery is to identify what it is that you want your theme to focus on (via Extra Space). The idea of a fairytale-themed nursery may sound like exactly what you want, but unless you get more specific about what fairytale elements you want to use as inspiration, your baby's nursery isn't likely to turn out the way you want. 
When you first think of fairytales, things like "Little Red Riding Hood" or princesses in castles may come to mind. Yet, there are many common elements from fairytales that you can use to give the space an imaginative, magical feeling. You might choose one of your favorite fairytales to base your theme around. Alternatively, you can select a more general fairytale element, like fairies, woodland creatures, or magic. From canopies to carriages to full-blown castles, there are many ways to incorporate classic fairytales into the space: Your job is to zero in on the room's focus before getting started on any shopping or painting (via Babygaga). 
Go bold or stay subtle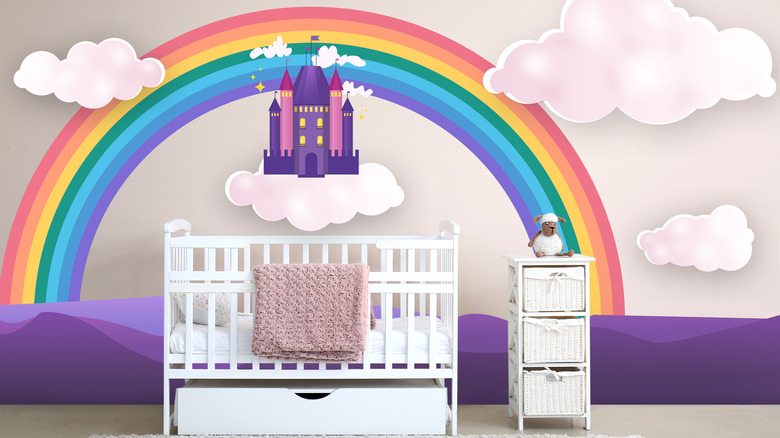 Pixel-Shot/Shutterstock
Different parents want different levels of stimulation in their baby's room. Once you've decided what fairytale elements to focus on in the nursery, consider how you want to incorporate them. Do you want the baby's crib to look like a big castle, or would you rather have just a few fairy-themed items around the room? 
Going subtle with your nursery allows you to design a beautiful room and include a few items that are on-theme –– a blanket featuring crowns, a fairy throw pillow, and some castle-themed wall art, for example. If you want to go bold, on the other hand, you'll want to make the choices about which elements of the room are on-theme before deciding on anything else. Making a big, on-theme design choice, like a castle bookcase or a mermaid rug, can be a successful way to make a bold thematic statement. 
The room's color palette can be another great place to go bold. We've all watched the rise and fall of the beige nursery (via Wired). While neutral colors can feel calm and relaxing, it may be better for your baby to go bold with your nursery colors. A brightly colored nursery can actually stimulate your baby's brain and help with cognitive growth (via Milk Street Baby). Incorporating fairytale elements with a mural or wallpaper can add dimension and cohesiveness to your theme while still being easily changed when your baby is old enough to request a Peppa Pig themed room.