Fashion Expert Says Meghan Markle's Outfit At Queen's Funeral Had A Hidden Benefit - Exclusive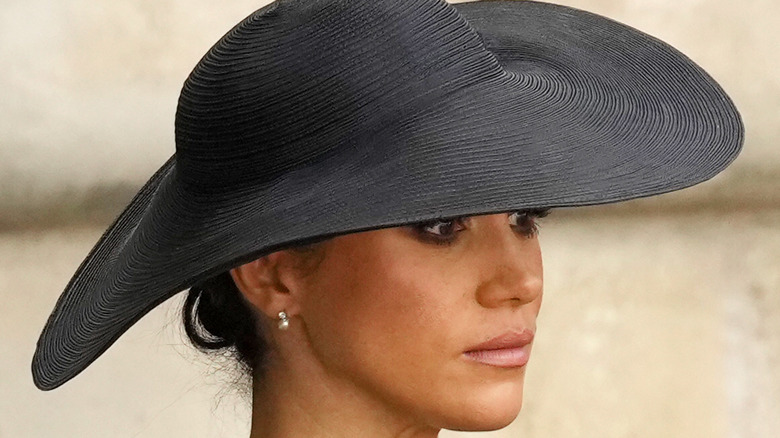 Christopher Furlong/Getty Images
Meghan Markle, Duchess of Sussex, wore a black Stella McCartney cape dress to the queen's state funeral at Westminster Abbey and the committal service at St. George's Chapel at Windsor Castle; over 4 billion people were expected to watch the service, according to the Daily Mail. Stella McCartney seems to be one of the duchess's favorite brands – here are some of Meghan's best looks – according to Elle Canada. After her wedding ceremony at St George's Chapel, where Meghan wore a Givenchy dress custom designed by British designer Clare Waight Keller complete with a 16.5 foot long silk tulle veil, she changed into a dress designed by Stella McCartney — "a bespoke lily white high neck gown made of silk crepe," per Town & Country.
The Duchess of Sussex's funeral dress was one she's worn before. She wore the same Stella McCartney cape dress — but in navy — in 2018 to a concert for the queen's 92nd birthday at the Royal Albert Hall in London, according to People. And it turns out that the elegant dress — which many on Twitter were big fans of — has a hidden benefit.
Meghan Markle's cape dress may have given her some psychological benefits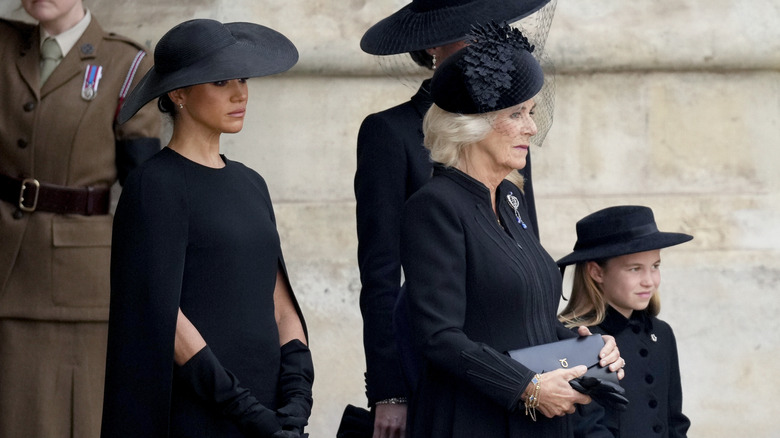 Christopher Furlong/Getty Images
Cachita Hynes, fashion stylist, told The List about what she saw in Meghan Markle, Duchess of Sussex's choice to wear the black Stella McCartney dress and what psychological benefits it may have had for the duchess as she wore it. "A cape dress can give you the extra length in your spine to stand tall and feel powerful, but honestly it can also feel like a long needed hug," Hynes told us. At a time of mourning, and with the ongoing conflict and tension between the Duke and Duchess of Sussex and the rest of the royal family, a hug probably feels pretty good.
Hynes noted that the funeral was seen around the world and those impacted extend beyond the royal family. "As we watch the royal family, a nation and world mourn and pay tribute to Queen Elizabeth II, we all must remember to let this be a time of unity and strength. I believe all the women in the monarchy are called to have strength," Hynes said. "As we watch history unfold in front of our eyes, these are images we will all remember. And when you take a closer look at each image, I believe we will see statements [that are] subtle but real."
Meghan Markle honored the queen with her jewelry choice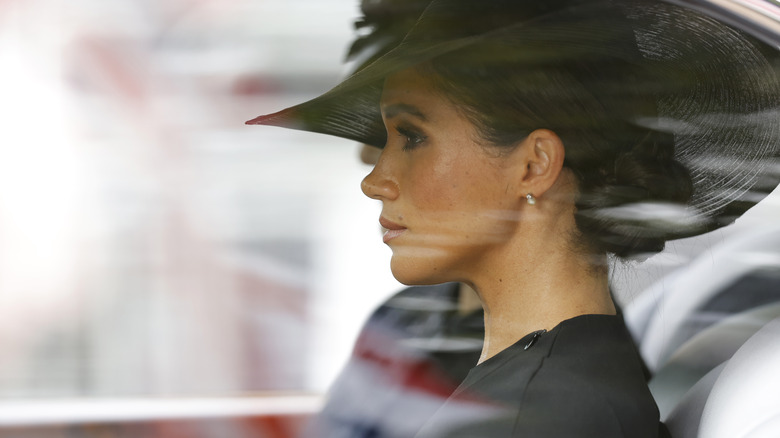 Wpa Pool/Getty Images
Fashion stylist Cachita Hynes also commented on Meghan Markle's choice of jewelry – she wore pearl and diamond earrings that were a gift from the queen. "Her ode to Her Majesty with the pearl and diamond earrings [...] is a reminder of the simplicity and beauty the queen always expressed through her own fashion," Hynes said. 
The earrings were ones that Meghan wore to her first and only official solo engagement with Queen Elizabeth in 2018, according to Vogue India. And there's another reason that the earrings were a good choice for the queen's funeral. Wearing pearls, which represent both purity and tears, during mourning has been a tradition since Queen Victoria wore them after her husband Prince Albert died, according to Women's Wear Daily. Meghan wore the earrings to the Westminster Hall reception service, and her sister-in-law Catherine, Princess of Wales, wore a number of pearl pieces as well, including the four-strand pearl choker from the queen's jewelry collection that she also wore to Prince Philip's funeral, per NBC's "Today."
Meghan also wore black gloves and a black hat; she wore a white version of the same hat by Stephen Jones for Dior at the queen's Platinum Jubilee, according to People. She didn't wear a mourning veil, which is traditional but not required, via Cosmopolitan.