The Makeup Trend That Takes A Natural Summer Look Into The Fall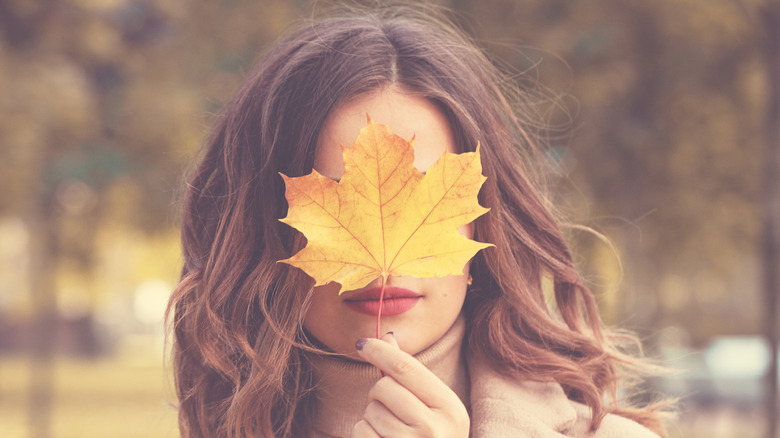 MillaF/Shutterstock
We may receive a commission on purchases made from links.
From golden highlights you'd normally pick up at the beach to jewel-toned eyeshadows that echo natural gems, many beauty trends are inspired by Mother Nature. And, accordingly, our makeup routines tend to change with the seasons — but that's not always the case.
With clean beauty and no-makeup looks on the rise over the past few years — possibly a continuing result of staying home during the pandemic when many of us took a break from makeup and were pleased with the results — it should be no surprise that the fresh, sun-kissed summer face is still popular this fall. The aim is to glow, inwardly and outwardly. A healthy skincare routine is, of course, also key. We all know what happens when you sleep in your makeup, after all. 
"The whole vibe around this season is the skin being naked under the sun, even though we [do our best] to avoid it," French makeup artist Violette tells Vogue. "We all like the sun-kissed effect on our skin, but now that we're being safe with the sun, we're going to use makeup to recreate it. It really brings something that's fresh and genuine to the look."
Here's why people are bringing this summer-inspired look into the fall.
Why the sun-kissed trend is so appealing
In addition to the effortlessness of a simple, glowing look, it's only natural for us to be drawn to the healthy apperance of a rosy cheek — and that's just the trend that's transitioning from summer to fall.
The burnt blush craze is just what it sounds like: the look of a bit of sunburn across the cheeks and nose. If you're anything of a makeup enthusiast, you likely saw burnt blush tutorials all over TikTok this summer (via Byrdie). It's youthful, cheerful, fresh, and easy. This look embraces imperfections. It's not heavy, full-coverage makeup, and freckles showing through are a bonus. 
Many can see why it's such a coveted aesthetic. "Makeup has a deeper impact than we think," says Violette (via Vogue). "The sunburnt effect connects you to your childhood and those free-spirited times when you'd just run under the sun, totally carefree. On a subconscious level, it's bringing back those memories."
And maybe — after the once-in-a-lifetime events we've collectively lived through lately — connecting with our inner child is just what we all need.
How to perfect the sunburned blush look this fall
Start by selecting your blush color. In summer, you may have gone with a brighter, pinkish hue. For autumn, you'll want to imitate nature and take a cue from the changing leaves. Terracotta, brick, rust, and other tones in the russet and tawny color families are spot-on for fall and are especially appealing on medium and dark skin tones (via Allure).
Whether you're using cream or powder blush, the look is easily achieved with the right product. Try Melt Cosmetics Cream Blushlight in Sandy Cheeks (via Allure) or E.L.F. Putty Blush in Maldives (via Glamour).
Placement is key with the sunburn blush look. Rather than applying blush where you traditionally would, think like the sun would, and place the color where the sunlight would hit your face. "This look is achieved by carrying the blush high on the apples of your cheek and across the bridge of the nose," says celebrity makeup artist Courtney Hart (via Glamour). "I like to blend slightly downward to mimic the sun."
Give it a go, and you'll see that there's no better artist to inspire you than nature itself.