The Lifetime Movie That Features Raven-Symoné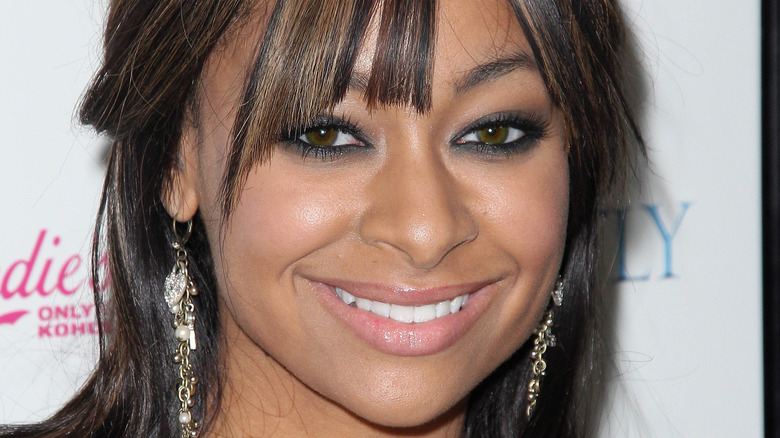 s_bukley/Shutterstock
You probably recognize the name Raven-Symoné from the Disney Channel series "That's So Raven," if not from her three-season stint on "The Cosby Show" or her role on "Hangin' With Mr. Cooper" (via IMDb). The actress has also starred in a variety of movies, including "Dr. Dolittle" in 1998 and "The Cheetah Girls" in 2003.
Symoné, full name Raven-Symoné Christina Pearman-Maday, is also known for previously being a full-time co-host on the talk show "The View" before leaving to star in a 2017 reboot of "That's So Raven," called "Raven's Home" (per Deadline).
Though not as well-known, Symoné has also had an extensive music career. Her debut album "Here's to New Dreams" was released in 1993 when she was only seven years old. Since then, she's released multiple studio albums and produced music with her Disney Channel movie group, The Cheetah Girls.
With this star-studded legacy in mind, fans of the actress might be surprised to learn that Disney Channel titles were not the only made-for-TV movies that Symoné has starred in. The actress also appeared in a surprising Lifetime movie.
Raven-Symoné stars in the Lifetime movie For One Night
Back in 2006, Raven-Symoné starred in the Lifetime Movie "For One Night." The film follows high school student Brianna McCallister as she teams up with a newspaper reporter, played by Aisha Tyler, to fight against racially segregated proms, per Rotten Tomatoes. In this way, the movie depicts a teenager's fight against her town's racist norms and the tensions that arise.
While this may seem like an unlikely premise for a film set in the modern day, the movie is actually based on the real-life story of Gerica McCrary (via Alchetron). In 2002, McCrary made the news as a Black student campaigning against her Georgia high school's racially segregated proms, according to ABC News. With this context in mind, the Lifetime movie reveals the overt ways that racism persists in modern-day America.
Although not critically acclaimed, the movie received relatively positive reviews from audience members, with some specifically praising Symoné's performance (via IMDb). "For One Night" is a film worth checking out if you're a big fan of the actress.
Raven-Symoné has been criticized for some of her political stances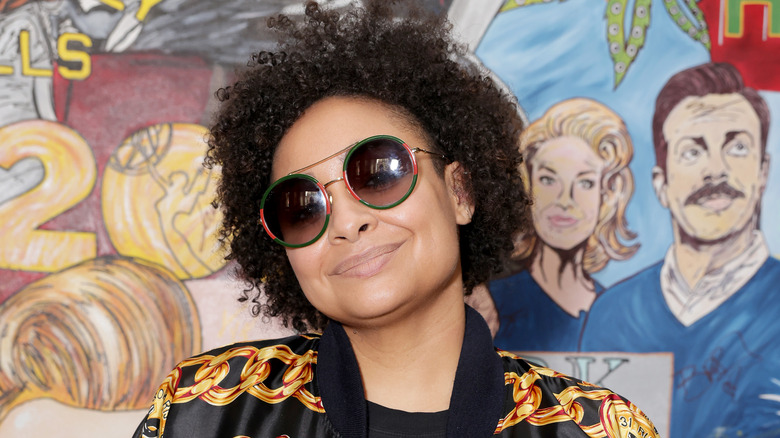 Tiffany Rose/Getty Images
While Raven-Symoné's participation in the racially-centered film "For One Night" may indicate to fans an interest in social justice issues, the actress has actually been criticized for many of the political stances she made during her time as a co-host on "The View."
According to Essence, the star made several racially discriminative remarks while on the show. For example, she criticized names from the Black community in the context of job discrimination and asserted that "some people do look like animals" when discussing a comparison between former first lady Michelle Obama and a character from "Planet of the Apes."
Additionally, Symoné received backlash for a stance she made in response to a case of police brutality against a South Carolina teenager. She stated, "The girl was told multiple times to get off the phone. There's no right or reason for him to be doing this type of harm, that's ridiculous, but at the same time, you gotta follow the rules in school."
The star has opened up about her experience on the show, explaining that she didn't want to participate in a political talk show but was pitched "The View" as moving toward more lifestyle content (per The Hollywood Reporter). Considering Symoné's self-proclaimed lack of knowledge about politics, it does make sense why the actress would struggle on such a show.