Here's Why You Need To Look Out For Vitamin D3 On A Nutrition Label If You're Vegan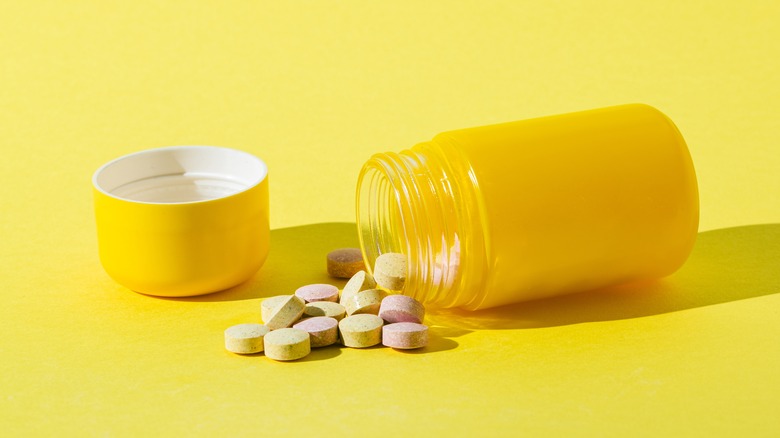 Karen Culp/Shutterstock
We may receive a commission on purchases made from links.
The aggressively suspicious attitude towards veganism in the early 2000s has gradually shifted into a quiet recognition of its importance to the planet. According to a study conducted by Ipsos, there's been a 30-fold increase in the number of vegans from 2004 to 2019 in the United States (via Food Revolution Network), and they're all reaping the benefits of a plant-based diet. "There's growing evidence that reduced consumption of animal products, coupled with an increase in plant-based foods, seems to be good for our health," sports nutritionist David Rogerson told The Guardian. "This is perhaps due to these foods containing a lot of antioxidant phytonutrients and nitrates, while some animal products contain lots of pro-inflammatory fats and lead to the production of a metabolite called TMAO, which has been linked to cardiovascular problems."
However, "it's hard to deny that certain vitamins and minerals may need to be supplemented in the majority of vegans," RDN and plant-based expert Ginger Hultin told Today's Dietitian. "Any type of diet needs to be planned to avoid deficiencies in vitamins or minerals. Huge studies and meta-analyses have shown that vegans may be at a slightly higher risk for reduced bone density."
This might be because of the lack of vitamin D3 in plant-based foods. Most plants have vitamin D2, per Hum Nutrition, and vegans often need to rely on supplements if they want to increase their intake of D3. But, it's important to be selective when choosing one. 
The supplements may be animal-based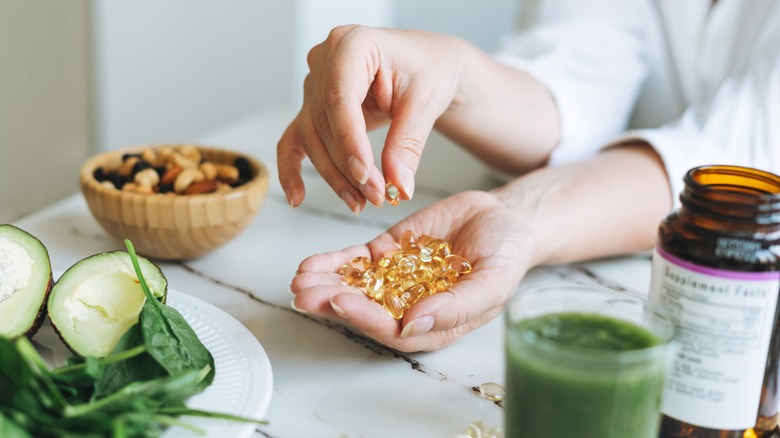 Galina Zhigalova/Shutterstock
Vitamin D3 is an essential fat-soluble nutrient that helps our bodies absorb calcium and phosphorus, which makes it very important for our bone health (via The Wellnest). Studies have also suggested that it may reduce cancer cell growth and inflammation; basically, you need to pay attention to any kind of deficiency. The Recommended Dietary Allowance for adults 19 years and older is 600 IU (15 mcg) daily for men and women, and for adults >70 years it is 800 IU (20 mcg) daily.
Since vitamin D3 doesn't occur naturally in most foods, supplements are the most reliable way to ensure you meet the daily requirement. However, most of these supplements contain lanolin, a substance secreted by sheep and other animals (via Vegan Food and Life). A vegan alternative to lanolin is lichen, an algae that consists of vitamin D3, per Hum Nutrition. Many vegan supplements consist of lichen and the easiest way to know is to see if they state that it's vegan. Most will only have "Vitamin D" listed as an ingredient and the only way to know if they're vegan is if they say they're sourced from lichen. You should also make sure that it says cholecalciferol, which means that it's D3, and not ergocalciferol which is more common in plants (D2). This supplement by Sports Research Store retails for about $14 on Amazon, and is a good example of what you should look for. 
Signs you're deficient in vitamin D3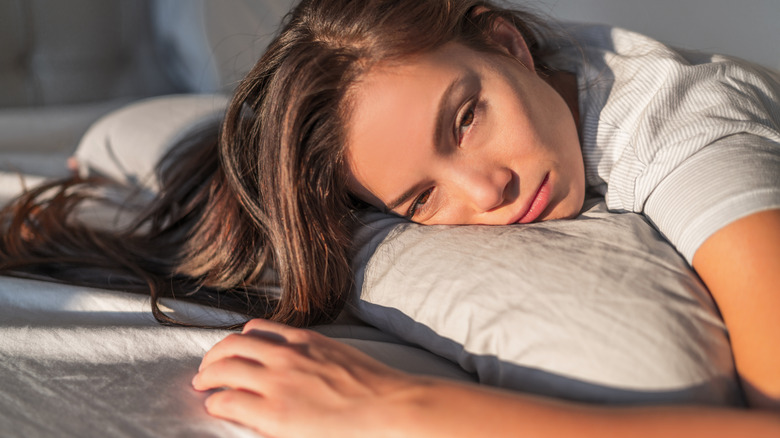 Maridav/Shutterstock
Regardless of your diet (vegan or not), most of us are deficient in vitamin D3. Almost 29% of American adults are deficient and 41% are insufficient in the vitamin (via Mind Body Green). Considering that vitamin D supports bone density, gut and muscle health as well as immunity, deficiency symptoms become easy to recognize.
One of these is muscle fatigue. "Examining this small group of patients with vitamin D deficiency who experienced symptoms of muscle fatigue, we found that those with very low vitamin D levels improved their muscle efficiency significantly when their vitamin D levels were improved," Dr. Akash Sinha said, about a study he published (via Newcastle University). You could also be susceptible to fractures and bone pain, per Eat This. Mood disorders like depression are also common in someone with a deficiency, according to preliminary research (via Healthline).
It's best to check with your primary caregiver, but if you are diagnosed with a deficiency with vitamin D3, let them know you'd prefer vegan supplements.