Here's How Often You Should Be Vacuuming Under The Bed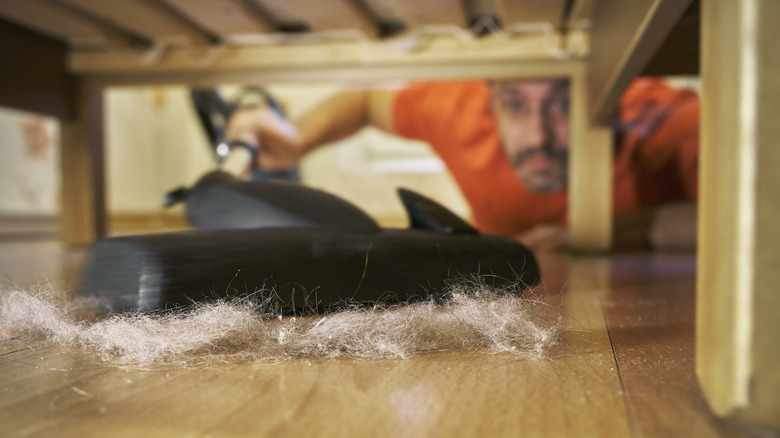 Georgy Dzyura/Shutterstock
You're hungry and it's the middle of the night. You head downstairs to grab a pack of potato chips, then go back to bed and nibble on a few before getting back to sleep. As you drift off to sleep, you probably won't be thinking about the crumbs from your late-night snack that have managed to make their way under your bed.
Even if you're someone who likes to keep your entire home spotless, chances are there are some spaces that are not easily accessible to be cleaned — one of which is the space under your bed. Often covered with food crumbs, dust, hair, dander, etc., the floor under your bed offers a great spot for pathogens to gather (via Rescue My Time Cleaning Service).
While there's a method to everything — even properly cleaning your mattress — regular vacuuming under your bed can prevent you from inhaling dust particles while you sleep, according to Apartment Therapy.
Vacuum under your bed once a week at the very least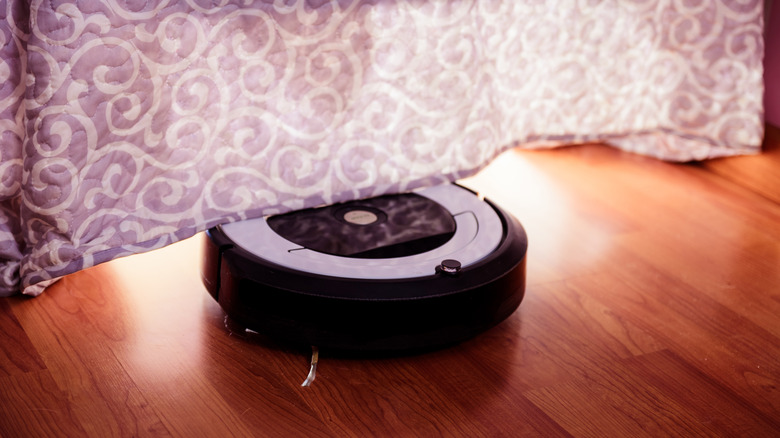 JCDH/Shutterstock
Once a week is a good metric to keep in mind when it comes to vacuuming under the bed, Michael Barnett of Black + Decker suggests (per Apartment Therapy). This schedule will ensure you don't need to deep-clean often and will also prevent dirt from accumulating.
All you need to do the job well are a vacuum cleaner and an extension wand — if your vacuum cleaner doesn't come with one. If you have a robot vacuum at home, your job just became a lot easier. You don't even have to be in the same room to clean the floor and it fits perfectly under the bed (via Rescue My Time Cleaning Service). Alternatively, you could try moving your entire bed — if possible — and vacuuming the surface, to avoid putting unnecessary stress on your back from bending to reach under the bed.
The conventional broom, handy duster, good old hair dryer, and even a mop are good substitutes if you don't own a vacuum.
Here's how you can reduce the dust collecting under your bed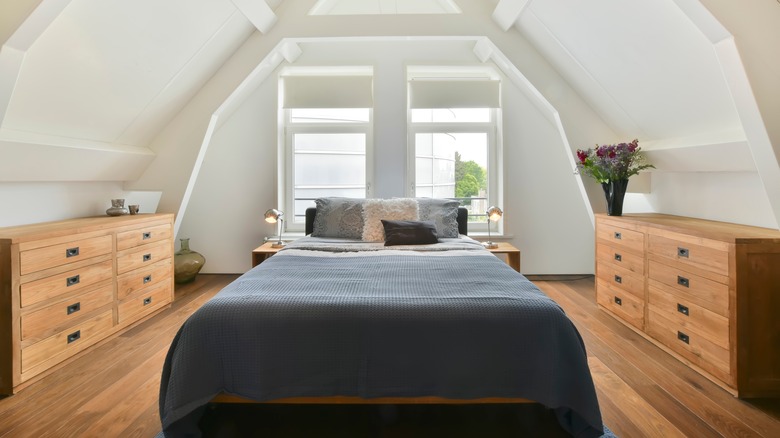 Procreators/Shutterstock
Long bedspreads that reach your floor are a good way to prevent dirt from collecting under your bed, according to Sweet Vida Home. Are you someone who likes to store things under your bed? If so, it might be worthwhile looking into getting some good boxes with lids. By storing your belongings in boxes, you will avoid having to individually dust your things each time you get down to cleaning Sweet Vida Home noted.
If you notice crumbs collecting, you might want to stop eating in your bed. You could try ventilating your room every once in a while too. This could help the dust from under the bed move toward areas where it can be easily collected (via Decor Tips). Mopping your room floor frequently is another great way to ensure that dust particles don't make themselves at home under your bed.
If you have pets, you're probably going to want to keep an extra eye out for fur under your bed. Even if they don't bring in their own dust and dander to your room, they could be displacing the dirt with continuous movement (per Decor Tips). Try discouraging your pets from getting in bed with you — keep in mind there are reasons why your furry friends shouldn't be sharing your bed.