How Imelda Staunton Really Feels About Taking On The Queen In Season 5 Of The Crown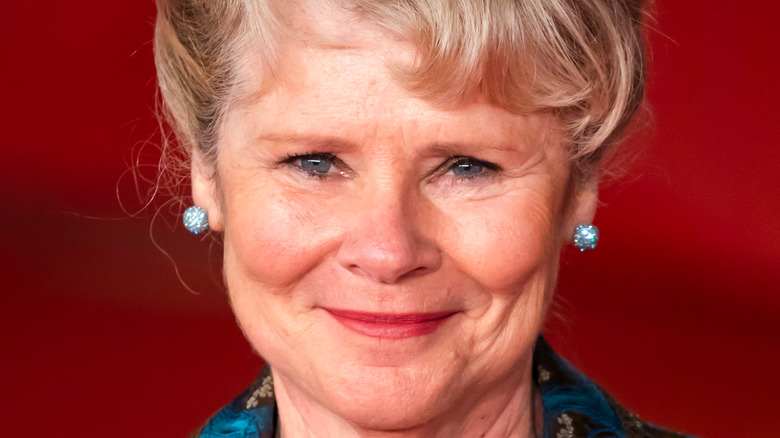 Claudio Bottoni/Shutterstock
Described as a "love letter" to Queen Elizabeth II (via Deadline), Netflix's "The Crown" spans five decades of the late British monarch's life — from her marriage to Prince Philip in 1947 to the turn of the millennium. Every two seasons, a different actress portrays the monarch, beginning with Claire Foy as a young Elizabeth from coronation to the birth of Prince Edward. Olivia Colman took over shortly after, taking the queen through the mid-60s to the early 1990s with the additions of future Queen Consort Camilla and Princess Diana.
Colman's last foray as the queen premiered in November 2020 (via Town & Country), with fans eagerly awaiting Imelda Staunton's take on the 1990s as Her Majesty — a decade full of drama, including three divorces, a fire at Windsor Castle, and the death of Princess Diana (via The Guardian).
For Staunton, best known for her roles in "Harry Potter" and "Downton Abbey," that's a lot to take on. So how does the actress feel about the role, and what can you expect from her portrayal of the former British monarch?
Imelda Staunton is an avid fan of The Crown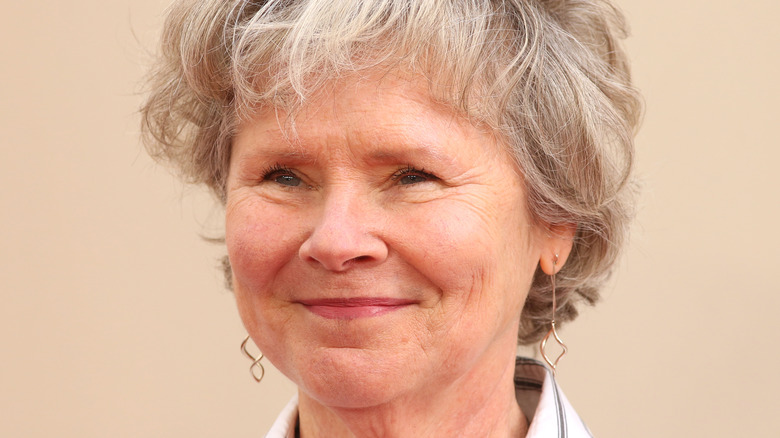 Lia Toby/Getty Images
In January 2020, Netflix announced Imelda Staunton as the next Queen Elizabeth II, back when its writer Peter Morgan said "The Crown" would end with season 5 (via The Hollywood Reporter). Morgan eventually found that there was just too much to cover in one season and went back to the original plan of ending with a sixth (via Deadline). While it won't bring viewers "any closer to present day," it will cover the tumultuous 1990s "in greater detail," he said in July 2020.
When she was first cast, Staunton shared her love for the series "from the very start," having watched Claire Foy and Olivia Colman bring "something special and unique to [the] scripts." The actress said she was "genuinely honored to be joining such an exceptional creative team and to be taking 'The Crown' to its conclusion."
The first image of Staunton as the queen was released in July 2021 (via Twitter), a couple of months before she gave an address from the set of the Netflix drama. "I'm delighted to be taking on the role of Queen Elizabeth from two outstanding actresses," she said (via YouTube). "I will do my utmost to maintain the very high standard that they set. Hopefully, I look calm, collected, and capable. My stomach, meanwhile, is doing somersaults."
Staunton is aware of how important it is to get the portrayal of Queen Elizabeth right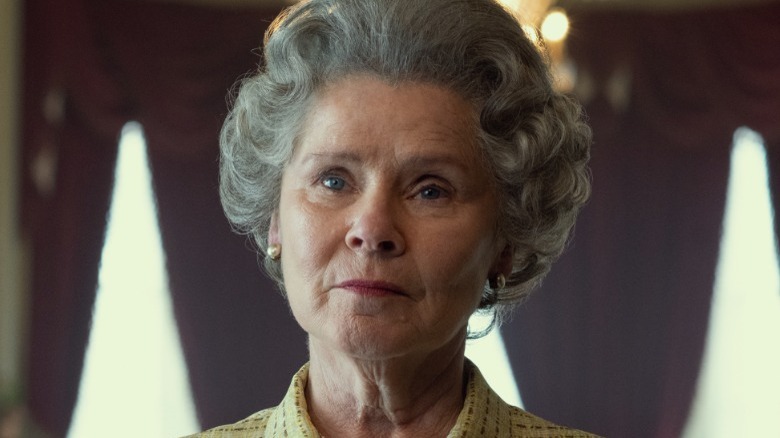 Netflix
Despite the understandable apprehension of taking on such a poignant and recognizable role, Imelda Staunton is committed to portraying Queen Elizabeth II "that we're a little more familiar with," as she told BBC Radio 4's Woman's Hour. "This isn't verbatim; this isn't taken from diaries," the actress continued. "You've got to use your imagination, and I'd like to allow the audience a bit of intelligence. You can't know that's what Margaret and Elizabeth were talking about."
Speaking on the British daytime show "This Morning" in October 2020 (via YouTube), Staunton reiterated the importance of getting her portrayal of the queen right. "Because she's so much in a lot of our lives and we know how she looks and how she sounds," the actress explained.
While Staunton is aware that she has to look the part, there's also a story to tell. "Peter Morgan's job is to do her backstage life, if you like — that's where his writing comes in, it's so extraordinary." On her part, Staunton has been "listening to her, watching her," as well as being among the millions who watched Olivia Colman's portrayal of the monarch during the third and fourth seasons. "Then I just have to take the baton and move on," she said a month before the season four premiere.