How To Pull Off The Trendy Strawberry Brunette Hair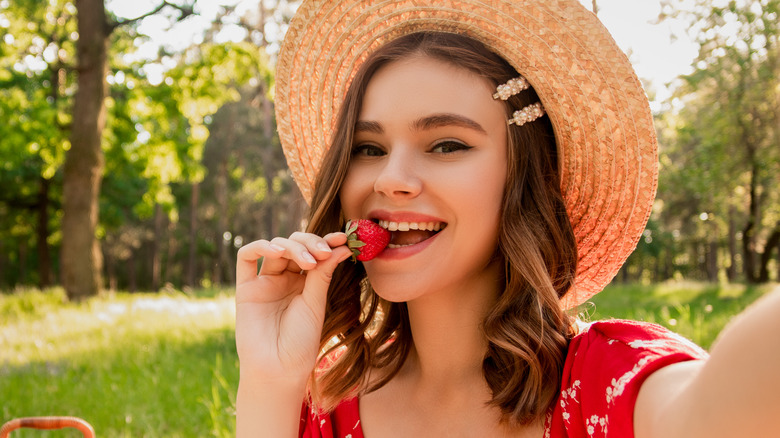 Alekseev_studio/Shutterstock
We may receive a commission on purchases made from links.
One of the easiest ways to transform your look is by changing your hair color. Maybe you want a change because you're bored — updating your hair color is always fun and exciting. If you've ever wanted to go blonde and don't know what shade to choose, strawberry blonde is a yummy choice. But what exactly is strawberry blonde?
Some people can confuse red hair with strawberry blonde hair, but according to stylist Aurea Sanchez Coletto, they aren't the same but belong to "the same color palette," per John Louis David. She describes strawberry blonde as "mostly based on red tones, with blonde highlights dotted here and there. It takes its name from the Italian renaissance. During this period, women lightened their hair using lemon juice and saffron in combination with the sun's natural rays of light."
Since going strawberry blonde will require your colorist to lift the color, ensure your hair is healthy enough to stand all those chemicals. "Once you lighten your hair, you can never make the hair healthier than its starting (health) point," celebrity hairstylist Monaé Everett told Byrdie. You wouldn't want to ruin your hair just for a change. However, it's a super pretty color that can look amazing on all skin tones.
If you're not ready to go blonde but still want the deliciousness of strawberry on your brown strands and thought it was impossible, think again because there's such a thing as a strawberry brunette. It's like chocolate ice cream topped with strawberry sauce.
Strawberry brunette hair looks good enough to eat
Move over strawberry blondes, because strawberry brunettes are taking over, and this treat of a hair color is a welcoming change for anyone with darker tresses.
While most brunettes go for caramel or golden highlights, adding this berry color can be a pleasant and unexpected change. LA-based color expert Cherin Choi told Byrdie, "Strawberry brunette hair can add a lot of warmth to the skin," and recommends getting reddish-pink tints when you get your highlights next or keeping it at the ends of your hair for easy maintenance. So, if you're not committed to all-over color, you can experiment with sections to see if you love it. However, she doesn't recommend this color for people who have red undertones.
There is no one shade of strawberry brunette, and it can be customized to match the individual based on their hair texture and eye color. "I might use a soft color glaze, rich deep pigment, or multidimensional tones to create the perfect color to enhance someone's skin tone," Nicola Clarke, John Frieda's leading colorist, told Glamour. Celebrities like Zendaya and Kendall Jenner have dipped their toes in this scrumptious trend with the most-flattering shade of strawberry brunette to flatter them.
When you're going for your next hair appointment, take pictures of this gorgeous hue, and it might not be a bad idea to choose celebrities with similar coloring for your colorist. That way, you can stroll home with hair that looks like dessert.
How to care for strawberry brunette hair
The truth about adding red to your hair is that it requires work to get the right shade and maintain it, though it's a gorgeous color.
Founder of Phenix Salon Suites and celebrity hair artist Gina Rivera told Byrdie, "To achieve a normal strawberry red tone, you will pre-lighten the hair to get the hair to the appropriate shade, whether it's with high lift color or using bleach." That's why you want to make sure your hair is healthy, so you don't ruin it by adding more chemicals to it. Cherin Choi, a color expert from LA, said that it's challenging to maintain the color as it fades faster but stays in your hair for longer and recommends color conditioners from Davines and oVertone to take care of the color vibrancy at home.
Since coloring your hair already costs you a small fortune, invest in quality shampoos and conditioners made for color-treated hair that can also help strengthen your hair bonds since coloring weakens them (via Greg Decker Hair). Also, colored hair tends to be drier, so using a hair mask once or twice a week will keep it hydrated. Even the sun can fade your hair color, so protect your hair from the sun, just like you protect your skin. Since red is a beautiful yet tricky color, make sure to go to your colorist for regular touchups to keep your yummy tresses staying that way for longer.