What It's Like To Eat Like Julianne Hough For A Week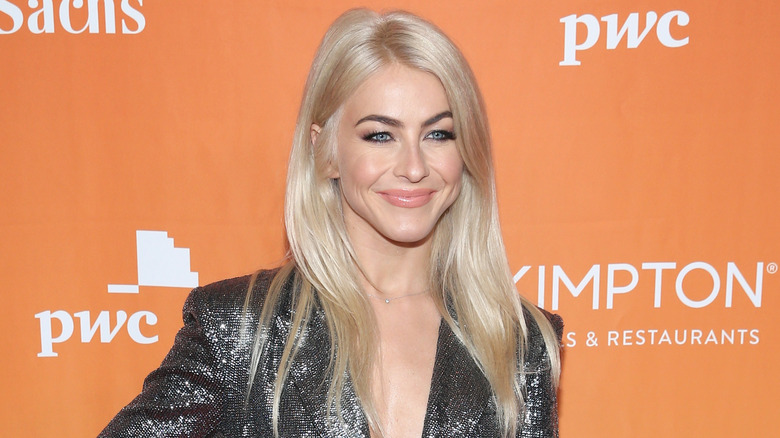 Getty Images
Julianne Hough is unstoppable. She first made a name for herself in television as a pro on "Dancing with the Stars" in 2007 on the show's fourth season (and has two mirror ball trophies to her name), then transitioned to the judges' panel in 2014, all while branching out into singing and acting. 
In 2009, she toured with Brad Paisley as a singer, then she hit the big screen, starring in the 2011 remake of "Footloose." In 2014, she toured North America with her brother, Derek, in a dance show they produced and directed and, in 2015, she launched her own lifestyle website. In 2016, she played the iconic Sandy on the small screen in Fox's "Grease Live!" — all before hitting 30. 
Throughout her successful career, she has also served as a major fitness inspiration, regularly showing off her toned physique and openly sharing her tips for a healthy, fulfilling diet with her fans. Here's what it's really like to eat like Julianne Hough for a week.
Clean ingredients are key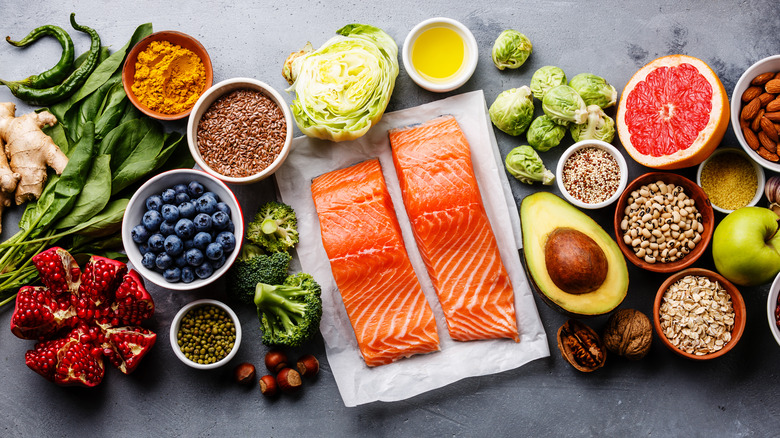 Shutterstock
In 2016, Julianne Hough landed the cover of Shape magazine and revealed to interviewer Claire Connors that one of the major keys to keeping her physique is clean eating. "I try to stick with foods that don't come in boxes," she explained. "I don't want a whole paragraph of ingredients in my body. Brooks and I generally eat protein and veggies," she continued, giving readers a look inside her daily diet.
"For a boost of energy, I mix in quinoa or rice sometimes," she continued before highlighting that clean doesn't have to mean bland. "If [my husband] had his way, we'd have steamed chicken and broccoli every day — that's too boring for me," she revealed. She explained that she tends to over-snack when she's bored with her meals. Luckily, she's found easy recipes to help keep her meals interesting. "Last night we made baked salmon with rosemary and lemon and broccoli, onions, and cherry tomatoes. It took only 20 minutes and was really delicious!"
Breakfast is all about green juices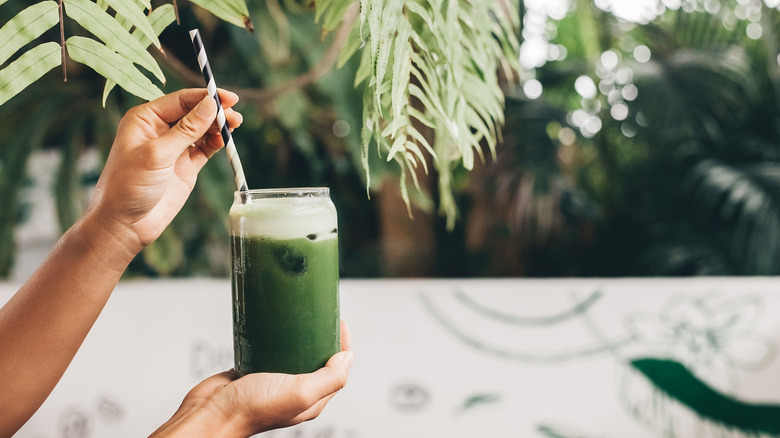 Shutterstock
Julianne Hough is big on green juices. "[My husband, Brooks Laich,] and I just bought a juicer, so we try to juice as much as we can," Julianne Hough told Elle in 2016, breaking down her breakfast go-to. "In the morning, I'll have a green juice. Whatever's in my fridge, I'll just throw whatever's in," she revealed, adding that she'll often toss in a green apple or carrots to sweeten her spinach and kale-heavy drink. "But I love ginger and lemon too, so I'll put that in," she noted. "Cucumber, celery, anything green, really. Sometimes I'll add beets too, depending on my mood." 
And after downing a smoothie, she's often ready for a workout!
She indulges in post-workout snacks and treats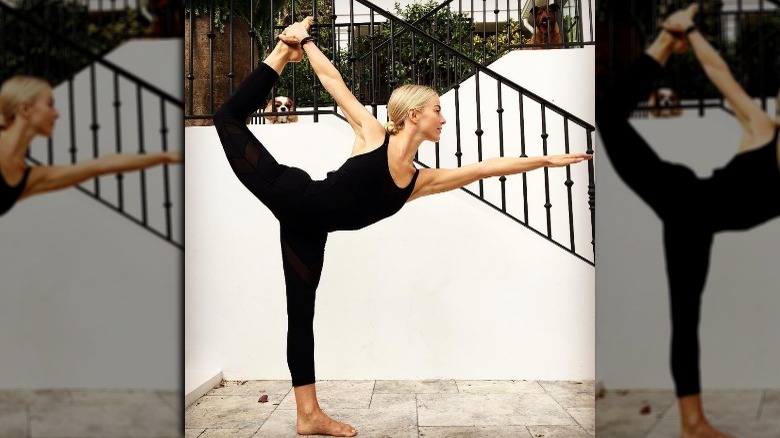 Instagram
Following her super green start to the day, Julianne Hough tucks into a "healthy wrap with a salad-type concoction within the wrap" for lunch, then follows that up with "chicken or fish with some sort of vegetables" for dinner. That being said, the professional dancer admitted to being a snacker, telling Elle, "I'll come home [after exercising] and I usually have some sort of eggs. I like to steam my eggs, then have tomato and avocado."
The occasional dessert is also on the menu — "I love ice cream [or] a sticky toffee pudding" — as is candy. "I like Milk Duds and Sour Patch Watermelons," she revealed. But there's one thing that'll keep her from reaching for the sweets. She admitted, "I'd rather have a glass of wine than dessert."
Lunch and dinner are carefully planned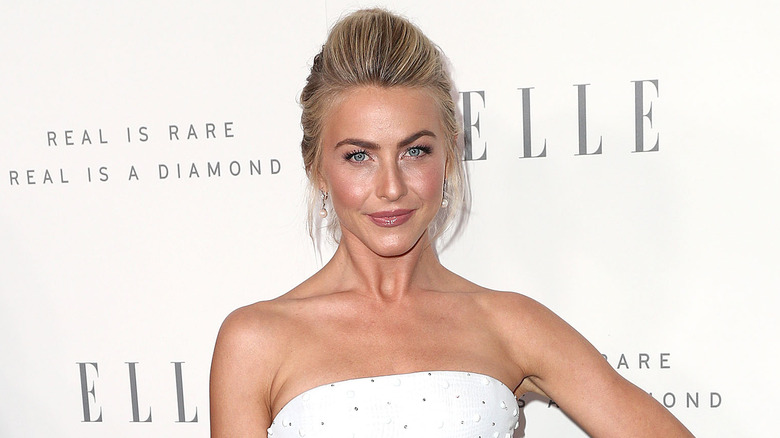 Getty Images
Teaming up with People in 2017, Julianne Hough shared a detailed food log with her fans, listing everything she regularly has for lunch and dinner, despite admitting, "I try to cut myself some slack if I'm being consistent with my nutrition and activity." Taking in a total 1,526 calories on an average day, a typical lunch for the "Dancing with the Stars" pro usually includes "one boneless, skinless chicken breast, over mixed green salad with tomatoes, cucumbers, hearts of palm, almonds, edamame, banana peppers, and olive oil and squeezed lemon."
Meanwhile, dinner is often a "6 oz. salmon baked with sliced lemon and rosemary, with olive oil and two cups sautéed spinach sprinkled with pink salt." She also makes sure to pair her meals with plenty of hydration, drinking four to six glasses of water per day, as well as "one cup of English breakfast tea with skim milk and Stevia in the Raw" at breakfast and a LaCroix seltzer at dinner.
Carbs are still part of every meal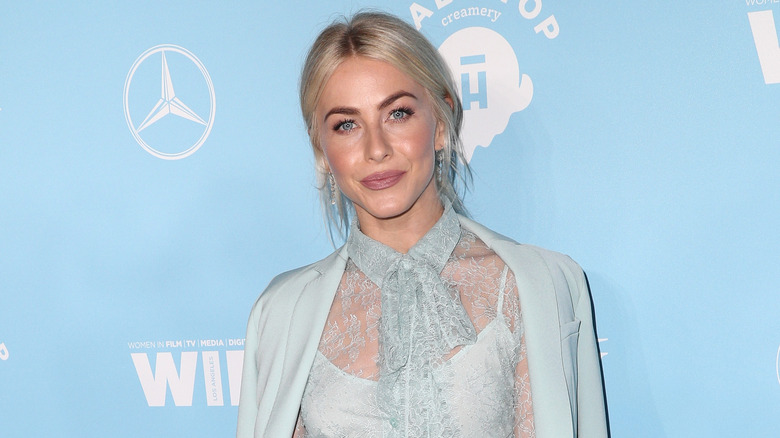 Getty Images
Chatting with Us Weekly at a Fitbit cycling event in 2017, Julianne Hough was asked what she likes to eat to get energized before a workout or performance, and the answer might just surprise you. Believe it or not, it involves carbs! "It's all about moderation, but I realized that carbs are often talked about in a negative context, like, 'Carbs make me fat or bloated,'" she declared. "But I think, for me, I have to have some sort of carb, whether it's rice or pasta or bread or whatever it is, and not big amounts, but I do need carbs because it makes my brain click on."
She has a go-to salad (and it's easy to make)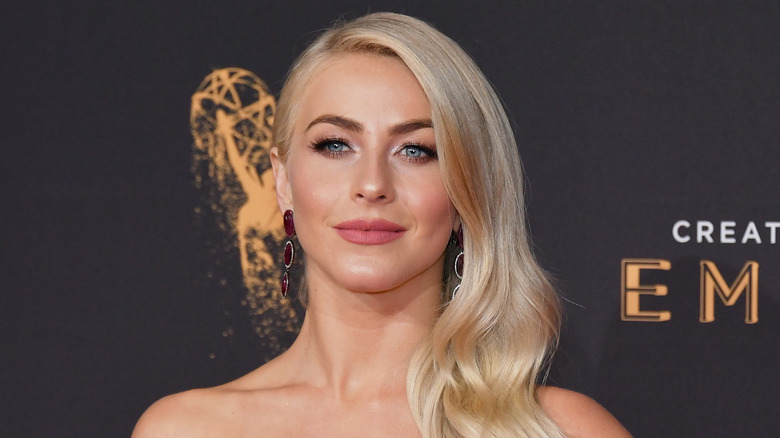 Getty Images
Nutritious salads are a go-to for Julianne Hough, who shared numerous salad recipes on her now-defunct lifestyle site. But it's her super simple cucumber salad that she has dubbed "the best snack ever." Made up of just a handful of ingredients, it's "refreshing, zesty, and healthy, [and] there's no shame in having multiple servings because it's really good for you!" she once wrote on her site, sharing the quick recipe with fans and encouraging them to try the dish as a dinner or easy snack. All it requires is chopping up and mixing Persian cucumbers with cherry tomatoes, kalamata olives, a red onion, chickpeas, lemon, and a bit of parsley. Delicious and nutritious!
Sunday is a cheat day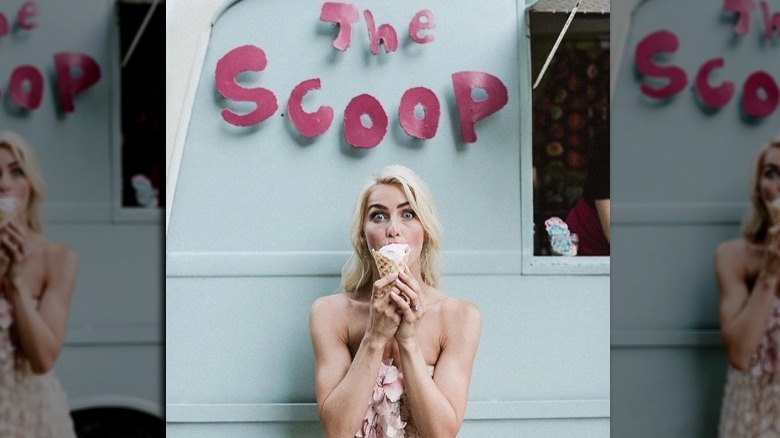 Instagram
"E! News recently posted a picture of me coming out of the gym, and there were all these comments about the photo, like, 'We could have abs like this, but we love pizza too much,'" Julianne Hough told Shape in 2016, revealing, "I started laughing because pizza is my favorite food! I eat it a lot! I want everyone to know that I'm not Miss Perfect. You can cheat every once in a while, and that's OK." She explained that people can maintain an in-shape physique and enjoy foods like pizza in moderation, so long as they exercise often and regularly eat healthy foods.
She elaborated on her habit of having one day of indulgence per week to Elle, saying, "I do love my Italian food, and pasta, and pizza." Especially when it comes from her favorite Italian restaurant, La Piazza in Los Angeles. "We go get our penne arrabiata, and our margherita pizza, and our half-bottle of chianti: that's like our go-to," she gushed.
Being on the road requires a stricter menu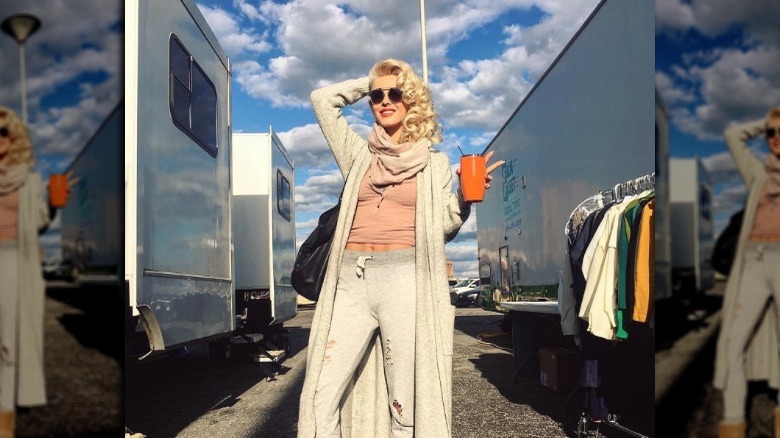 Instagram
While Julianne Hough enjoys her carbs and a weekly cheat day when she's at home, she follows a stricter diet while working on the road. "Being on tour requires every last drop of energy I've got," she wrote on her since-deleted blog, explaining, "It's important to keep my body properly fueled with efficient foods. My snacks and meals must be more than just delicious — they have to be effective."
She explained that, despite enjoying eating sweets, they mess with her metabolism too much, so she chooses to maintain a balanced diet. Breaking down her regimen, she said she often starts off with green juice and "hard-boiled eggs for protein," and then rolls into "a hearty salad with lots of clean toppings and grilled chicken."
Her pre-show snack includes a green apple with a scoop of almond butter or protein bar ("one that is low sugar, high fiber and protein") and once she's done performing, it's all about a hearty dinner. "I'm usually ravenous after a performance," she told her readers. "These meals call for something a little heartier than my daily regimen," she explained, such as "chicken stir fry or grilled chicken with quinoa, sweet potatoes or a green salad or a cozy and delicious bowl of soup."
Julianne Hough needs cold water all night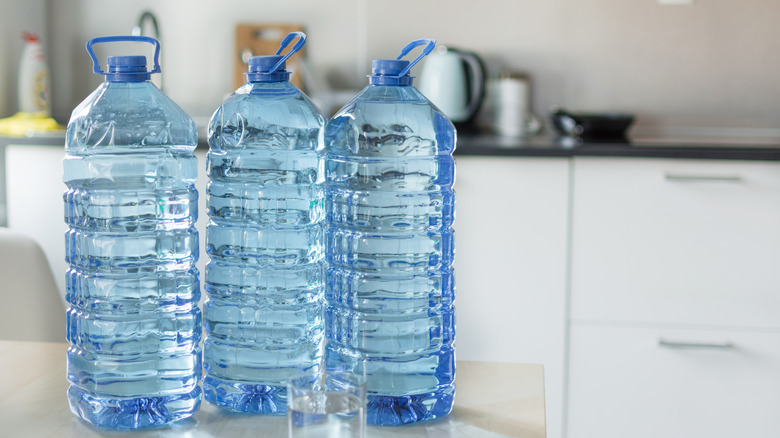 Shutterstock
We don't think it's possible to overstate the importance of staying hydrated. According to the Mayo Clinic, doing so helps you regulate your body temperature, protect your joints and sensitive tissue, and ensure that you're able to get rid of bodily wastes. And don't worry — there's little chance that you're drinking too much water.
Julianne Hough clearly got this memo, as you'll seldom find her without her means of hydration at arm's length. "I have this water bottle that goes everywhere with me," she explained to Delish. "Every night, before bed, I put ice in it and fill it to the top — it holds 40 ounces of water — and I drink it throughout the night." Hough added that she doesn't drink all of it — that would likely interrupt her sleep for bathroom breaks — but she definitely needs her water nearby. Maybe we should start doing this too?
She gets nostalgic for this meal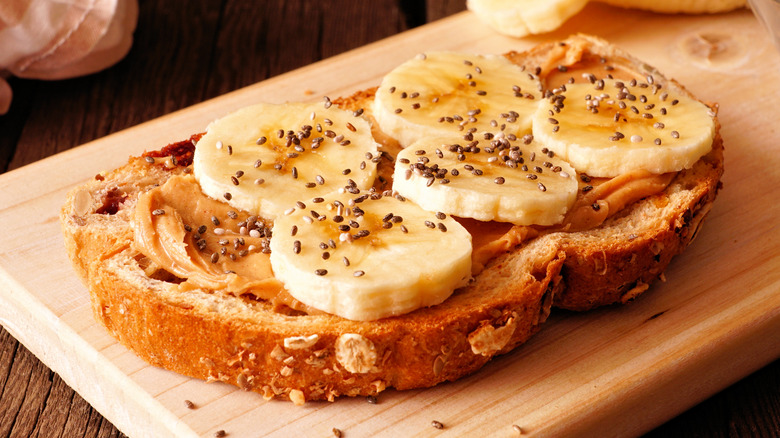 Shutterstock
Are there foods that make you nostalgic for childhood? Perhaps you loved eating cereal and drinking the sweetened milk afterwards, or maybe your mom made the best chicken soup when you were sick. As far as Julianne Hough is concerned, there's one dish that takes her back to being a kid every time. "I had peanut butter and banana sandwiches as a kid," she revealed in an interview with Delish, "and in England, we'd put chips in our sandwiches, so one day, we just combined them, and it was so good." That does sound tasty!
Hough revisited that meal back in 2017, when she was on tour with her brother. The pair made peanut butter and banana sandwiches once again, this time with added honey and salt and vinegar potato chips. While the potato chip aspect might sound a little weird at first, trust us when we tell you to give it a shot; they really develop the texture and flavor profile of the sandwich.
Julianne Hough's smoothie snack sounds delicious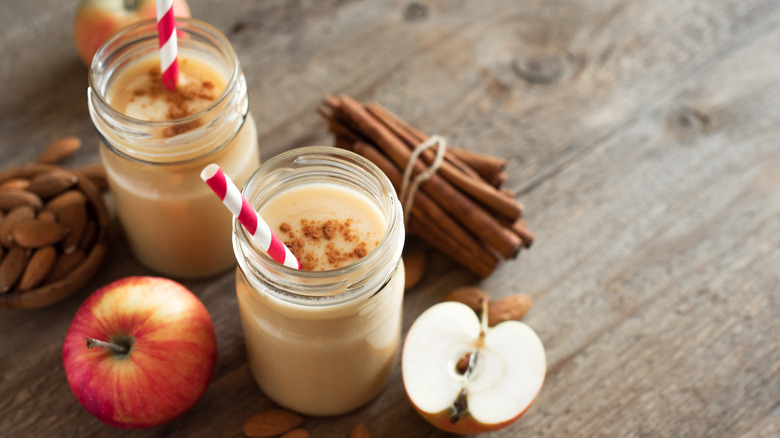 Shutterstock
In addition to being a fan of making green juice at home, Julianne Hough is also a fan of smoothies. Given that you can pack them full of healthy nutrients and customize them to your heart's content, we're honestly not surprised the dancer is a fan of the beverage.
In fact, Hough's go-to snack smoothie, prepared especially for her by her trainer, sounds totally delicious. According to People, between breakfast and lunch, Hough indulges in an "apple pie smoothie." In it, you'll find one red apple, a small frozen banana, five almonds (raw, not toasted), almond milk, six ounces of fat-free Greek yogurt, and a dash of cinnamon. Blend it all together and voilà, you have a tasty smoothie that can keep even the most active people satiated.
After lunch, Hough also has a snack, but it's not nearly as bulky; in the afternoon hours, Hough reaches instead for an orange. That sounds super refreshing too.
Julianne Hough drinks this before working out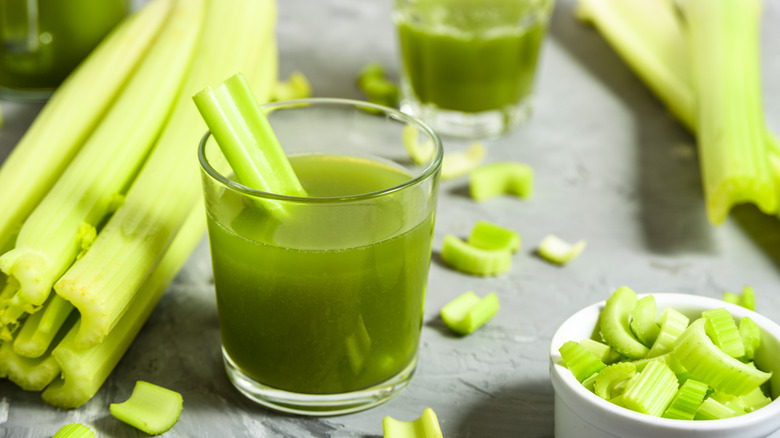 Shutterstock
We already mentioned that Julianne Hough likes to start her day with a spinach and kale-based green juice with added fruit and ginger. But given that Hough works out pretty much every day, she has to have something beforehand to power her up. To that end, Hough once again busts out the blender and the green stuff, but this time it's customized to be light but satisfying. "If I eat something before I work out that's more of substance, it doesn't work for me," she explained in a chat with Women's Health.
To that end, Hough's pre-workout drink consists of "lukewarm water, lemon, celery juice, a green superfood drink, apple cider vinegar, and an adrenal supplement," as Women's Health described. That way, when Hough is pushing it in the gym or sweating on the dance floor, she's not going to wind up hungry or dehydrated. Sounds like a win-win.
Post-workout, she replenishes with healthy fats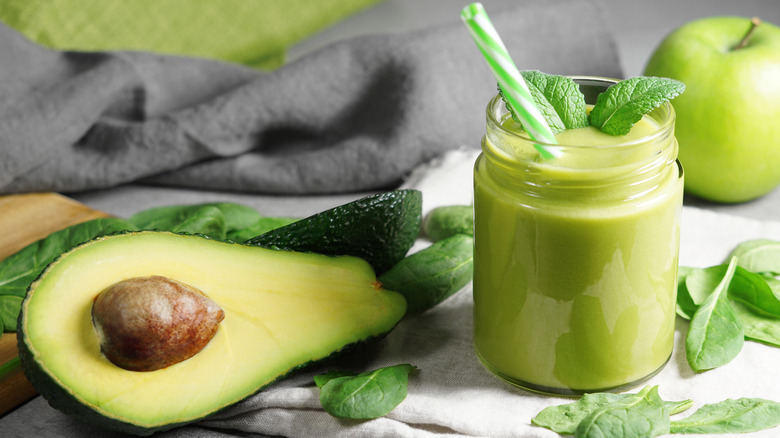 Shutterstock
If you had to guess what Julianne Hough reaches for when she's finished with her workout, what would you predict? If you conjured images of yet another green beverage, you'd be 100% correct. However, this time, Hough makes an effort to consume healthy fats, as opposed to just fruits, vegetables, flavoring agents, and supplements.
After Hough has finished sweating for the day, she makes herself a shake with "avocado, almond butter, almond milk, spinach, protein powder, blueberries, and a banana," as noted by Good Housekeeping. This might be our favorite Hough-approved smoothie yet!
If you find yourself wondering about Hough's eating rules — she does seem to follow a super healthy diet plan — Hough makes sure to keep an open mind when it comes to food. "I'll try anything," she proclaimed. "I love food!" She added that she loves both guacamole and tacos (who doesn't?), so maybe Hough isn't as strict with her diet as we thought.
Julianne Hough's alcohol preferences can change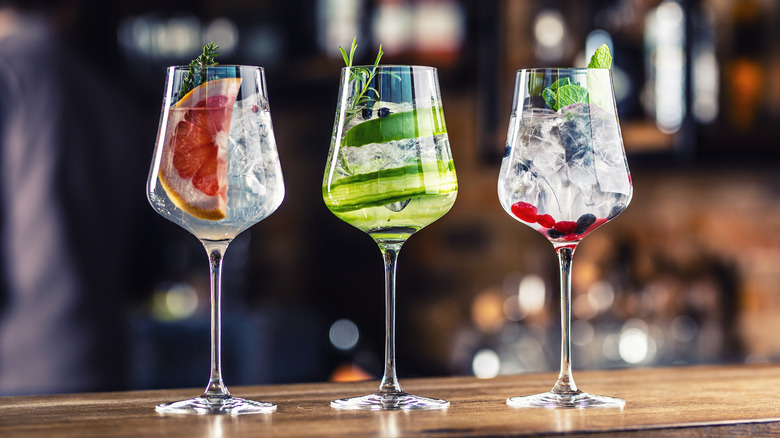 Shutterstock
One thing that Julianne Hough used to really enjoy is a glass of wine — so much so that she'd take that over dessert, as noted by Elle back in 2016. However, like any other human being, Hough's alcohol preferences have changed over the years. "I used to be a really big wine drinker just because I loved it," she told Good Housekeeping. "I loved the experience ... but it really makes me not feel good." And we've all been there.
So now when Hough decides to raise a glass, you're more likely to find it filled with hard alcohol, specifically gin or tequila. She enjoys having that along with seltzer water (we prefer LaCroix, of course, but you may be team Polar) and maybe some fruit, or she'll drink it straight if she's in the mood. Chances are that Hough imbibes in moderation, too.
Julianne Hough wants everyone to eat healthy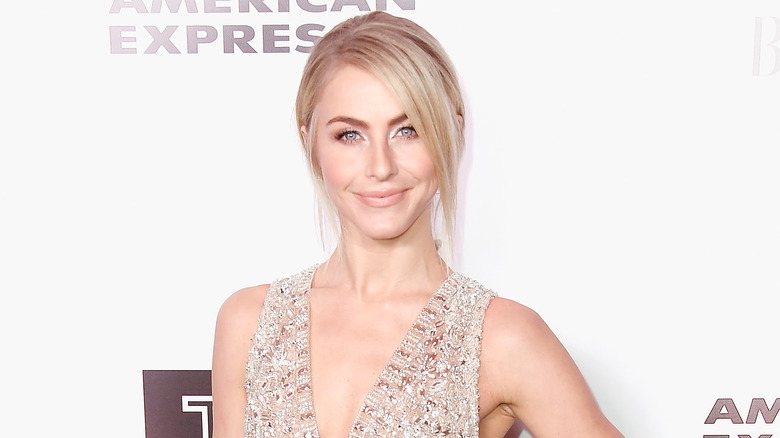 Getty Images
After launching her own lifestyle website in 2015, Julianne Hough used her personal blog, which has since been transformed into kinrgy.com, as a place to share details about all aspects of her personal life, including her diet. The dancer regularly shared recipes with fans to show that eating healthy doesn't have to be boring. 
She often wrote about delicious, seemingly "guilty" snacks that she makes healthy, such as grilled cheese sandwiches, peanut butter cookies (that are high in protein, gluten-free, and completely organic), and even deep dish Chicago-style pizza, which she said makes "the seemingly impossible, possible" by using cauliflower instead of flour for the crust, a light mozzarella for the filling, and spinach to add "healthy benefits." Sounds tasty!