Is The Poweramp App Worth The Money?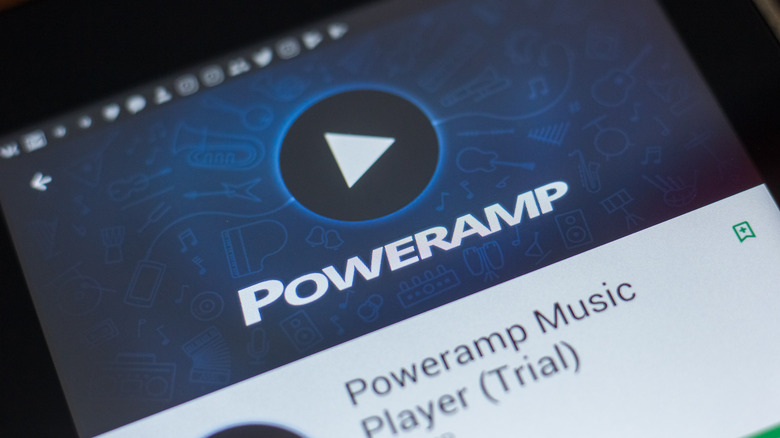 Sharaf Maksumov/Shutterstock
Your smartphone's app store is filled with thousands of apps, from the classic social media programs like Facebook and Instagram to the more user-specific apps like OmniFocus and NordVPN. With so many options to choose from, it can be difficult to identify the best app for you, especially when they're not all free to use.
If you've heard of the Poweramp app, you might wonder if it's a paid program worth the money. As explained on XDA Developers, Poweramp is one of the oldest music-playing apps in the Google Play Store and is primarily known for delivering high-quality music to Android listeners. Whereas mainstream music apps like Spotify and YouTube Music stream audio to users, Poweramp plays locally stored audio files that can be accessed offline.
Though the app offers a 15-day free trial, Poweramp costs $6.99 to use permanently (via Google Play Store). This might not seem like much of an investment, but it's still worth considering the app's different features and uses to decide if it's the right purchase.
Why users like the Poweramp app
Prostock-studio/Shutterstock
The biggest appeal of the Poweramp app is its ability to deliver high-quality sound. The program was specifically created to give users the best possible audio quality (per PC Mag), so it's especially appealing to users who enjoy listening to first-rate sound on expensive speakers and headsets.
Rather than using the Android system to decode music, the program has an in-app decoder that allows it to provide high-quality music (per XDA Developers). Plus, Poweramp offers a built-in equalizer that lets users customize their listening experience. These are the biggest pros of the Poweramp app, but it also advertises even more in-depth features.
In terms of app presentation, Poweramp allows users to really customize the appearance of the interface. You can download or purchase different skins to change the presentation of the app, as well as change things like album art, lock screen appearance, and music visualization (per Top Seven Reviews).
With 1.4 million reviews, Poweramp has a 4.3 out of 5-star rating in the Google Play Store, indicating that users are generally pleased with all the app has to offer. Specifically, one reviewer writes, "I've been a happy user of this app for several years now. For folks with large libraries of digital music, it's a godsend. The scope of control and customization is unparalleled amongst [sic] comparable apps ... This is the best app for local storage music."
How to decide if Poweramp is the app for you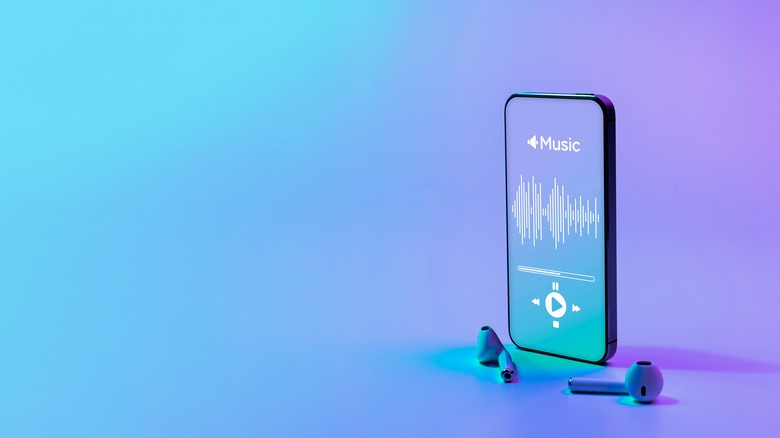 MVelishchuk/Shutterstock
Knowing the different features of the app is a great way to determine if Poweramp is worth the money for you. However, there are a couple of other things to consider to help you decide.
As mentioned, Poweramp is available for Android devices in the Google Play Store, but it isn't available to Apple smartphone users. Depending on what type of phone you have, this could be a deciding factor.
According to Tech Junkie, some users may initially have a hard time navigating the app due to its many different features and customization options. In this way, music lovers looking for a more simple and easy-to-use way to play locally stored music may be overwhelmed by the app's many options.
Before purchasing Poweramp, you might compare the app's free trial period to free music player alternatives. AlternativeTo mentions that VLC Media Player is the best alternative, but you can also check out Blackplayer Music Player, Beatbox Music Player, or Stellio (per Guiding Tech).
With all of this in mind, Poweramp is definitely a good app for those who are committed to a high-quality and ultra-customizable music experience. If you find yourself enjoying the free trial period and using all of the app's features, then it will totally be worth the full price.