HGTV's Christina Haack Shared A Brilliant Staging Tip For Your Houseplants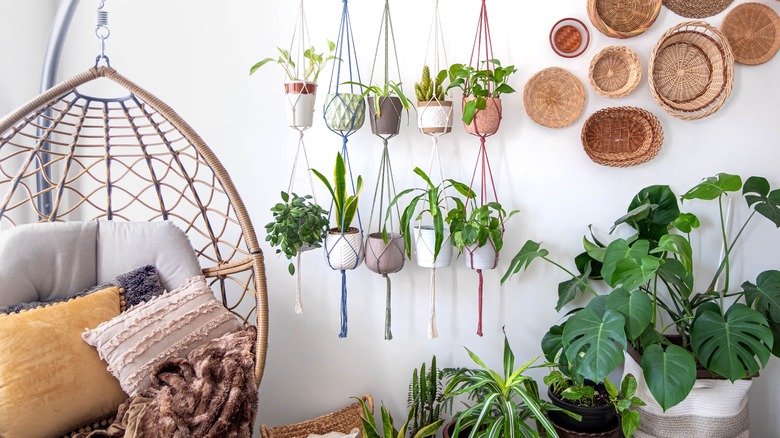 TippyTortue/Shutterstock
Houseplants are one of the easiest and most affordable ways to style your home. A little greenery brightens up a space and adds personality and character. Plus, plants have the added bonus of boosting our moods and our health. What's not to love?
But, even with all their wonderful attributes, not everyone can fill their home with dozens of plants. You'll need a bit of a green thumb and the commitment it takes to cater to the needs of several species of plants. So, when HGTV's Christina Haack shared her secret to pulling off the lush home decor look, we had to try it.
The star shares her impeccable eye for interior design and home remodeling on HGTV's "Flip or Flop," which is soon ending after 10 seasons, and "Christina on the Coast." Haack's signature California cool aesthetic features airy layouts with lots of natural light, statement floors and backsplashes, clean lines, earthy accents of wood, and, of course, plant life. The designer has several tips for pulling off her brilliant hack to indoor greenery and even more home decorating ideas to upgrade your space.
Christina Haack's genius houseplant staging tip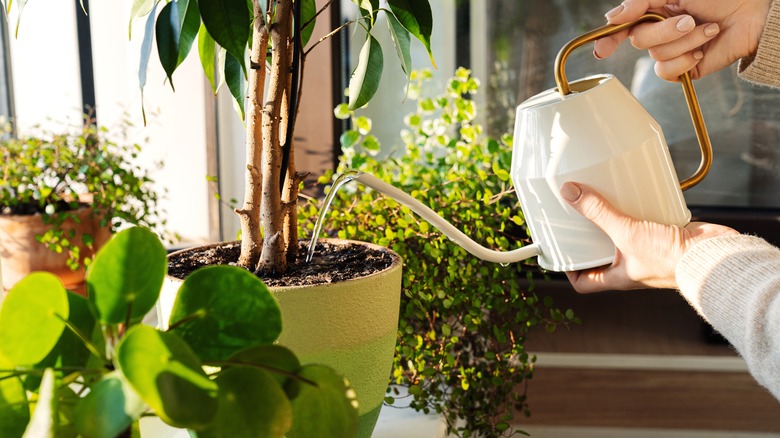 BeautyStars/Shutterstock
HGTV star Christina Haack has a portfolio full of stunning interior inspiration featuring her signature relaxed California aesthetic. Some of her top designs on HGTV take a bit more finesse (and money) to pull off, but her houseplant home decorating tip is super simple. She suggested a creative way to amp up the greenery throughout your home in a clip on Amazon Live, saying, "A little trick that I like to do, especially when staging houses, is to mix real plants with fake. It's so nice in general to have real plants throughout the house, but they are very hard to keep alive."
Real plants will always reign supreme, but mixing in some faux flowers or exotic-looking plants couldn't be any easier. Plus, they often look surprisingly authentic. Haack shared how exactly she adds greenery in her own space, saying, "If you wandered around my home you would see that we have a lot of real mixed with fake. I like to do a big assortment on the kitchen island that has a big large clear vase with a bunch of fake accent flowers."
Christina Haack has even more home design tips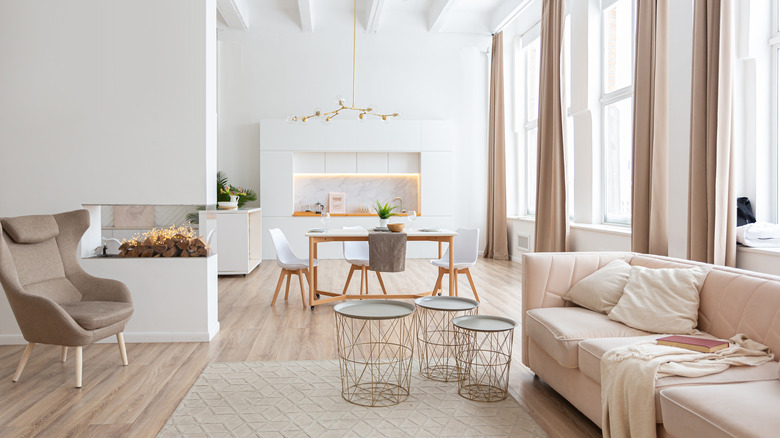 Pinkystock/Shutterstock
Reality star and talented interior designer Christina Haack is brimming with renovation and design tips for your home. She even has budget-friendly ideas for sprucing up a kitchen, which is a notoriously expensive room to renovate, according to PureWow. For one, the HGTV star recommends updating your kitchen with new white cabinets, which is an affordable way to totally revamp the space. "Right now, everyone loves white cabinets," she said. "You can get white cabinets for a pretty inexpensive price if you go with pre-fab cabinets, as opposed to custom." She also shared that a quick paint update and swapping out a dated backsplash with a fresh tile will do wonders for your space.
Haack is also a big fan of natural elements throughout her home, often mixing modern aesthetics with rustic decor. In addition to various real and fake houseplants, she suggests incorporating wood, stone, shells, or rugs made from natural fabrics. Lastly, your home should act as your sanctuary and reflect your personality and surrounding environment, whether in the mountains, ocean, or countryside. Considering these elements can help you begin your home decor journey even when the task feels daunting.