Here's What To Do If Your Flat Iron Burns Your Hair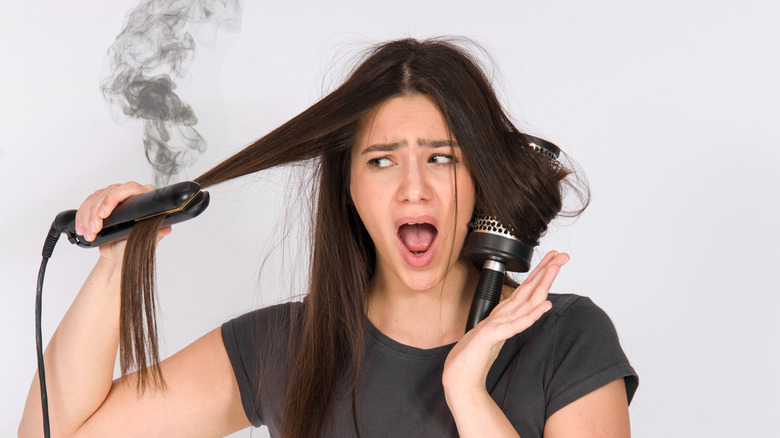 Denis OREA/Shutterstock
We may receive a commission on purchases made from links.
One of the first rules of styling your hair is that if you have straight hair, you want curls and if you have curly hair, you want it straightened. While some of us still struggle to find the perfect hot tool to do it all, the flat iron comes closest — not only can it can give you sleek hair, but with a little maneuvering, you can also create gorgeous waves.
But first, you need to find the perfect flat iron that does what you want, which is important because "it ensures that you don't need to make multiple passes over the hair and further increase the likelihood of damage," stylist Gina Rivera, founder of Phenix Salon Suites, told Byrdie. This can also save you loads of time.
Most flat irons should only be used on dry hair, but some people make the mistake of using them on wet hair. T3 celebrity hairstylist David Lopez told Self, "That sizzle sound? That's the water boiling and your hair frying." Therefore, you need to use it on dry hair; otherwise, you're damaging your hair.
If you use a lower temperature, the flat iron might not give you the silky, sleek look you want. But when you raise the temperature, there is always a risk of burning your skin and your hair. What should you do if you burn your hair with your flat iron by mistake?
Do this if you burnt your hair with a flat iron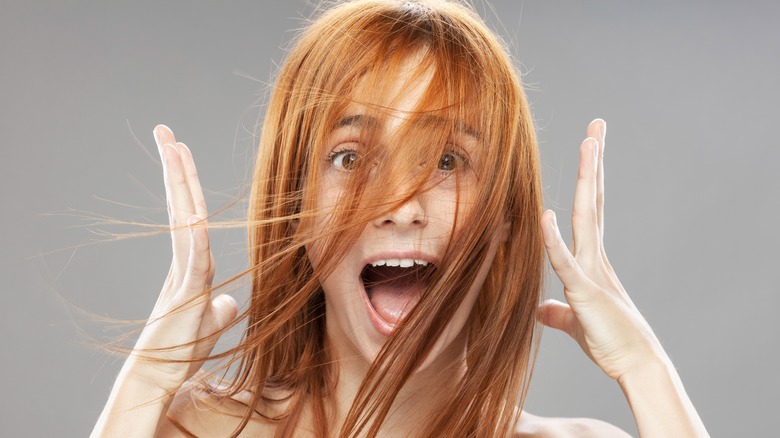 Nikola Spasenoski/Shutterstock
So, you were a little careless or had a faulty flat iron, and now your hair is burnt. It smells awful and looks horrible. The good thing is that it's just hair and will grow back — but what do you do in the meantime?
While your first thought might be to chop off the burnt section, you should wait before making hasty decisions. According to stylist Amanda Epstein, the first thing you should do is call your stylist (via Hair.com). He or she will be able to give you a haircut or do some damage control, so the burnt hair isn't so obvious. In the meantime, Epstein recommends using deep conditioning masks like the Biolage HydraSource Deep Treatment Pack Multi-Use Hair Mask or the Kérastase Resistance Masque Extentioniste Hair Mask and to avoid heat-styling your hair. 
You might also want to switch to a strengthening shampoo and conditioner to help heal and restore your hair, per L'Oréal Paris. If there's ever a time to show some TLC to your locks with hair masks and deep conditioners, it is now. If you're still not happy with the condition of your hair, your salon should be able to give you a more intense treatment or a new hairstyle.
Tips to avoid burning your hair with a flat iron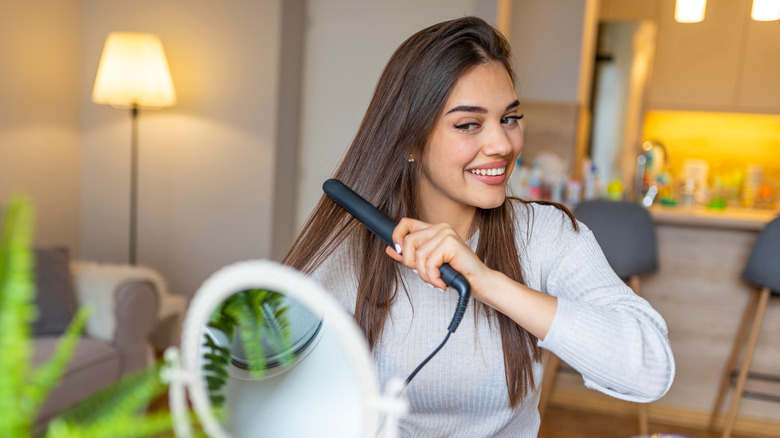 Dragana Gordic/Shutterstock
If you're a fan of straight hair or waves, you should buy a quality flat iron. "Invest in tools that have [a] digital temperature that you can adjust. With internal custom heaters and temperature control, you can protect your hair by lowering the temperature and only holding your hair on the iron for a couple seconds," Beachwaver founder and celebrity hairstylist Sarah Potempa told "Today." Having control over the temperature is one of the best precautions you can take against burning your hair.
Most flat irons heat to various temperatures, so you can choose a setting that works best for your hair type and texture. If you have fine hair, experts recommend keeping it between 250°F and 300°F, per Mane Addicts. The thicker the hair, the higher the temperature, so you can go between 350°F and 400°F for natural and/or thick hair.
Potempa suggests getting a ceramic flat iron for fine to normal hair and titanium for curly hair (per Teen Vogue).
Once you have a good flat iron and know the appropriate temperature, it's also important to apply a heat protectant before using it. Tim Rogers, the creative director for Living Proof, recommends using Living Proof Perfect Hair Day Heat Styling Spray. As he told Teen Vogue, "You can use it on damp hair, which is great, and it protects up to 450 degrees and resists humidity, so it dramatically reduces the frizz factor."