Of All Vanessa Hudgens' Looks — This Stands Above The Rest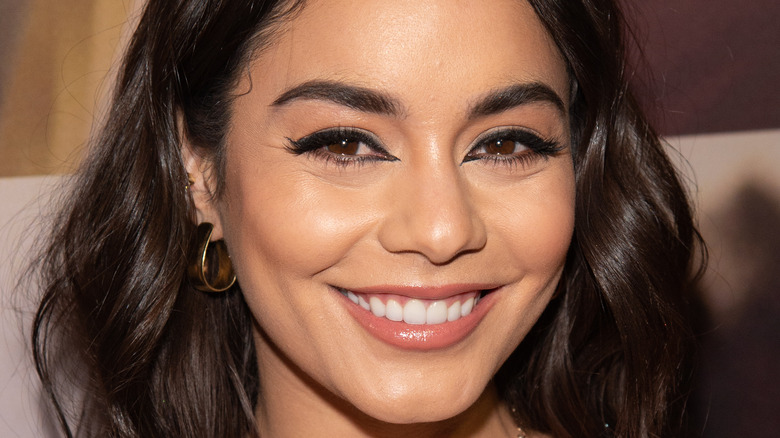 Ron Adar/Shutterstock
What could the adorably wholesome "High School Musical" movies, the notoriously uncomfortable "Spring Breakers" film, and the ultra-intense fantasy "Sucker Punch" movie possibly have in common? They all feature the talented Vanessa Hudgens. While some actresses seem to enjoy sticking to one type of character or genre, it's no doubt that Hudgens can portray a wide variety of characters in different genres. Whether she's singing and dancing in the innocent Disney musical, getting into dangerous trouble while wearing a sexy bikini in the spring break-focused film, or trying to escape bad situations in a fantasy action movie, we can always count on Hudgens to deliver excellent performances and look great while doing so.
Not only is Hudgens a talented movie star, but she's a fashionista, too. Known for her boho-chic style, the Coachella-loving actress expresses her personality through what she wears. "What everyone's creativity looks like is different. I think just embrace and honor yourself and your taste and go from there," Hudgens told E! News. We're always excited to see what the movie star will wear next, but one of her looks stands out above the rest.
She blew us away in her light teal Versace gown for the 2022 SAG Awards
The untold truth about Vanessa Hudgens is that she can rock endless outfits as versatile as her movie roles and look stunning every time, so it was a challenge for us to choose one standout look. However, her light, teal Versace dress from the SAG Awards in 2022 is the clear winner for many reasons. First, the gown fits her shape perfectly, hugging every curve of her body and showing just the right amount of cleavage to look somewhat provocative but still classy. Plus, the light, cool tone beautifully pops with her tan skin, creating a lovely contrast. And while the look exudes a sophisticated, elegant vibe, the carefree slit matches the movie star's free-spirited personality. Furthermore, her sleek gold open-toe heels, matching Chopard jewelry, and shiny clutch complemented the outfit without overpowering it.
Styled by Jason Bolden, this silky dress was perfectly tailored to the actress. Moreover, Hudgens wore her naturally curly hair in a straight, sleek bob long enough to look glamorous but not too long to the point where it interfered with the dress; Danielle Priano did an excellent job styling the movie star's hair. It's no wonder that Hudgens' post featuring the dress earned over a million likes, and the ensemble received attention from Vogue (via Instagram).
Here are some more of Vanessa Hudgens' standout looks
It's no secret that we adore the Versace dress from the 2022 SAG Awards, but Vanessa Hudgens has also flaunted some other looks that deserve recognition. For example, her sparkly blue butterfly top by AREA with short ripped shorts and jewelry by Jacquie Aiche perfectly reflected her carefree personality and the Coachella scene. This unique, playful look was styled by Rachel Haas and is one of the most fun outfits we've ever seen. Another one of Hudgens' best looks is a beachier ensemble from August 2020. The actress's pinkish lilac bikini top looked lovely on her, but the accessories make this look stand out the most. For instance, her sarong skirt had an intricate floral pattern and fringe. And she wore a flattering, alluring body chain, and her floppy hat and long earrings made this beachy outfit look stylish enough to wear on a red carpet.
Furthermore, we had to include one of Hudgens' more princessy looks. On New Year's Eve 2019, the actress wore a glamorous black gown with a sparkling top featuring slim straps and bow details, while the skirt was big and poofy. She wore light, long gloves that added a regal flair to the ensemble and her hair was in a high bun, complete with a sparkling headpiece. Her classic red lips made the look appear even more elegant, and she pulled it off like a queen.