The Lifetime Movie You Should Watch If You're A Sagittarius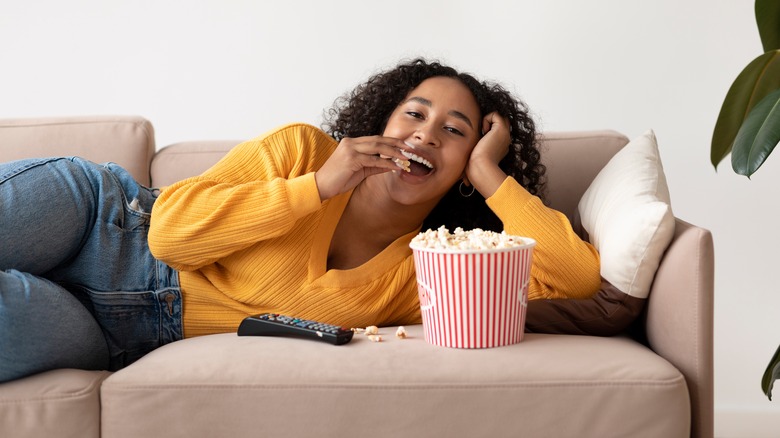 Prostock-studio/Shutterstock
Lifetime movies may have garnered a bad reputation over the years, but that doesn't mean they're all a bust. From the campy and overdramatic to the compelling and thought-provoking, the network truly has a wide variety of films, some of which are definitely worth a watch. If you're trying to figure out what Lifetime movie you should indulge in, turning to your zodiac sign is a great way to find your next movie night pick.
Sagittarius is the zodiac sign for those with birthdays ranging from November 22 to December 21 (via Astrology Zodiac Signs). This zodiac sign is represented by the archer — a centaur equipped with a bow and arrow — and often suggests a sense of adventure and natural curiosity (via Allure). As a fire sign, Sagittarians are also known for their passion, intensity, and adaptability. Though often characterized by dynamic energy and a free-spirited personality, this sign also has a philosophical and intellectual side.
With this in mind, check out the best Lifetime movies for Sagittarians!
Lifetime dramas are great for Sagittarian's philosophical side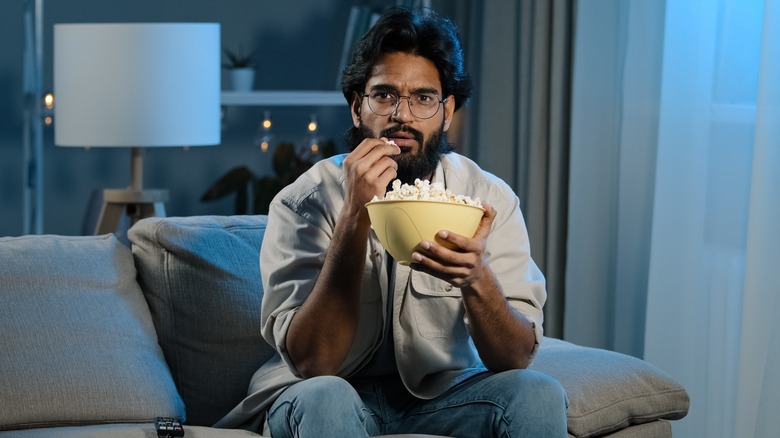 Maya Lab/Shutterstock
While Sagittarians are known for their free-spirited personality, Cosmopolitan emphasizes the sign's philosophical side. Because of this, Lifetime dramas that explore deep themes are great picks for any Sagittarian.
Lifetime's 2007 film "Speak" is a top pick for this zodiac sign as it deals with more complex, heavy themes. Starring a young Kristen Stewart, the movie follows freshman Melinda as she stops speaking after a traumatic high school party (via Rotten Tomatoes). According to Bustle, this movie is heartbreaking, beautiful, and well-performed. While trigger warnings should be consulted for anyone sensitive to the movie's exploration of assault, "Speak" is definitely worth checking out.
Also tackling heavy topics, "A Girl Like Me: The Gwen Araujo Story" is an excellent film for a Sagittarius interested in exploring deep, pertinent topics. Released in 2006, this movie is based on the life of Gwen Araujo — a transgender woman who was murdered by four men in 2002. "A Girl Like Me" explores a tragedy in a thought-provoking manner and is a great option to satisfy the intellectual side of any Sagittarius. 
Sagittarians will appreciate lighthearted Lifetime movies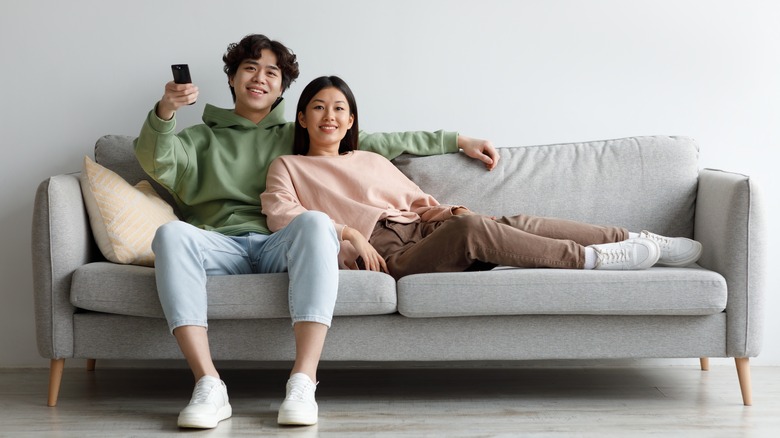 Prostock-studio/Shutterstock
While many Lifetime movies are dark, true crime dramas, the network also has many lighthearted films that depict characters overcoming adversity. Because Sagittarius is a sign known for its bubbly, high-energy personality and adaptable nature, according to Cosmopolitan, they will definitely appreciate the positive tone of these movies.
"The Gabby Douglas Story" is a great Lifetime pick for a Sagittarius. Released in 2014, it is based on the true story of Gabby Douglas, the first Black gymnast to win the Individual All-Around Champion title at the 2012 Summer Olympics. An inspirational story about overcoming odds, this gratifying watch is a notable lighthearted Lifetime movie.
The 2004 movie "Miracle Run" is also a positive pick for any Sagittarius. Based on a true story of a single mother raising her two autistic sons, this film examines the social stigma around autism and depicts a family's determination to overcome it (via Rotten Tomatoes). While the film's representation would have improved if autistic actors played the two sons, this movie is still a very inspirational tale.