Did You Know Luke Perry Became A Hallmark Star?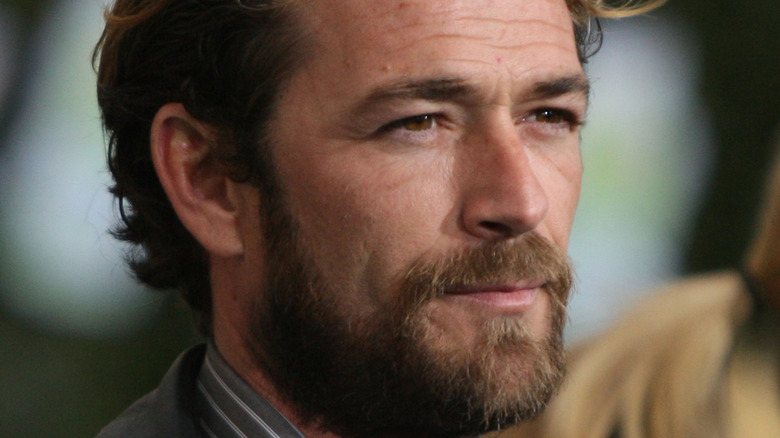 Mark Davis/Getty Images
Luke Perry enjoyed a prolific and incredibly impactful career throughout his decades in Hollywood. Perry was part of the original cast of "Beverly Hills, 90210." Through the show, he became such a cultural icon that Perry was memorably referenced in "Clueless" as the man Cher was saving herself for (via Twitter). Younger readers, however, will recognize him as Archie Andrews' father since Perry joined the cast of mega-hit teen drama "Riverdale" in the latter stage of his career.
The entertainment industry was left reeling when the former teen star passed away at the age of 52 in 2019. People confirmed the sad news, noting that according to a statement from the actor's representative, Perry suffered a stroke. The actor died surrounded by close family, including his children, fiancée, and former wife. "Riverdale" was in production at the time, but they took a significant break once news of Perry's death was announced out of respect for him.
Eighties icon Molly Ringwald, who played his wife on the show, tweeted, "My heart is broken. I will miss you so much, Luke Perry. Sending all my love to your family," while fellow former co-star Ian Ziering wrote, "Dearest Luke, I will forever bask in the loving memories we've shared over the last thirty years." Suffice it to say, Perry made a major impact on the industry at large, as well as millions of fans watching at home. His work ran the gamut, including a lucrative side hustle with the Hallmark Channel.
Luke Perry enjoyed a fruitful partnership with Hallmark
Considering Luke Perry had close to 100 acting credits to his name at the time of his death, it stands to reason there are probably many of his roles you've forgotten about or weren't even aware of. The former teen heartthrob appeared in many Hallmark Channel movies over the years, the most recent of which was 2016's "Love in Paradise." Perry played a TV cowboy who realizes how hard life on the ranch actually is when he's thrust into the real experience, per Café Mom.
"Love in Paradise" is a fun, easy watch. PopCulture marked the movie out as one to check out if you're looking to pay tribute to the late actor, pointing out how it aired on Hallmark the very day he died and is regularly re-broadcast. It was notably his first romance for the network, too. Elsewhere, Perry starred in a trilogy of "Goodnight for Justice" movies as the titular character John Goodnight, a swashbuckling hero out to right wrongs following the death of his family.
Jason Priestley, who appeared in "Beverly Hills, 90210" opposite Perry, even directed the first installment, facilitating a mini-reunion between the stars. 
The late actor was incredibly humble about his accomplishments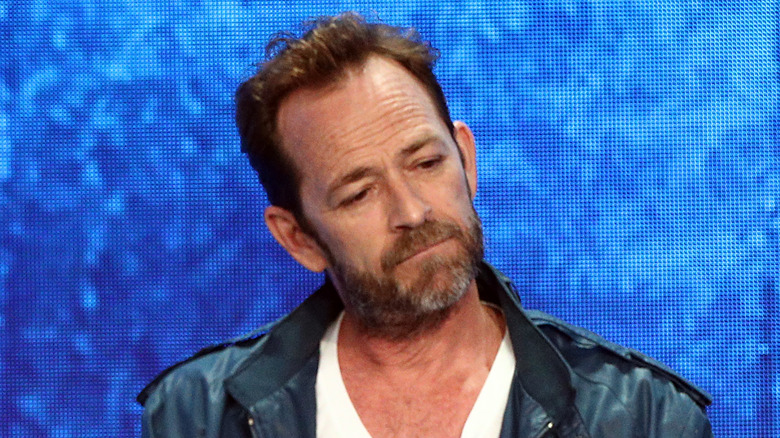 Frederick M. Brown/Getty Images
Entertainment Tonight shared an unearthed interview from 1991, in which Luke Perry downplayed his role in "Beverly Hills, 90210." The beloved performer reasoned, "It's not me they're coming out to see; it's this character I play." However, Perry conceded, "I'm very flattered that it's gone over as well as it has." The hunky actor didn't take anything for granted, admitting he was shoveling asphalt just a year prior and acknowledging he could soon find himself back there.
The "Riverdale" fan favorite argued, "I think it keeps a good perspective on things as long as you remember that." He and his cast-mates — including Shannen Doherty, who would go on to become a massive star herself — worked hard to keep each other in check, ensuring nobody got too big for their boots on set. Perry stuck with the show until the bitter end, reasoning with Entertainment Weekly that he felt duty bound to producer Aaron Spelling, who took a shot on Perry very early on.
The actor recalled, "Originally, nobody wanted me but him. And I said, 'Look, you put me on that show, I will kick its ass, man.' Now, in the last season, I'm not gonna become lethargic. I think we got problems, and we need to fix 'em." Perry's gregarious, giving nature shone through in everything he did, from "90210" to "Riverdale" and, of course, on Hallmark too.