The Makeup Tutorials That Will Turn You Into A Witch In Time For Halloween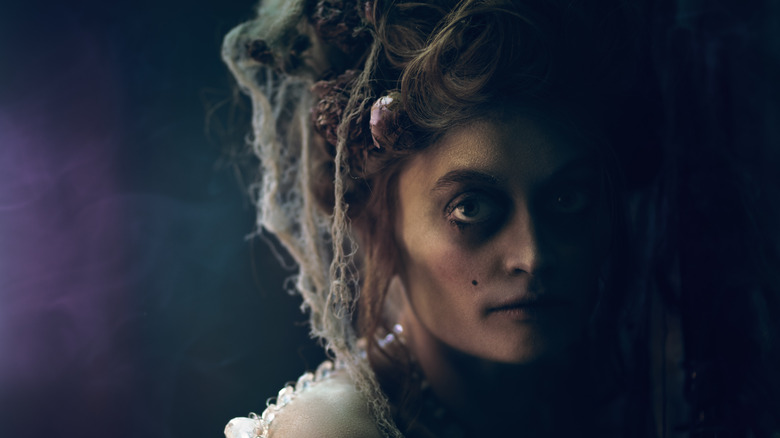 Kiselev Andrey Valerevich/Shutterstock
For most of us, witches conjure images of midnight magic, pointy hats, black cats, and spells cast over a boiling cauldron — for good or evil. Along with the pumpkin and the ghost, the classic witch garb is a pillar of the beloved Halloween aesthetic and has been long throughout history. The origins of the holiday date back 2,000 years ago to the ancient Celtic celebration, Samhain, where the veil between the living and dead was believed to be eerily thin (via History).
Spooky, otherworldly, cute, or ethereal — there are many different embodiments of the witch. Most of us would likely guess these interpretations are modern adaptations of the green, wart-nosed crone. But, according to Smithsonian Magazine, photographs from as early as the 1910s show we've long portrayed the witch as something seductive, sultry, and powerful.
With the creativity in makeup artistry skyrocketing over the past decade, online tutorial content is beyond abundant. There seems to be no end to the scrolling, which is a beautiful thing. So, here are some ways you can become everyone's favorite broom-wielding sorceress this October.
Narrow down your witch aesthetic
One of the draws of the witch costume is its simplicity. With a pointed hat, a dress, and a face of makeup, voilá — your costume is instantly recognizable. If you want to go for something a little more original, you could try this enchanting, supernatural sea witch makeup by Milenas Makeups. Sea witches appear in ancient Norse mythology as magical beings who cast spells with the sea. Their close bond with the tide is said to be intertwined with the worship of the moon (via Ancient Origins). We've seen hints of this entity in mythological characters, such as Ursula of "The Little Mermaid," whose iconic purple tentacles are creepily familiar to just about any millennial. This look includes a makeup prosthetic and might be more suitable for those of us who are a little more experienced with a makeup brush.
Now, we can't forget the traditional green-skinned witch. Check out this look by Valery_vision. Its beautiful, glamorous appeal is stunning and not too spooky for the little ones. It's also full coverage, so make sure not to fall asleep in your makeup and use a good facial cleanser at the end of the night to avoid a break-out. For something gorgeous and classic, look into this subtle witchy look by Mei Yan. And for something sweeter, watch this adorable makeup tutorial by ahitsrosa.
If these looks lean too far into "good witch" territory and you're craving something that'll haunt, fear not.
Try a darker approach, if you dare
Your witch get-up doesn't need to fit into a box, as we've seen above. From utterly unsettling to unearthly spine-chilling, these tutorials will transform you into the dark witch of your dreams. Or, rather, your nightmares.
This dark witch queen from Ina Pandora features white contact lenses and is sure to scare away any gazing eyes. Half alive and half ... not; take a look at this seriously impressive dead witch from ViiRDii. Lastly, this queen of the dead look from Roxxsaurus is harrowing in the best way. And those creepy false lashes are to die for. Be sure to prep for your spooky look with the proper supplies and go slowly to achieve these masterpieces.
We all likely relate to the archetype of the witch in some way. She is the carrier of forbidden knowledge, a powerful source of either creation or destruction, and a strong feminine force. She is the incarnation of all things Halloween and doesn't seem to be leaving us anytime soon.