Can You Pull Off Chin-Length Hair?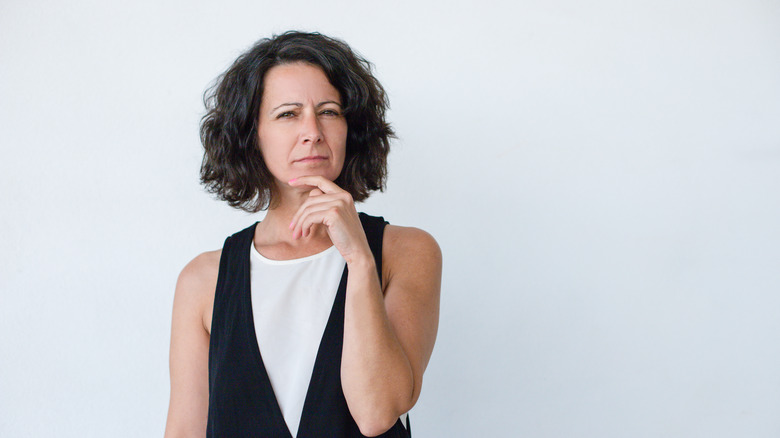 Mangostar/Shutterstock
Most women have a secret desire. They don't talk about it much, especially among strangers. After all, it's private. Then again, even their closest friends may know nothing about it. There's always the chance someone could smirk or even laugh, and that would be the worst. But this secret desire runs deep, so these women often read about it online. They may crave the company of someone who embodies this desire, perhaps hoping that its mere presence will empower them to take a chance and make it their own. And almost certainly, they have created a mini library of pictures that best depict this secret desire. They could keep the pictures to themselves forever or they could come tumbling out during a weak moment — say, after one too many skinny margaritas on an empty stomach. When these women are in the mood to share, they may confess: "Yep, I know exactly how you feel. I've been debating whether I can pull off chin-length hair, too."
If debating a new hairstyle sounds dramatic, that's because it can be, especially if you're the type of person who has worn the same hairstyle for years now. Making a change is not for the faint of heart, even if the change will require cutting only a few inches from your length. After all, women with this secret desire also harbor a not-so-secret desire to get it right.
A pencil and ruler will point to your answer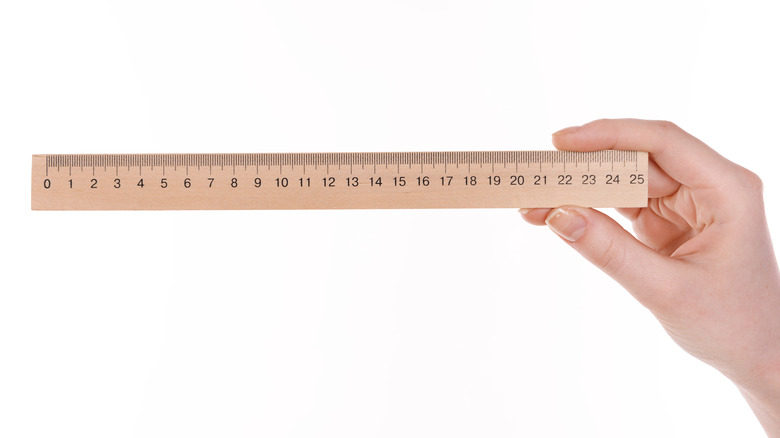 Africa Studio/Shutterstock
At least women who gravitate toward chin-length hair don't have problems explaining what they mean. Chin-length hair literally falls to the end of the chin. The extent of the length depends on the hair type, Hairstyle Camp says: it's 8, 6, or 4 inches long, depending on whether hair is straight, wavy, or curly, respectively.
Perhaps the most important distinction of all is that chin-length hair is considered short hair — whether or not it's layered so that it looks longer. In this case, looks don't matter. The measurable length does. And if you like to measure, you're in luck. (And if you don't, it will be over before you know it). Using nothing more than a ruler and a pencil, the so-called 2.25-inch rule can tell you in seconds whether you're better suited to short or long hair based on your facial structure. Brit + Co. (among others) credits stylist John Frieda with creating this fast and nifty way of settling the "to cut or not to cut" debate — not to mention unlocking that secret desire once and for all.
All you have to do is place the pencil under your chin horizontally. Place the top edge of the ruler right below your ear lobe, running it vertically. The pencil and the ruler should intersect. Make a note of the number where they do, for this number will tell you everything.
A style exists for every face shape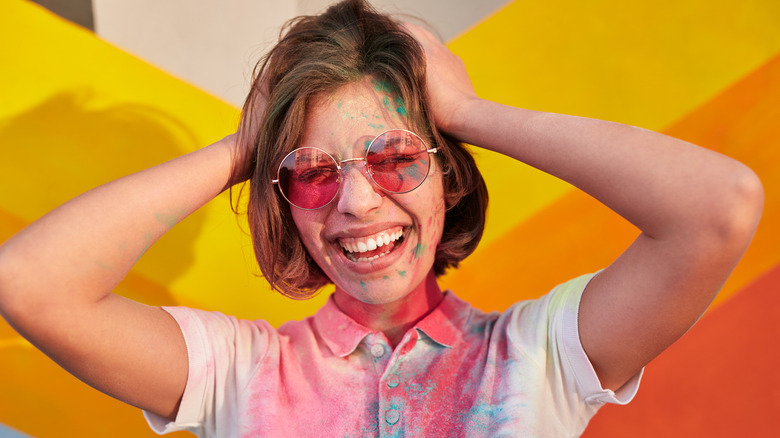 Max Kegfire/Shutterstock
If the pencil and ruler meet at the number 2.25 or less, your face is suited to a short hairstyle, which includes chin-length hair (like the wavy style favored by actress Charlize Theron). If the number is greater than 2.25, you may be better suited to longer hair (like Jennifer Aniston), per Brit + Co.
Assuming you got the news you wanted to hear — that you scored a 2.25 or less — your next question may be, "Will chin-length hair suit my face shape?" You may look with only one eye open, but All Things Hair makes a strong case that assuming your hair is parted and styled right, chin-length hair can be a head-turner on people with heart-shaped, long, oval, round, or square faces. For example, people with round faces may benefit from a side part and tousled hair; those with heart-shaped faces may want long side fringe to draw attention away from their narrow chin.
It may not seem like it now, but there are many ways to style chin-length hair. Seek out your options by experimenting on your own or by seeking the help of a professional. It would be hard to dispute the fun you're likely to have because of the freedom it unlocks. Dry Scalp Gone says, "Comb the hair another way, feather it, spike it ... there are so many things to do with short, sassy hair." With any luck, it may even exceed those secret desires.