Why Things May Not Be Easy For Elizabeth And Lucas In Season 10 Of When Calls The Heart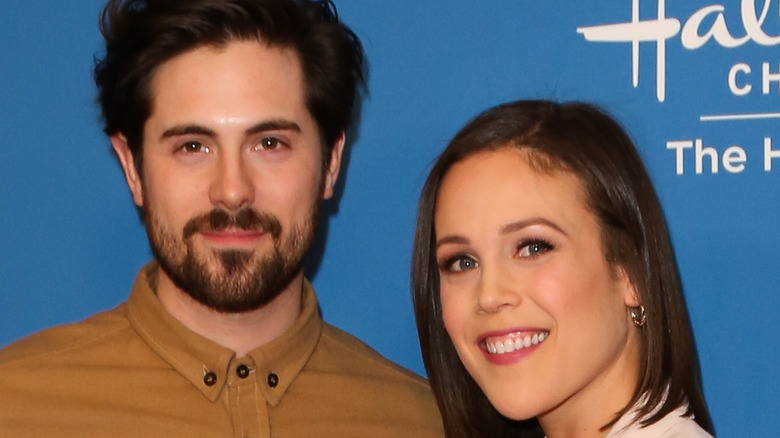 Paul Archuleta/Getty Images
"When Calls the Heart" Season 10 is almost upon us, and anticipation from dedicated "Hearties" (fans) is high. According to Deadline, the hit period drama, a Hallmark Channel original based on the book series of the same name, is due to return sometime in the middle of next year. Lisa Hamilton Daly of Hallmark confirmed as such during the recent Television Critics Tour.
The family-themed Western will be spearheaded by "Supergirl" alum Lindsay Sturman, who's taking over as showrunner for its 10th season. TV Insider reports that series lead and exec-producer Erin Krakow gushed that she's "thrilled" the beloved show has been renewed once again. 
"We can look forward to more adventures, laughs, tears, and stories of romance throughout the community of Hope Valley," she said. "We are so excited for all the viewers, especially the Hearties, to continue this journey with us!" 
Her fan-favorite character, schoolteacher Elizabeth, finally ended up with the man of her dreams as Season 9 drew to a close, but their happy ending isn't necessarily set in stone. 
Elizabeth and Lucas ended Season 9 happily engaged
They may have finished Season 9 on a major high note, but "When Calls the Heart" co-executive producer and writer Elizabeth Stewart hinted that Elizabeth's presumed happily ever after with Lucas (Chris McNally) isn't necessarily guaranteed. "All I can say is that the course of true love never did run smooth!" Stewart teased in an interview with Entertainment Tonight. 
Although Stewart acknowledged that "plotting out a season is always an organic process, built step by step," she confirmed that the season was always going to end with Lucas proposing. Per Us Weekly, Kevin McGarry, who plays Elizabeth's other longtime love interest, Nathan, is also slated to return for Season 10, so their love triangle might not be over just yet. 
As Good Housekeeping reported at the time, when Elizabeth chose Lucas at the end of Season 8, tons of Hearties were up in arms because they felt Nathan was the better choice. Erin Krakow, who plays the torn lead, suggested that those viewers should "reframe your support of one gentleman caller over the other into support for Elizabeth and her journey to find love again."
We'll have to wait and see what happens, but, suffice to say, the journey ahead for Elizabeth and Lucas could be a difficult one. 
When Calls the Heart leads speculated about what's next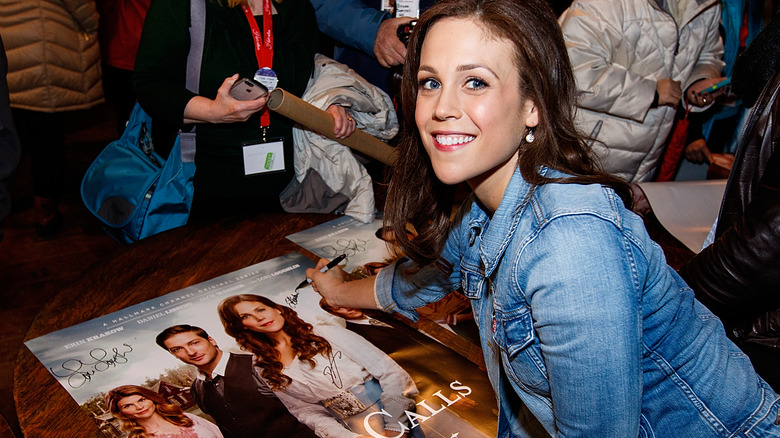 Andrew Chin/Getty Images
During a chat with Entertainment Tonight, "When Calls the Heart" star Chris McNally stated that renewing the show for a 10th season was a no-brainer since "there's so much more to tell with Hope Valley." His co-star Erin Krakow is hoping for "more of the feel-good stories" as it continues, noting that those sweeter moments tend to resonate more with fans — especially her romance with McNally's Lucas. 
The man himself can't wait to see how their relationship develops, too. "The family dynamic and what does Lucas look like as a father? What does the wedding look like? After you're married and committed to one another, are there obstacles that you then need to overcome that you don't see in advance? It'll be fun exploring that and I'm not sure what the writers have in mind, but I'm excited to see it," he enthused. 
McNally also pointed to the fact that the show is heading into the Roaring Twenties, which will add a whole new layer of interest. 
As for when and where they could get married, Krakow suggested in a separate interview with ET that it might be fun to do some kind of overseas jaunt, maybe even in Paris. Adding more kids to the mix could also be in the couple's future, especially if it means bringing on more child actors, with McNally describing working with Hyland Goodrich, who plays Little Jack, as "a blast."