Everything You Need For A Marilyn Monroe Halloween Costume This Fall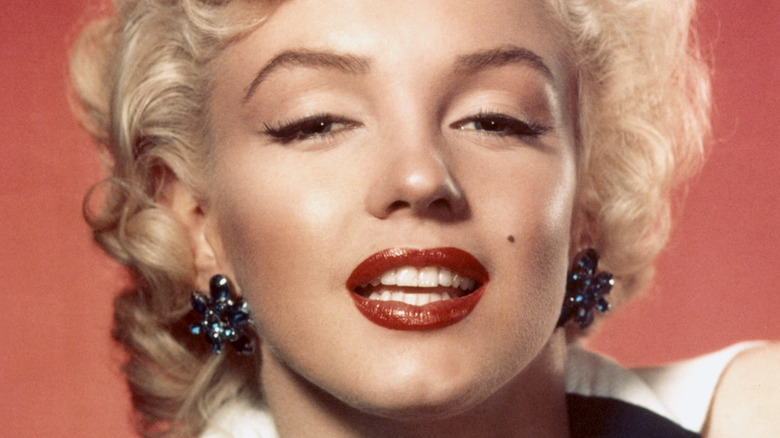 Michael Ochs Archives/Getty Images
The American sweetheart Marilyn Monroe symbolizes different things to different people. Whether she's viewed as the finest embodiment of a "rags to riches" story, a stunning icon of fashion, or the controversial sex symbol that ruffled feathers in the 1950s and early 1960s showbiz, Monroe has definitely left a legacy.
This year marks 60 years since the troubled star, who pursued acting, singing, and modeling, died aged 36, and the year has also seen the release of two movies depicting her life — "Blonde" directed by Andrew Dominik and the Netflix documentary "The Mystery of Marilyn Monroe: The Unheard Tapes." Whether you've seen the movies or not, you're probably aware of Monroe's life.
Born Norma Jeane Mortenson (she changed her name to Marilyn Monroe in 1956), you could say that Monroe had a difficult childhood. Her mother, Gladys Pearl, had struggles with mental health, which meant that Monroe was bounced around a lot between foster homes and caregivers as a young girl. She was even molested at the home of one of her caregivers, Grace Goddard. She was married thrice and her last relationship was with playwright Arthur Miller. For someone who'd never owned a dress before the year 1956, Monroe's outfits have meant more than most realized. Why not pay homage to the fearless Monroe this Halloween?
Channel both your naughty and elegant sides with these costumes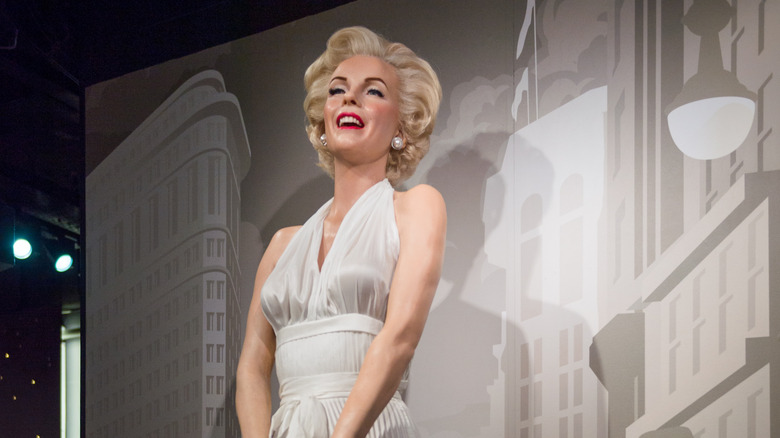 Anton_Ivanov/Shutterstock
Although the costume designer for the movie "The Seven Year Itch" (1955) called it "that silly little dress," no one can forget that magical moment on-screen when Marilyn Monroe's white cocktail dress danced with the wind on Lexington Avenue, Manhattan, per CNN.
The pleating might be the most complicated part about this halter dress, but if you're one for achieving the exact look, you can put some effort into getting it just right by looking for a dress with the exact folds or enlisting the help of a tailor (via Cut Out and Keep). You're going to have to complete the costume with a winged eyeliner look, lashes, a blonde wig, and white heels, according to Best Products.
Kim Kardashian may have come under fire for spoiling the "Happy Birthday, Mr. President" look of Monroe from the 1962 song that was dedicated to President John F. Kennedy, NBC News notes, but you don't have to. The Jean Louis dress (designed by Bob Mackie at first) is memorable for all the right reasons — its elegant floor-length design and fine embellishment (via Reader's Digest). What you'll need is a nude or taupe long gown with a wide neckline, and you could pair the look with a white coat, similar to the one Monroe wore on stage, per Insider. 
Brave the cold with a retro-swimsuit costume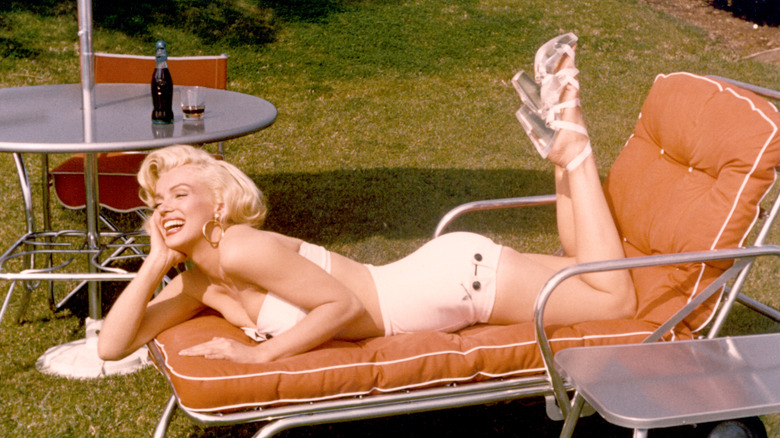 Michael Ochs Archives/Getty Images
One more thing Marilyn Monroe did was revolutionize swimwear with her high-waisted bikini look. If you're one for daring to brave the chill of October, you could opt to replicate this ensemble for Halloween. Lots of clothing lines offer this style in bathing suits, according to Who What Wear, so you won't have to look too far.
If a pop of color is your fix for Halloween, you could also copy Monroe's unforgettable look from the musical "Gentlemen Prefer Blondes" (1953). Even Madonna was inspired by the hot pink number, evidenced by the singer's look in her music video for "Material Girl" (via CNN). Designed by William Travilla, the long, strapless satin dress with a giant bow at the back, worn with the same shade of pink gloves put Monroe on the map as a fashion icon (via Cultura Colectiva). Since the dress was worn when the star sang the famous song "Diamonds Are a Girl's Best Friend" and Monroe paired the look with lots of diamonds, you may wanna throw on a lot of jewelry too.
Even though there's mystery behind Monroe's untimely death, the star has left an indelible imprint in history, and channeling her famous fashion statements this Halloween might be a nice way to celebrate her life.