The Sweet Treat Food Trend That Will Enhance Your Kids' Halloween Haul In 2022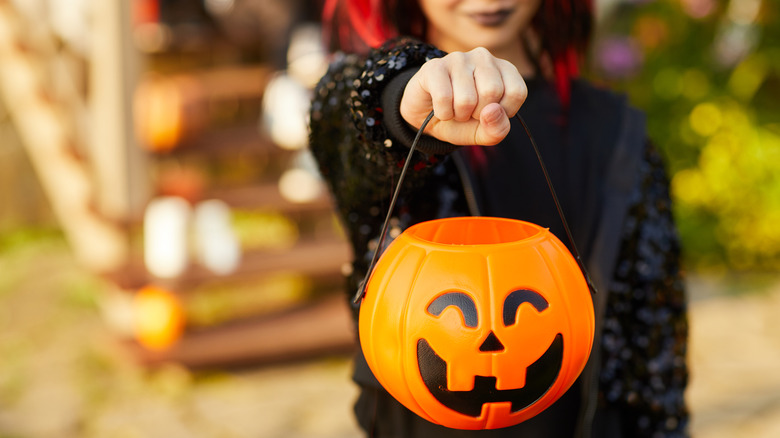 SeventyFour/Shutterstock
It's Halloween evening. The air is crisp, jack-o-lanterns are lit, and costumes are on. Little ghouls and witches are gripping their trick-or-treat bags tightly as porch lights begin to flicker on, casting a warm glow all up and down the neighborhood. Magic fills the night. Kids live for these spooky and special traditions, but we also know it's very much about the candy.
Chocolate, lollipops, candy corn, and perhaps the occasional clementine or apple — some of the Halloween candy classics return year after year in strong and unyielding numbers. In 2021, the top five best-selling Halloween candies were all familiar favorites — and, unsurprisingly, they were all chocolate: M&M's, Reese's, Kit Kats, Snickers, and Hershey's Bars (via ABC 8 News).
But, with awareness surrounding food allergies on the rise in recent years, some parents are opting for alternatives to the typical Halloween candy bags found at grocery stores. Thankfully, the trending sweet treat for fall 2022 will be a big sigh of relief for those navigating life with special dietary requirements.
Chewy candy is trending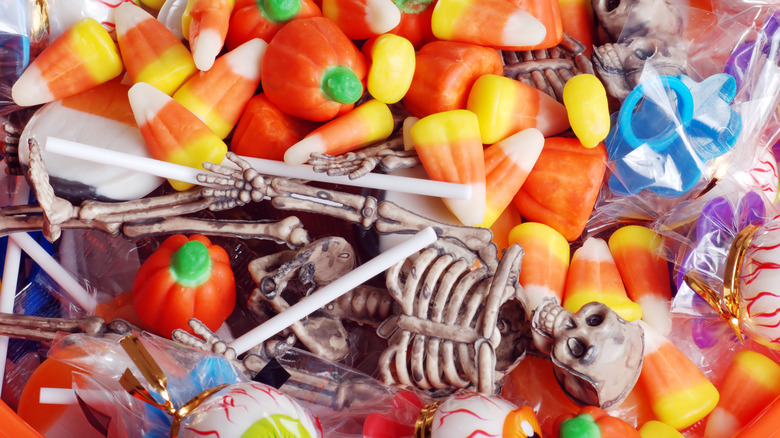 Michael C. Gray/Shutterstock
You might be seeing more soft and fruity chewy sweets in your kids' Halloween haul this October. According to Food Business News, 50% of non-chocolate sales in 2021 were thanks to chewy candy, coming in at $4.6 billion in sales.
"There's a lot of innovation on the show floor in gummies and chewy," says Anne-Marie Roerink, president of 210 Analytics (via Food Business News). "It's red hot. I never see something that makes up half the category sales yet is growing at 15%, but it's doing that year after year."
Most will agree there's a lot to love in these delicious candy chews. But, if you have a loved one with food allergies, you still need to check candy labels for allergens. Just because it's a fruit chew, doesn't necessarily mean it's free of the nine major allergens — milk, eggs, fish, shellfish, tree nuts, peanuts, wheat, and soybeans (via the U.S. Food and Drug Administration). Luckily, there are many brands today producing allergen-free candy so your trick-or-treater doesn't feel left out.
Where to find allergen-free chewy candy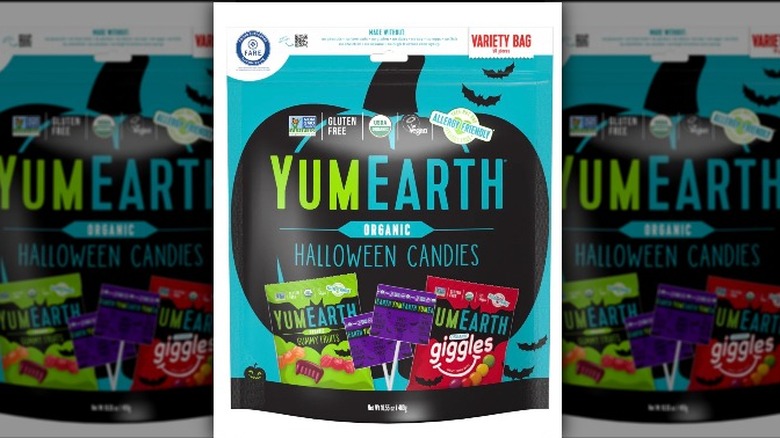 Yum Earth
A popular go-to brand for allergen-free candy is YumEarth. They offer several types of organic, dye-free, vegan, and allergy-friendly chewy candies for Halloween. These can be ordered online and are also likely found at your local health food store. If that's not an option, some of the more standard chewy Halloween candy also happens to be free of allergens. Airheads, Hi-Chews, Cow Tales, Jelly Bellys, and Dots all made the safe list according to the Food Network. You can likely find most of these at your typical grocery store.
It doesn't look like chewy candy will be bumping chocolate out of first place anytime soon, but there's something about the texture and taste that consumers can't seem to get enough of — especially millennials (via Lets Chat Snacks), who are among the top candy lovers. Fruity flavors still reign supreme. However, we'll likely begin to see some bolder savory flavors in gummy candy more often — think herbal or spicy.
For now, your kids' Halloween buckets are sure to be full to the brim with chocolate and fruity chews. And while we'll try to avoid going into complete sugar withdrawal due to sneaking a piece (or two or five) after bedtime, we really aren't complaining.