Katey Sagal Is More Musical Than You Originally Thought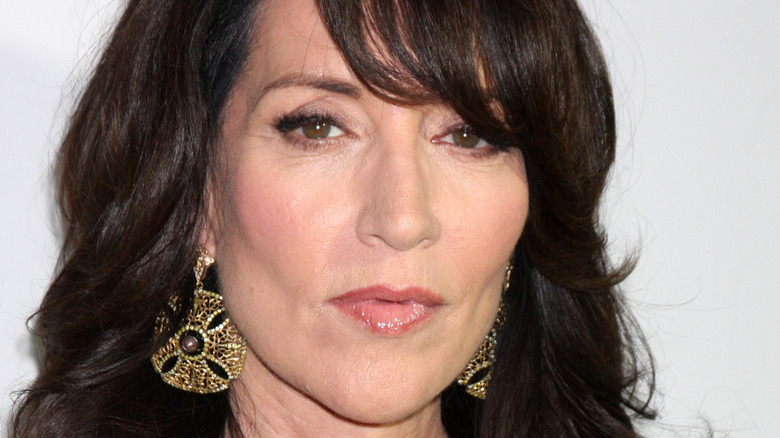 Kathy Hutchins/Shutterstock
Peg Bundy. Cate Hennessy. Gemma Teller. Leela. Louise. Actress Katey Sagal has played so many memorable characters, it's hard to pick a favorite.
Born in Los Angeles, per Biography, Sagal's first regular acting gig was playing Jo Tucker on "Mary," starring Mary Tyler Moore. She got her big break, though, when she was cast as Peggy Bundy on "Married... with Children" in 1987, a role she played for 10 years and over 250 episodes. Following her big-haired performance, she took on the role of Cate Hennessy in "8 Simple Rules" with John Ritter, got tough and won a Golden Globe for her part as Gemma Teller in "Sons of Anarchy" from 2008-2014, and became Louise in "The Conners" opposite John Goodman (via IMDb).
In addition to being fabulous on screen, Sagal has also conquered the world of animation as the voice of Turanga Leela in the TV series "Futurama." And that's not the only place you can hear the star's voice.
Katey Sagal sang with very famous people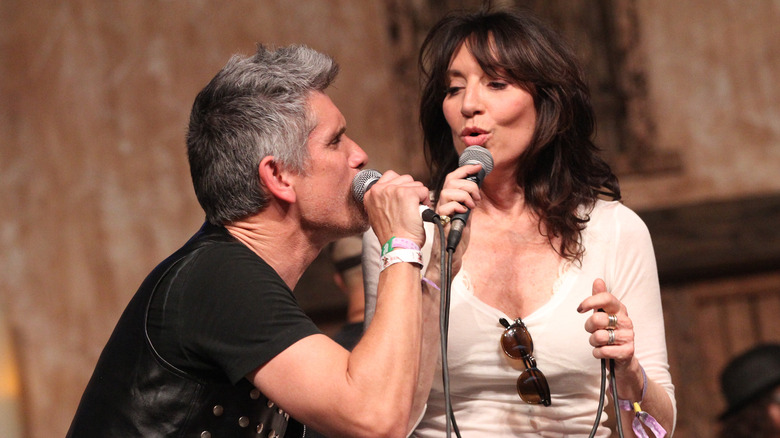 Karl Walter/Getty Images
While she started her acting career in the early '70s, Katey Sagal took a break to focus on a music career, according to Biography. Rolling Stone notes that she was a back-up singer for several different artists, including Olivia Newton-John, Tanya Tucker, Etta James, and Bette Midler. "It was an on-and-off struggle to make my living as a musician," she told Bustle. "I was really committed to it, as my goals were to be writing and making my own records."
"Music was my first love," Sagal revealed to The Seattle Times. She also shared that she was once fired by Bob Dylan. "I shouldn't have been in the band in the first place," she admitted to the newspaper. "I worked with him for like two months in rehearsal, then he fired all of us girls a week before the tour. But I still always consider it like I sang with Bob Dylan."
Sagal switched to acting thanks to her musical performance in a rock opera. "Somebody from CBS was in the audience," she explained to Bustle. "They asked me to come and audition for a sitcom. It was a job with Mary Tyler Moore. Danny DeVito was the director, and he hired me."
The star has released her own music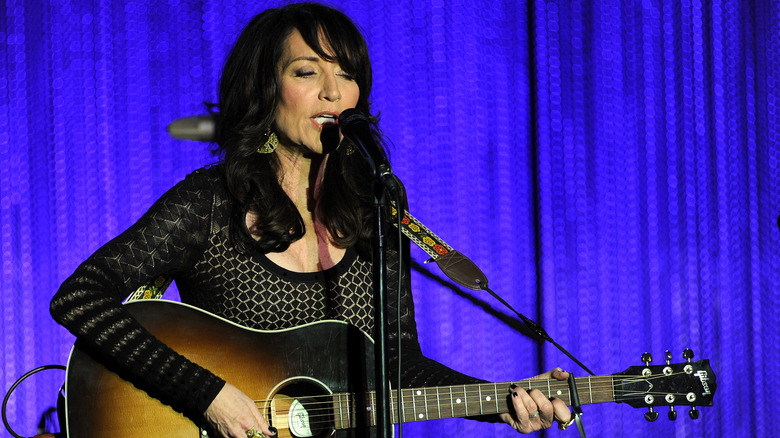 Kevin Winter/Getty Images
Katey Sagal has been singing — and playing instruments — since she was a child. "My mother was a singer and she played folk guitar and taught me how to play guitar and sing when I was 8 years old," she shared with OnMilwaukee. "I was in the choir, taught myself piano and then I was in a band in high school."
While you may have been entranced by Sagal's on-screen performance in "Sons of Anarchy," if you listen to the music in the background, you might recognize her voice there, too. "I always get asked what songs I performed on the soundtrack of #soa," she wrote in a Twitter post. Rolling Stone reported that after Sagal sang "Son of a Preacher Man" in Season 1 of the show, it was determined she should do one song for each season the show aired; her singing can be heard in eight total songs on the series' soundtrack. She's also performed on screen in the movies "Pitch Perfect 2" and "Torn Hearts" per ET.
On her own, Sagal has released three albums, according to All Music, including one titled "Covered," and she has plans to keep going. She shared with The Washington Post, "I still have a band and I put out records, and I do it because I really love to play music."