Is The Headspace App Worth The Money?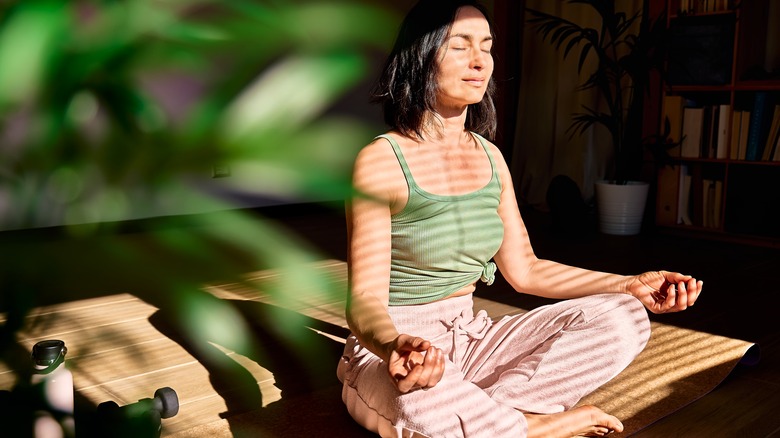 Caterina Trimarchi/Shutterstock
Mindfulness meditation is a method many people utilize to help combat the anxiety, negativity, and ever-racing thoughts in their minds. According to News Medical, the first documented meditation dates back to 1500 B.C. in India, in a practice called Vedantism within the Hindu tradition. Some historians believe meditation was also practiced in Taoist China and Buddhist India between 600 and 500 B.C. The cultural practice of meditation and mindfulness in ancient history involved tapping into the depths of the mind to promote concentration, increase knowledge, and experience freedom and salvation. 
Today, the use of meditation and mindfulness hasn't lost its original purpose. While there are different ways to practice mindfulness meditation, it usually involves putting away all distractions and sitting comfortably in a quiet place. During the practice, you focus on your breathing as you aim to clear your racing thoughts. It's not a time to dissect or judge your thoughts, but a time to redirect them with your breathing into a clear, calm state of mind. Getting into the habit of practicing mindful meditation may be difficult to navigate, but with today's ever-evolving technology, there are apps to assist you and guide you in doing so.
What is Headspace?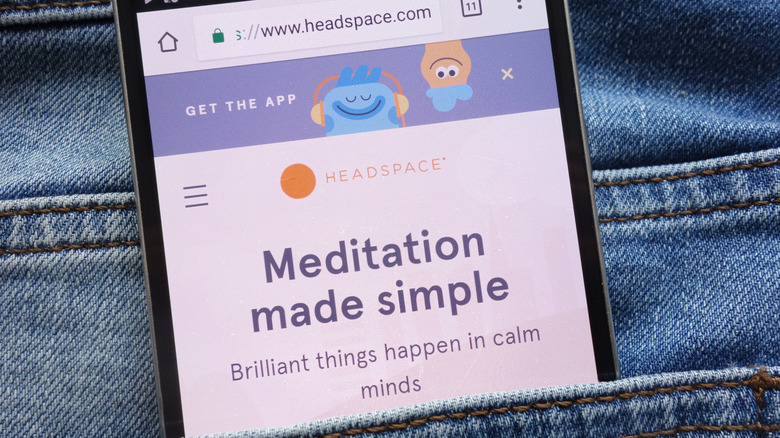 Piotr Swat/Shutterstock
One of the most popular mindfulness and meditation apps on the market today is Headspace. The app's goal is to provide the right tools to guide you in your mental health journey and create habits that lead to a healthier and more contented life. It was created to provide an easy and convenient guide for mindfulness and meditation by simply logging into the app through your phone.
The app is also a part of a bigger health network known as Headspace Health, which is a mental health and well-being provider. Headspace has partnered with companies like Adobe, Delta Airlines, Starbucks, and more through its program called Headspace for Work in which it aims to "provide access to meditation, mindfulness, coaching, therapy, and psychiatry" to enrolled employees. The app has over 70 million users and has been used in 190 countries around the world. With more than 600,000 reviews, many of its users think the app is definitely worth the purchase (via Headspace).
Is Headspace worth it?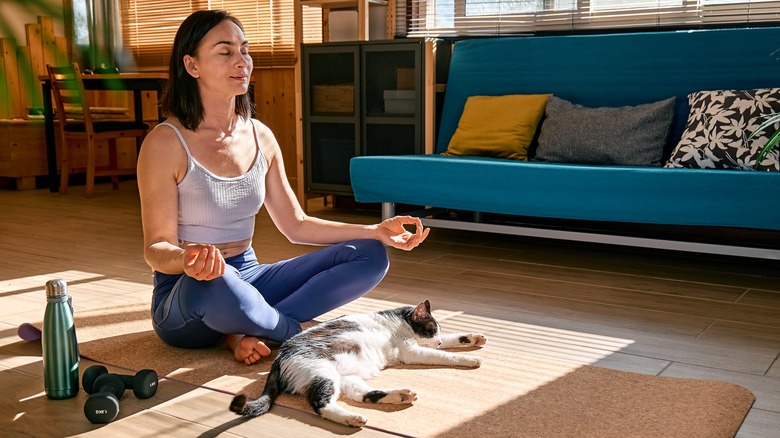 Caterina Trimarchi/Shutterstock
Headspace offers four categories to choose from while using the app: meditation, sleep, movement, and focus. It provides courses, playlists, workouts, and a variety of guides depending on the category you tap. While there is a free version of the app, you don't get its full features until you get the paid subscription at $12.99 per month, or $9.99 per year for students.
People who love the app are vocal about the pros of using it. Writer Rufat Rassulov shared a review on Medium detailing his experience with Headspace. After collecting 1,000 minutes of meditation through the app, Rassulov noted how user-friendly the app is both on and offline. Being able to choose the duration of an activity and the voice used for it was an added bonus. Additionally, he liked the variety of meditations offered through the app, as there's something to fit just about everyone's needs. Lastly, Headspace's co-founder, Andy Puddicombe, brings his experience as a Tibetan Buddhist monk into the app, which is something Rassulov further admires.
In the Apple App Store, Headspace has over 908,000 ratings and scores an average of 4.8 stars. In the Google Play store, it has 281,000 reviews with an average rating of 4.3. Some users state that it has helped them with managing stress or anxiety, providing motivation and wisdom, and improving negative mindsets, among a plethora of other benefits.
"I am not usually one to purchase subscription services, but I found Headspace worth it," writer Jamie Steidle stated in his review for Vice. He wrote that he notices the difference when he does not meditate even for a day, as he begins acting more "coarse" without it. He would recommend it to anyone looking to reduce their stress levels and elevate their overall well-being.