The Makeup Tutorial That Will Turn You Into Poison Ivy In Time For Halloween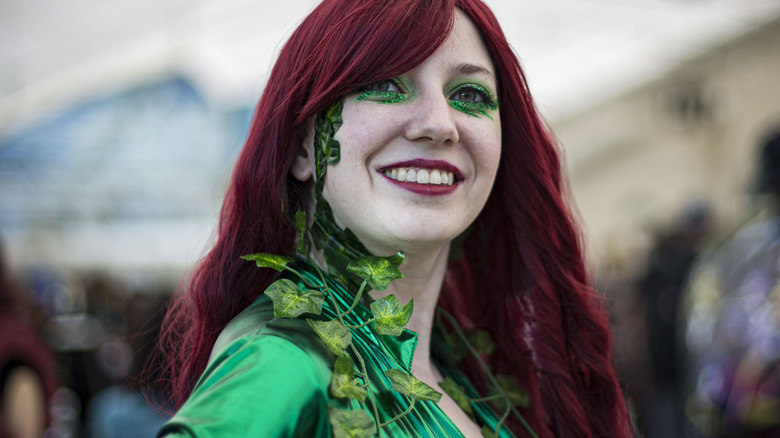 Daniel Knighton/Getty Images
We may receive a commission on purchases made from links.
The Joker may be DC's most popular villain, at least according to IGN, but there's no doubt in our minds Poison Ivy is the DC villain that turns the most heads. Her iconic ivy-laced costume, long red hair, and flawless makeup makes her one of the most unique-looking supervillains of the DC franchise.
Not only does she look fierce, the Floral Femme Fatale has the absolute coolest powers out of all the Gothamites. According to DC Comics, Poison Ivy can control plants, which makes fighting her in a natural environment one of the most dangerous things a superhero could do. Her pheromones give her the ability to control and manipulate her enemies, and while her methods may be a little on the controversial side, at heart, Poison Ivy only wants what she thinks is best for the environment.
If you want to look like the Queen of Green this Halloween, we've got the perfect makeup tutorial for you.
You'll need this eyeshadow and lip pencil
YouTuber Kayleigh Noelle, who is known for her simple beauty hacks, put together a knockout Poison Ivy makeup tutorial that will have Batman quaking in his boots.
One of the main components of her YouTube tutorial is the eye makeup. Wearing green eyeshadow can seem intimidating, but no worries — this technique will have your lids looking flawlessly lime in no time. In fact, it might make you want to wear the color even after Halloween. To get your green glow going, try the Take Me Back to Brazil eyeshadow palette from BH Cosmetics. Noelle uses a light green shadow from this colorful palette to create a fantastic wing and a white shadow to highlight.
Probably the most defining aspect of Poison Ivy's makeup is her bright red lips. Red is absolutely the perfect lip color to go with your red hair and green outfit. The exact product that Noelle uses in the tutorial is the Velvet Matte Lip Pencil from NARS. This lip pencil goes on smooth and will give you that comic-book-perfect red pout. 
A DIY costume and vibrant red wig will complete the look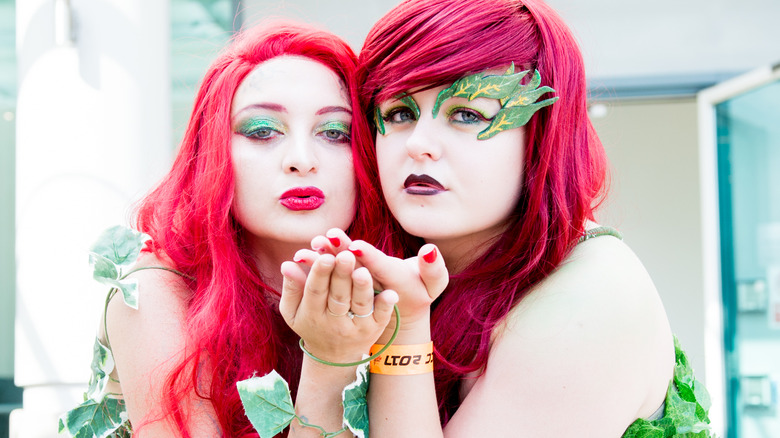 Ollie Millington/Getty Images
Not only does Kayleigh Noelle show you how to imitate Poison Ivy's plant-infused makeup, but she also gives tips on how to mimic the Gotham beauty's red lustrous locks and leafy leotard.
If you're not already a redhead, buying a wig is your first step in getting Poison Ivy's hair down. The fiery red lace front wig by IMSTYLE from Amazon has just the right amount of length and volume to give off the villainess vibe you'll need to be Poison Ivy. To complete the look, you'll need plenty of ivy leaves. You can order lengths of ivy garland from Michaels or visit the store to pick some up. Use these to decorate your hair and stitch rows onto a black bathing suit or leotard to create Poison Ivy's outfit.
Once you've finished following along with the tutorial, you'll be ready for a night out as the fiercest botanist in comic history. Just don't forget to water those plants of yours before you head out!