Here's How To Start A Career As A Makeup Artist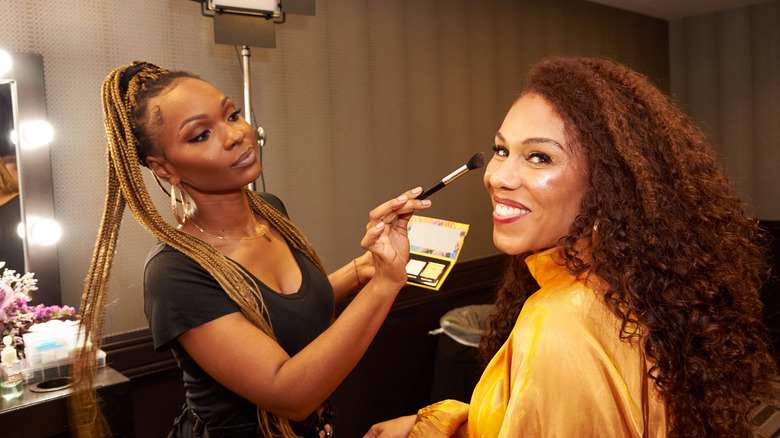 Unique Nicole/Getty Images
If you've been dreaming about becoming a makeup artist and working in the beauty industry, there are several steps to take in making your dream a reality. Whether you're already skilled in the makeup arts or maybe you're still a beginner, there are many ways you can pursue a professional career in the industry. While it is one of fun and love for your passions, it's also one that requires hard work.
This is a career that has a variety of other career paths under it, depending on your skills and preferences within the art of makeup and all the industries it fits into. You will constantly be in on all the beauty and makeup trends, work with many different clients, try new looks, and hone in on your passion and creativity for makeup. It will take time, dedication, and ambition to reach your goals as a makeup artist (via L Makeup Institute).
Practice creates growth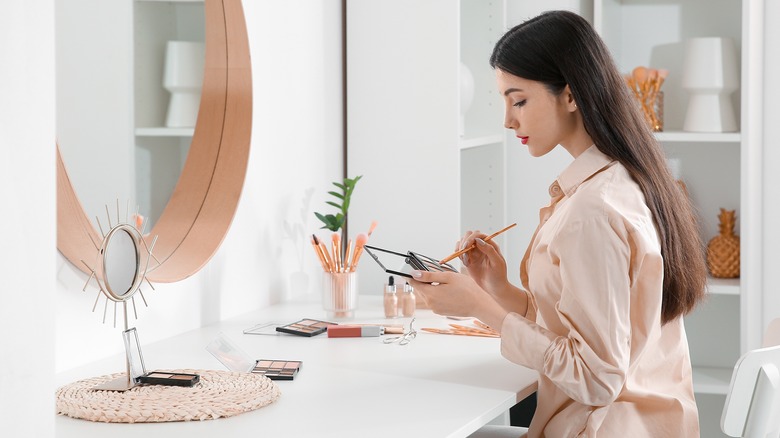 Pixel-Shot/Shutterstock
The easiest way to get started on your makeup career from home is by practicing your skills as much as you can. In fact, have fun with it and practice on yourself or your friends. "Practice is key," Make Up Forever vice president of education and artistry, Simone Ciafardini tells Teen Vogue. "Learning from professionals is important to becoming a truly great artist, but making practice part of your everyday routine is also critical." You can also try to get involved in the industry to further get more real-world experience, such as working at a makeup counter at department stores or working a fashion show backstage doing the models' makeup. When you're looking at job opportunities to be a makeup artist, it's important to take what you can get when you're first starting out. Even if it isn't your dream job just yet, do it with a love for the art because it is a chance to grow your skills and your portfolio. This will give you hands-on experience with real face-to-face time with clients and customers as well.
As you practice, think about other artists who inspire you and why they inspire you. This will help you start thinking about what kind of makeup style you want to focus on in your career. For example, there's fashion show makeup, bridal, specific brand styles, theater, or face and body paint. It's important for you to know which styles of makeup you want to offer and would enjoy doing the most. Having a career as a makeup artist, however, gives you many flexible options when it comes to your journey as a makeup artist. (via Masterclass).
Make your career official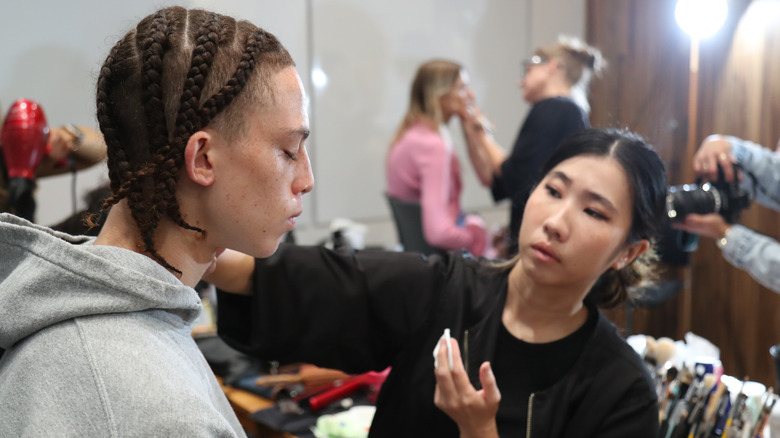 Manny Carabel/Getty Images
Think about pursuing a formal education in cosmetology school to further improve and learn more about makeup artistry. This will teach you a variety of techniques and knowledge about being a makeup artist, as well as give you direct interaction with instructors who are themselves professionals in the industry. Additionally, attending a cosmetology program can also help you prepare for the State Board exam if your state requires a license to be a makeup artist. Depending on where you live, or where you want to work, they may require this license (via Salon Success Academy).
Working as a makeup artist also means that you are essentially your own brand. This is because your skills are particular to your style as you develop more as an artist, and clients have to be drawn to that to want to hire you. It has never been easier to market yourself than this day and age where social media is a significant part of everyone's life. "Social media has had a huge impact on makeup artistry," senior makeup artist for M.A.C. Cosmetics, John Stapleton tells Teen Vogue. "Think of all the YouTube and Instagram sensations out there! What's amazing is that there's a whole new way to experience ideas. The more you expose your work and are exposed to others, the more you'll grow." Showing your work on social media helps you build a credible portfolio which you can then connect to creating your own website.
Always remember to give it your best efforts to excel in your artistry. As you build clientele, remain friendly and professional to truly leave your mark.