Kamala Harris' Comments About Hurricane Ian Aid Relief Have Twitter Divided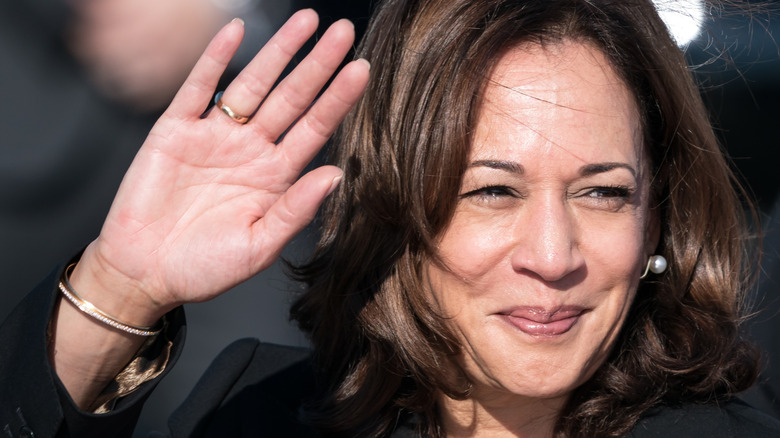 Tomohiro Ohsumi/Getty Images
Vice President Kamala Harris has stepped in it a bit as tensions are already high among Hurricane Ian survivors. The second-in-command talked about relief efforts for those affected in a way that has some people upset, despite the veep's likely best intentions.
Speaking at the Democratic National Committee's Women's Leadership Forum Friday, when many Americans were still battling the effects of the devastating storm, Harris said, "We have to address this in a way that is about giving resources based on equity, understanding that we fight for equality, but we also need to fight for equity" (via New York Post). She went on to say, "If we want people to be in an equal place sometimes we need to take into account those disparities and do that work."
The Democrat's comments also included the statement that "communities of color" would be first to receive aid.
Not surprisingly, Republican Governor of Florida and likely 2024 presidential candidate Ron DeSantis' Rapid Response Director Christina Pushaw was among the early voices to dissent with the sentiment conveyed by the Vice President.
Florida disaster relief coordinator and other voices join the conversation
Kamala on Hurricane Ian relief:

The Biden administration will focus on "giving resources based on equity" by directing funds to "communities of color" pic.twitter.com/uixPpyQWdU

— End Wokeness (@EndWokeness) September 30, 2022
Taking to Twitter, Christina Pushaw pushed back against Kamala Harris' statements about Hurricane Ian relief. "This is false," she lambasted the VP, adding her "rhetoric is causing undue panic and must be clarified." Pushaw then stated that "FEMA Individual Assistance is already available to all Floridians impacted by Hurricane Ian, regardless of race or background."
Many other Twitter users expressed their outrage over Harris' comments, with one person calling for her resignation and adding, "A Hurricane knows no race."
But other voices quickly joined the conversation, with someone else tweeting, "This country hasn't lived up to [its] promise. EQUITY always scares white folks." Someone else begged the leader to just stop the politics in light of how many people are suffering.
Indeed, as of time of writing, 46 people are confirmed dead in the Sunshine State, while hundreds of thousands of people in multiple states are still without power (via The Weather Channel). 
But it's also important to report that according to the Shriver Center on Poverty Law, the long term effects of natural disasters do weigh far more heavily on communities of color and low-income areas.