This Is The Most Important Place To Use Fake Tanner And You're Probably Missing It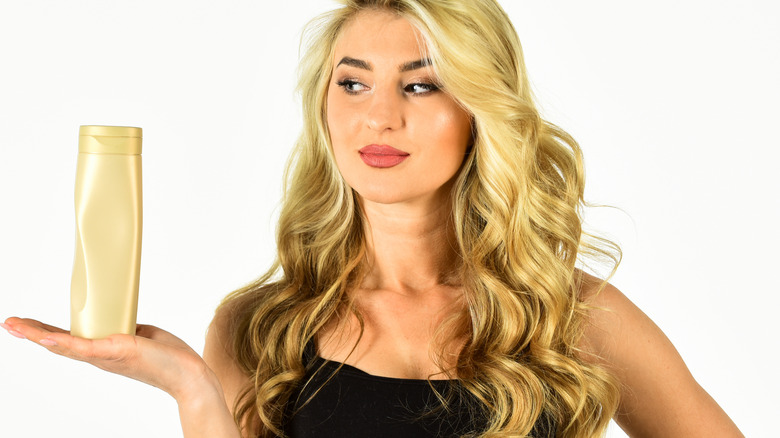 Just dance/Shutterstock
Beauty lies in the eye of the beholder and, in many cases, which part of the world you live in. Fairer skin tone used to be associated with higher social class and wealth until the 1920s in the United States, as being tan meant you did physical labor outdoors, therefore belonging to a lower class (via PopSugar). 
While the fair-skin obsession still prevails in Asia and represents people of higher social standing, tanner people are associated with manual laborers. The huge market of skin-lightening products is proof that the lighter your skin, the more beautiful you're perceived — Market intelligence firm Global Industry Analysts predicts the industry to be worth $31.2 billion by 2024, per The Diplomat.
The legendary Coco Chanel made tanning a trend in the western world during her trip to Cannes in 1923, and the desire to look like a bronzed goddess continues to be popular in this part of the world among white Americans and Europeans (via Its Rosy). Just look at the popularity of bronzers to contour areas of your face by strategically adding color. 
While many associate being too pale with looking sick, adding a little sun-kissed glow has been in demand at spas and tanning salons, and some even do it themselves at home. Though the idea of having an even and natural-looking tan is considered attractive among specific populations — which professionals often do perfectly — you need to know a few things before using self-tanner on your skin and where not to miss it.
Here's where most people forget fake tanner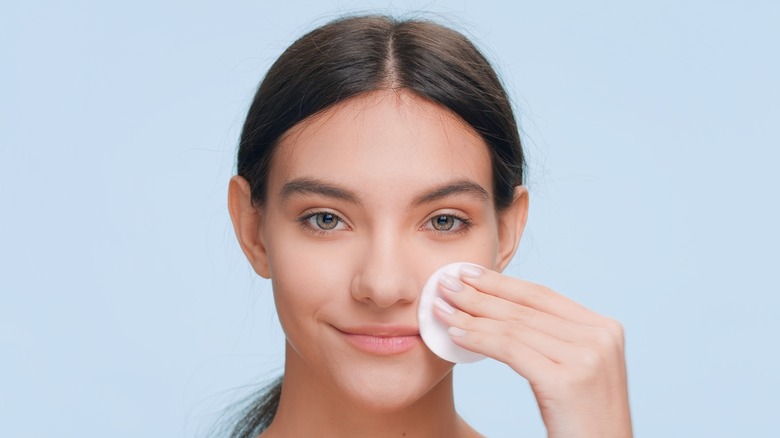 Pavel_dp/Shutterstock
Adding a little color can make you look and feel better, but it's easy to mess it up when you try it yourself. You don't want to look orange — a surefire sign of a tan gone wrong — but rather you want a natural glow like Jennifer Aniston.
The self-tanner needs to be rubbed off from certain body parts as they will absorb it more quickly; as Alyson Hogg, founder of Vita Liberata Luxury Tan told Glamour. "Get ahead of the game and wipe your knuckles, knees, elbows, and ankles immediately after tanning — even if you think you don't need to."
You want an even color all over, but unfortunately, sometimes this is missed, and the tan ends up looking patchy. Self-tanning expert and St. Tropez brand ambassador Sophie Evans told Allure that "you must tan everywhere." That means you can't skip the areas of your face, including "under the eyes, over eyelids, on the tips of the ears, on the neck, and even around the back of the ears." 
To ensure you don't miss these parts of your face, gently massage the tanner over and under your eyes and your hairline, so it looks like you were born with it (via Cosmopolitan). Your ears are a part of your face too so use a little tanner on a cotton ball to gently pat it over and even out the color around the ears. 
Best at-home self-tanners for the ultimate glow
With the beauty aisles filled with options, we turn to experts to find the best self-tanners for you.
Celebrity makeup artist Gita Bass is a fan of Coola Organic Sunless Tan Luminizing Body Serum. Bass told Glamour, "This super-sheer self-tanner is so easy to use — it never streaks or causes dark patches. It also has a gorgeous, natural finish that's easily buildable, with a subtle shimmer that gives you a glow." This sunless tanner makes you luminous instantly and when used daily, will give you a glowing, gradual tan.
Florida-based dermatologist Marianna Blyumin-Karasik loves Isle of Paradise Self-Tan Drops and told New Beauty, "It's customizable to different shades of skin types, you can build the tan up as needed." She added that it's super easy to use as you can mix it with your moisturizer. It boasts 203,000 likes on Sephora, with one reviewer saying, "I usually hate self tanners! The smell, the mess, the process — I can't stand it. But this stuff is AMAZING."