What We Know About Zachary Quinto And Jonathan Groff's Relationship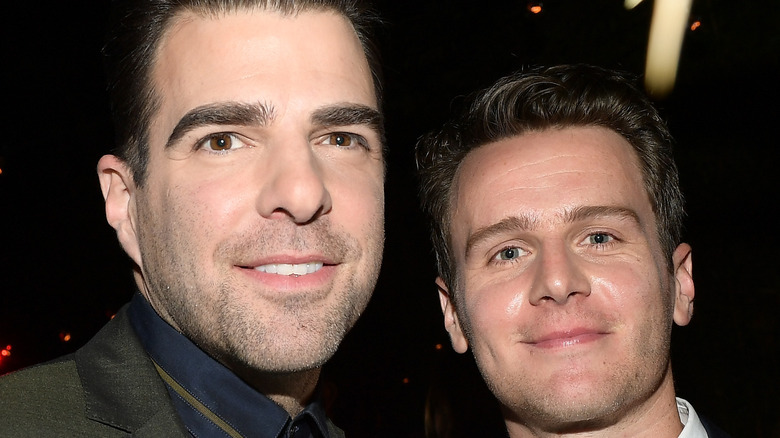 Matt Winkelmeyer/Getty Images
In 2009, "Star Trek" made a big screen comeback (per IMDb). It had been 40 years since the end of the original series when director J.J. Abrams brought back Captain Kirk and the rest of the U.S.S. Enterprise. Zachary Quinto played Spock, the half-human-half Vulcan commander. According to The Pittsburgh Post-Gazette, Quinto spent a lot of time with Leonard Nimoy, the show's original Spock, in preparation for his 2009 role. "I also immersed myself in a significant amount of reading," he explained. "There's no shortage of material about the mythology and the history of 'Star Trek' and the character and the Vulcan heritage and the culture."
In 2012, three years after officially joining the U.S.S. Enterprise, Zachary Quinto began dating "Frozen" star Jonathan Groff (via Us Weekly). As well as voicing the reindeer-loving Kristoff in the hit Disney film, Groff is known for his many musical theater credits: namely, originating the role of King George in Lin-Manuel Miranda's "Hamilton." Both Groff and Quinto have had their fair share of experience on Broadway — the latter appeared in the Tony Award-winning production of "The Glass Menagerie" and starred alongside Jim Parsons in 2018's "The Boys in the Band" Playbill reported. Groff and long-time friend Lea Michele originated starring roles in "Spring Awakening." Though Quinto and Groff split in 2013, they still seem to be on good terms — Quinto even went to visit his ex-boyfriend during a 2015 production of "Hamilton" (per E! News).
Jonathan Groff opened up about dating actors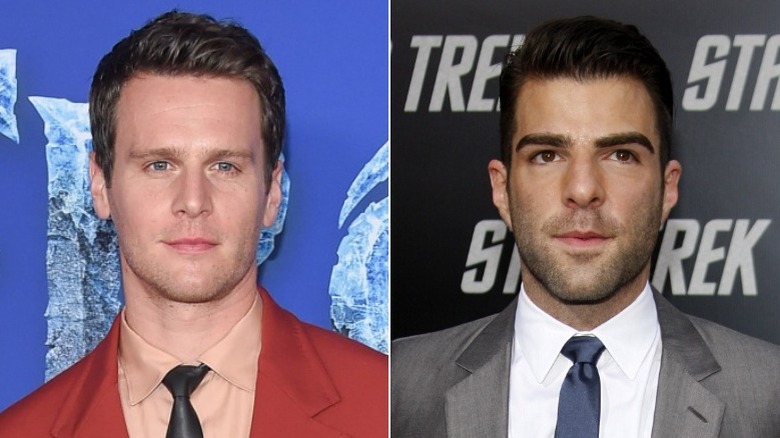 DFree & Tinseltown/Shutterstock
Zachary Quinto dated Jonathan Groff in the midst of his new-found "Star Trek" fame. Briefly commenting on their relationship status in 2012, Quinto told Out that he was "incredibly happy" and "incredibly lucky." The actor publicly came out in 2011 during an interview with New York Magazine. Commenting on his role in Tony Kushner's play, "Angels in America," Quinto reflected, "as a gay man, it made me feel like there's still so much work to be done, and there's still so many things that need to be looked at and addressed."
Jonathan Groff has been candid about his history of dating actors. As reported by Pink News via FourTwoNine, the "Glee" star appreciates that other performers "understand the schedules involved or having to leave for three months to shoot something and all that." Groff's relationships — including his time with Quinto – came down to "the people they were" rather than "the actors they were." Ultimately, the pair broke it off in the summer of 2013. "They really loved each other, so it wasn't an easy split," a source told Us Weekly. However, as reported by the magazine, their contradicting schedules got in the way of quality time. Shortly after the actors ended their relationship, Jonathan Groff was called to support Lea Michele, who was reeling after the passing of her then-boyfriend, fellow "Glee" actor Cory Monteith (via Us Weekly).
Zachary Quinto and Jonathan Groff have an industry connection in common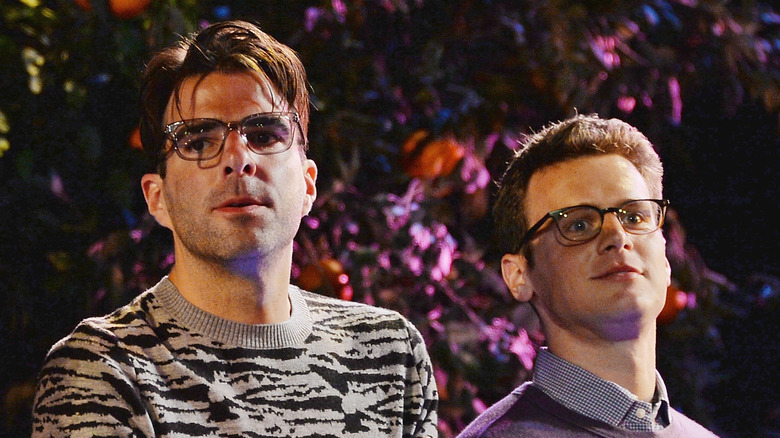 Mike Coppola/Getty Images
Beginning in mid-October of 2022, Zachary Quinto will star in Season 11 of Ryan Murphy's "American Horror Story" (via ET). The actor previously appeared in the first two seasons of the anthology show, playing Chad Warwick in Season 1 and the terrifying Dr. Oliver Thredson in Season 2, per IMDb. Commenting on the series, Quinto told Collider, "It tackles issues that have relevance to our modern society through another point of view or time period." Ultimately, it's the story's honesty that makes it scary.
"American Horror Story" creator Ryan Murphy is also known for another long-running show: "Glee." Jonathan Groff was a frequent guest star on the high school comedy series, appearing as Jesse St. James up until the show's cancellation in 2015. Commenting on Ryan Murphy, a writer known for hiring the same actors in many of his projects, Groff told ET, "I love him. I feel like loyalty is such a rare quality in this world, particularly the entertainment world. And he is." Only time will tell if Jonathan Groff and ex Zachary Quinto will collaborate on a Ryan Murphy-led project.