A Professional Hairstylist Predicts Which Shade Will Give Silver-Blonde A Run For Its Money – Exclusive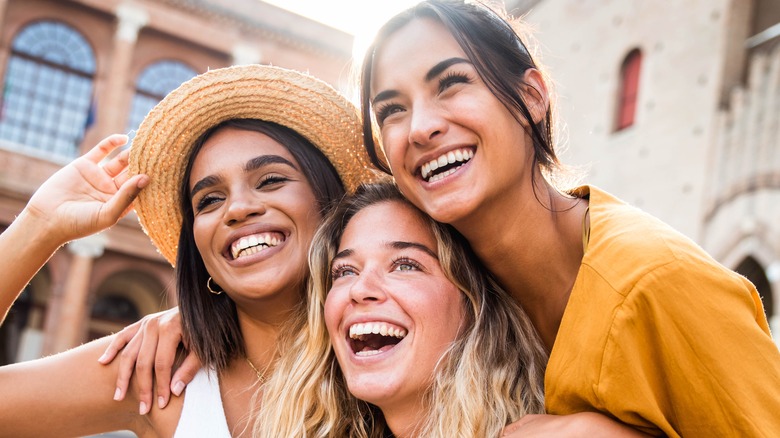 DavideAngelini/Shutterstock
Even if you haven't watched "Game of Thrones," you're probably familiar with its most iconic characters. Thanks to Daenerys Targaryen's icy-blonde hair, it didn't take long for the silver-blonde hair to become the cool girl hair, with many celebrities like Kim Kardashian choosing this cool tone.
New York City-based stylist Lauren Grummel told Glamour that this super light shade of blonde looks great on those with a "rosier complexion" as it can neutralize the redness of the face. However, it's not the easiest color for those with dark hair to achieve and maintain, as you'll have to bleach it to get the super light base color. Plus, it's a lot of work to maintain the vibrancy of the color.
Thankfully, a new shade is taking over, and it's much easier to get and keep healthy compared to the Khaleesi's icy locks. If you're not committed to frequent salon visits for touchups and maintenance, you might want to choose this other color.
Boulder, Colorado-based stylist Sara DesGeorges predicts this shade to be the hottest hair trend that'll outshine the silver-blonde hue. "I have loved seeing the creative process come to life on each person who sits in my chair," says DesGeorges, who works at Twig Hair Salon. We're confident you'll consider this color at your next hair appointment.
This shade will look great on everyone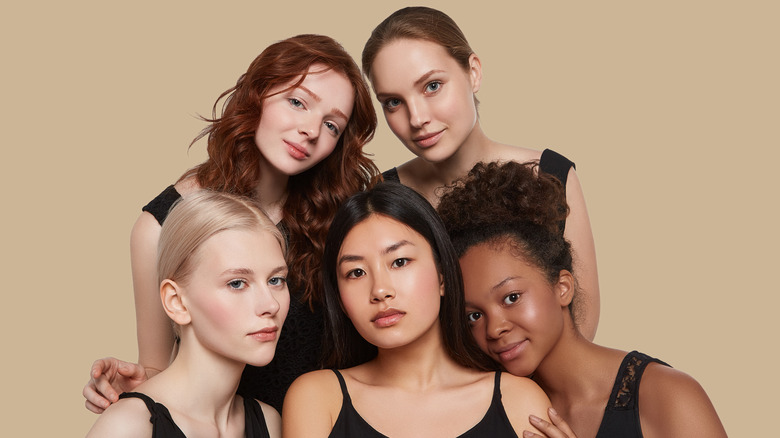 Red Umbrella and Donkey/Shutterstock
Keeping up with the hair color trends is fun, but the hottest hair trends might not complement your skin tone. Like you need a specific coloring for the silver-blonde hair to look incredible against the skin. Here, Sara DesGeorges is spilling the tea on what hair color might beat the icy-blonde hair.
DesGeorges told The List, "Warm tones are in! For years, it's been the ashy silver blondes as the trend, but now it's the warm honey blondes, the bright natural blondes, the dimensional blondes." She added that for brunettes, it's all about warm browns like chocolate. Doesn't that sound so yummy?
DesGeorges told us, "Warm tones for brunettes usually have a red tint to them, and that's what creates the depth. Balayage with low contrasts but creating dimension is the trend I'm seeing. Low maintenance color is trending." Red is having a moment in hair color trends, from copper to pumpkin-spice-inspired colors that can be customized for everyone.
Going warmer can give the illusion of more hair. It's a great idea to add some color to your hair if it feels flat or lacks body. "Colouring your hair can emphasize texture and add luster to bring back your hair's shine due to overexposure," Luis Pacheco, Clairol Colour Consultant, told Elle Canada. Some hair colors have thickening ingredients that can make your hair look fuller.
Gorgeous warm hues are easier to maintain and make your hair appear voluminous, and we're all for it.
Warmer hair colors can make you look younger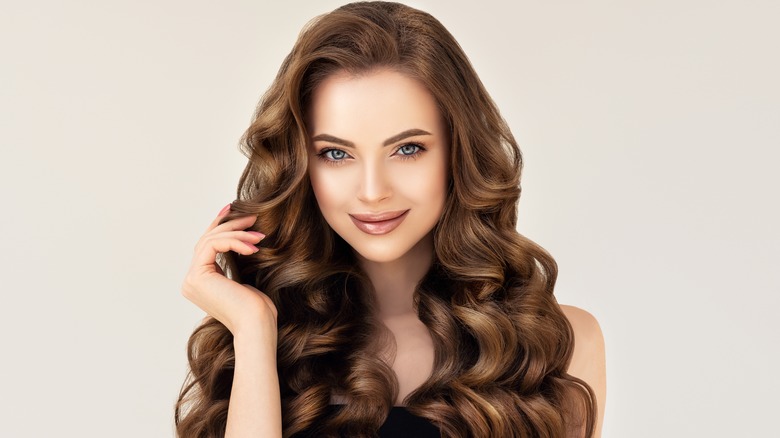 Sofia Zhuravetc/Shutterstock
Did you know that coloring your hair in certain colors can make you look younger? We spend so much on skincare products, and there is a shade of hair color that can do the same thing.
Adding warm highlights can take years off your face. "For brunettes, adding caramel highlights can help to warm and soften facial features," Peter Oon of Oon Arvelo Salon in NYC told Byrdie. Adding dimension to your hair makes it look thicker, like when you were younger. Celebrity hairstylist Jennifer Korab prefers auburn and copper, and told the outlet, "This gives the appearance of younger and more radiant skin by reflecting light around the face with its warm tint." Warm hues of caramel, gold, and copper have the magical ability to make you look youthful, but in the end you should choose a color that makes you happy
Sara DesGeorges told The List, "I love creating looks that will make you feel like your most confident self. If there's a trend you love and want to try, I'm here for it! Although, if the silver/ash trend could be on its way out, I'm not complaining."
Similarly, going super silver-blonde might only age you. LA-based colorist Johnny Ramirez told PopSugar, "It won't have contrast, and it's going to make you look older." He added that over-processed hair "look tired, and so does the person." If a hair color makes you look older and more tired, then it's time to tell it, no, thank you.