Kesha's Beauty Evolution Is Something You Have To See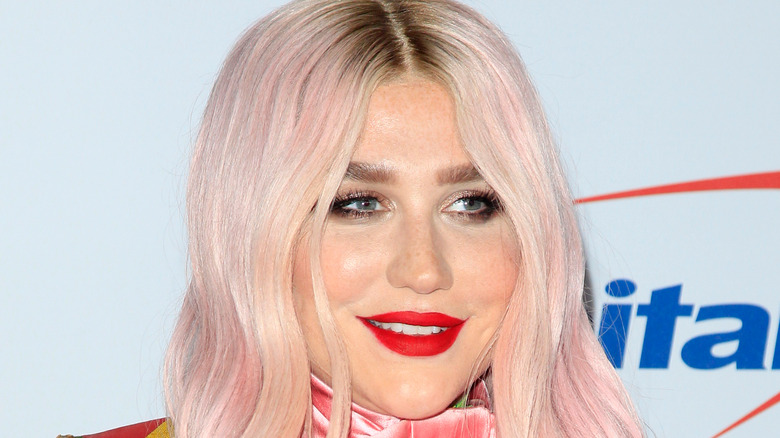 Kathy Hutchins/Shutterstock
Kesha was a 2010s pop princess. Her debut song, "Tik Tok," stayed number one on the billboard Hot 100 for 3 weeks, and the singer's first album, "Animal," broke records for digital album sales (via Cision PR Newswire). However, the alleged abuses of her former producer, Dr. Luke, marred what would have otherwise been a happy achievement. According to Vulture, Kesha — then professionally known as Ke$ha — experienced sexual, emotional, and physical abuse while collaborating with Dr. Luke (he has denied all allegations and claimed defamation). The "We R Who We R" singer filed suit against the producer in 2014, asking to void all their contracts, per Distractify.
Though Kesha took a break from music in 2012 amidst legal battles, she reemerged on the scene in 2017 with her comeback album, "Rainbow." The album served as a commentary on the singer's traumatic relationship with Dr. Luke, celebrating new-found self love and independence. Rolling Stone called it "the best music of her career," according to Vox. It's been over a decade since Kesha rose to fame, and her personal style has evolved just as much as her music, evolving from glitter grunge, to cowboy queen to – nowadays – glowing, natural skin.
Kesha was the queen of glitter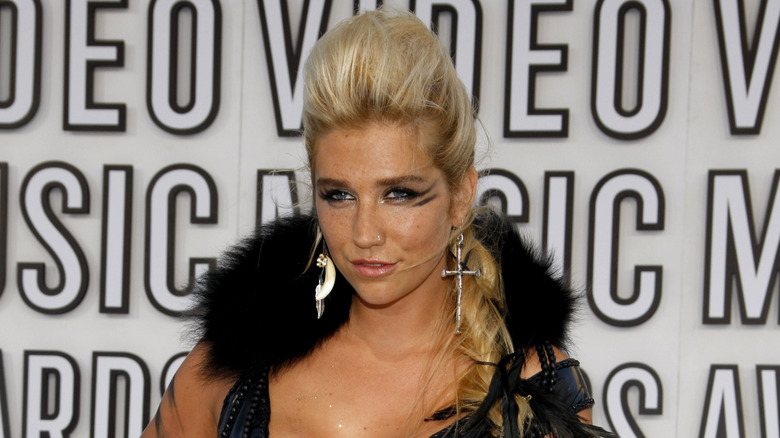 Tinseltown/Shutterstock
In the 2010's, amidst pique twee fashion, Kesha was known for her bold aesthetic. According to Fashion Magazine, she laid the groundwork for "Euphoria" makeup long before the show was even conceptualized, sporting smeared glitter for red carpet appearances and concerts. The "Timber" singer also accentuated her super smokey eyes with teased, messy blonde hair, both of which contributed to the party girl persona advertised in her early albums. Rhinestones and dark lipstick made for edgy red carpet looks. Metal Injection even called Kesha "the most metal pop star." In late 2010, Kesha rocked neon face paint at a Madrid awards show (via Teen Vogue).
By 2013, the same year a profile in The New Yorker first alluded to Kesha's struggles with Dr. Luke, the singer embraced the popular bohemian fashions of the time, per Life & Style. In 2014 (three years before her album, "Rainbow" was released), Kesha popularized the rainbow hair trend. According to Allure, the singer's hair-dying journey reflected her liberation from Dr. Luke — she was no longer limited by her trademark, messy blonde styles. She experimented with everything from lime green to purple, taking a step back from her glittery aesthetic and showing off a more natural look. "I wanted to be more confident in myself — embrace every inch of my body — not try to cover up with makeup," Kesha told Vogue in a 2015 interview.
Kesha is embracing her natural skin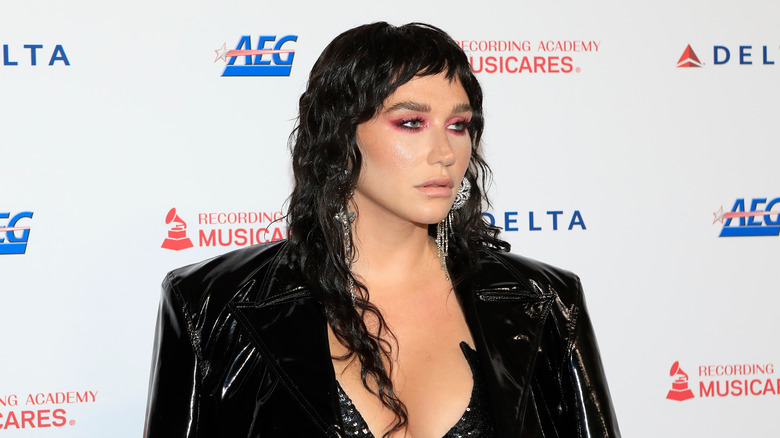 Kathy Hutchins/Shutterstock
Though Kesha continues to fight against Dr. Luke in court (yes, the defamation case is ongoing), she's asserted her individuality and merits as an artist. The "Woman" singer's beautiful transformation is truly something to behold, taking fans on a journey from cowboy chic to makeup-free. During a jaw-dropping performance of her hit single, "Praying," at the 2018 Grammys, Kesha wore a rhinestoned blazer and sported a simple, glitter-less makeup look, per USA Today. This fringy, country western aesthetic became a go-to style for the singer leading into the 2020s — though she still sometimes calls it back to her glitter grunge roots (check out her bold makeup line).
These days, Kesha is all about skincare and "finding [herself] in self-care," via Refinery29. As the singer wrote for the site, "I got this ice roller I love, as well as a micro-needling roller; I use that and then apply moisturizer on top." She's embraced her natural freckles, preferring to let them shine through on glowing skin rather than conceal. "Treat your face like it is the treasure it is," the pop star said in a 2020 YouTube video, per Women's Health. For the past few years, Kesha has rocked darker hair, even going so far as to color her own eyebrows with men's beard dye, according to Refinery29. In 2022 she posted a no-makeup selfie on Instagram, showing off her now-trademark bangs and healthy skin.
If you or someone you know is dealing with domestic abuse, you can call the National Domestic Violence Hotline at 1−800−799−7233. You can also find more information, resources, and support at their website.