How To Pull Off A Gender-Neutral Nursery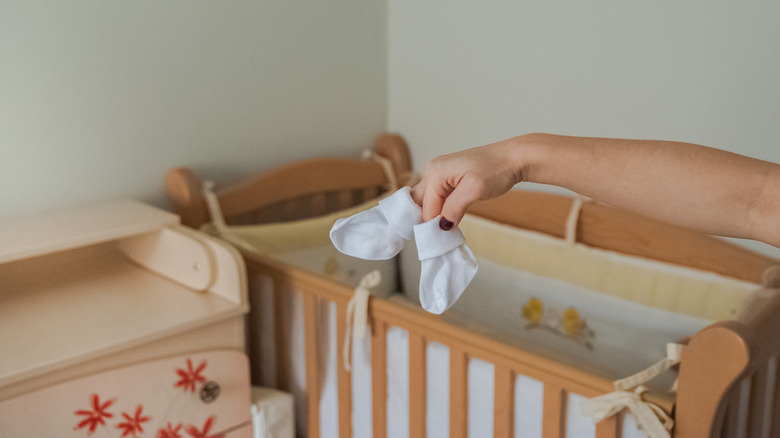 SoNelly/Shutterstock
Designing a nursery is a fun experiment both parents and loved ones can partake in ahead of the newborn's arrival. It's a lovely way to get the creative juices flowing too.
If you're someone who doesn't want to know the sex of your baby until the day of birth or if you're simply eager to break away from more traditional definitions of gender, per Lonny, choosing to design your little one's space in a gender-neutral manner might be ideal for you. Interior designer Dina Bandman thinks that creating a gender-neutral nursery would entail stripping off common notions that people attach to what a girl or boy's room should look like (via Lonny).
Maybe your reasons don't have to do with any of the above. Maybe you just want to be cost-effective and make sure you are able to recycle the room with all of your babies or you just want to get a head start with the nursery design process — even before you've found out the sex of your baby, reports Living Textiles. Whatever your reasons, there are ways to work around achieving your perfect gender-neutral nursery look.
Go the rustic or sophisticated route for a gender-neutral nursery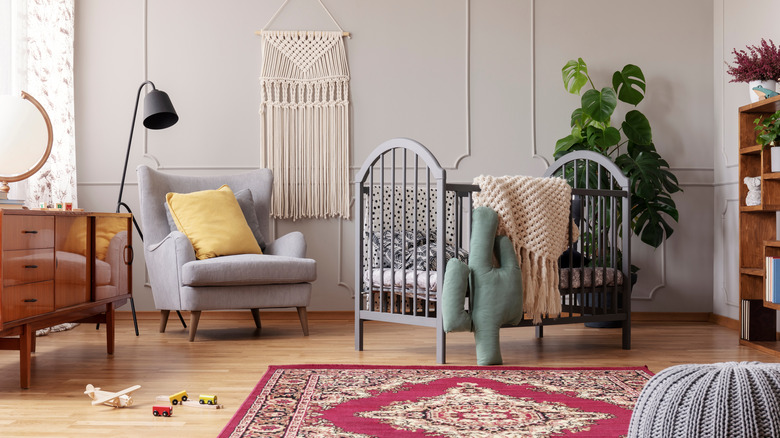 Photographee.eu/Shutterstock
If you want to stick with simpler designs, one way you can achieve a gender-neutral look is by giving your nursery a rustic feel. By working in a lot of natural bits and bobs, you can stay true to this concept (via Lonny). Designer Corre Marie Larkin who created a space for her own little boy shared with Lonny, "I used a lot of natural elements, including the driftwood mirror."
Going for sophisticated look is another way to pull off a gender-neutral nursery. This might also be a nice way to make sure you enjoy the room as well. After all, you are going to be spending a lot of hours in there yourself, according to Journey of Parenthood, so why not play around with it to make sure you'll love it?
White is a great general-neutral color, in addition to yellow, green, and orange, per Kidsbury, so you could go with an all-white and bright look for your newborn's space; a two-toned vibe with black and white is also an option (via HGTV). If you don't like to stick to these colors, HGTV recommends choosing a centerpiece with all the colors you want to work with and decorating the rest of your space with shades of those. There really is no limit to ideas; perhaps you could even draw inspiration from some stunning nurseries of famous people.
Adopting a full-on theme is another fun way to stay gender-neutral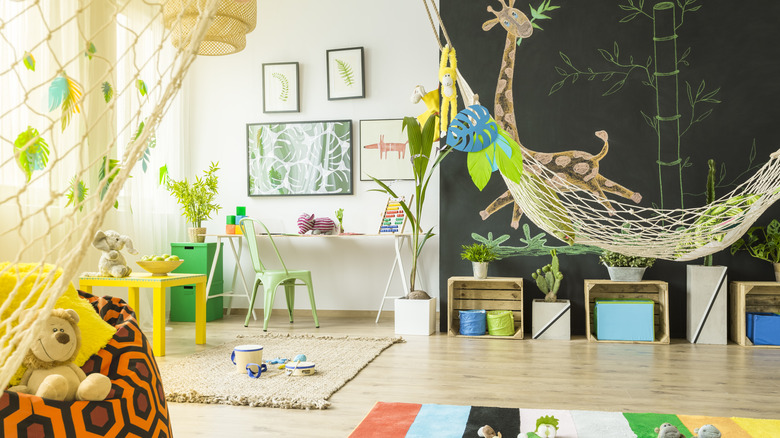 Photographee.eu/Shutterstock
A baby's imagination is fueled when they interact with sights, sounds, and objects, per Raising Children. If you want to spend a little more time and zone in one big theme that is going to transform your entire space and ignite your little one's imagination, opt for this as well and comfortably stay gender-neutral.
Do you and your partner love pets? Are you keen to pass on that love to your newborn? Then why not go all out and craft an animal-themed nursery for your newborn? Choose wallpapers, bedding, toys, and other baby knick-knacks that reflect your love for animals. 
Or, maybe the love is for stars, planets, and the universe. While your wallpaper can mimic outer space, your decor could involve glow-in-the-dark stars on the ceiling, according to Living Textiles, and the bedding could have prints of the planets on them. Whatever your theme is, find creative ways to work it into the room and have fun while you're at it.