What's The Difference Between A Wolf Cut And A Mullet?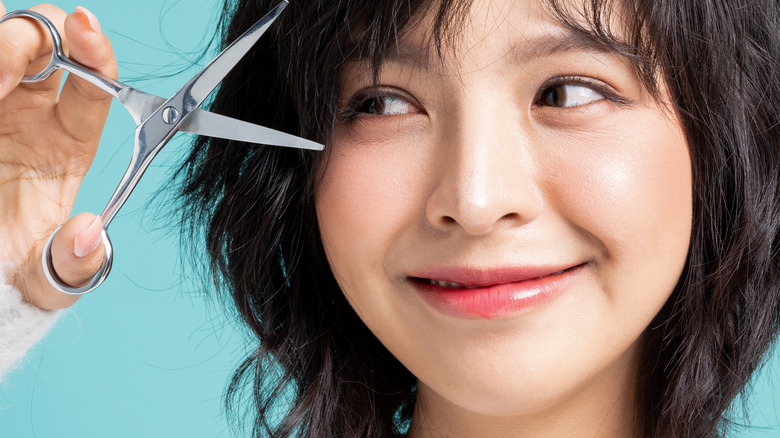 Pixpan_creative/Shutterstock
Hairstyles come and go, and sometimes a new haircut is thrown into the mix. And sometimes, a new style makes its way back into our lives. Ever hear of the wolf cut or the mullet?
The mullet cut has been around in one form or another for centuries, according to History. In its most recognized form, it's short hair in the front, and long hair in the back, with little to no transition between the lengths. "Something that has always stuck with me about mullets is the phrase, 'business at the front, party at the back,'" Jarred Liddington, a stylist and educator for Andis, shared on Mane Addicts. "It's the juxtaposition of two different looks in one cut that makes the mullet so unique."
The wolf cut is a fairly new idea, first gaining popularity thanks to K-pop and South Korea (via Teen Vogue). As described by CNN, the snip gets its name "from the wild, untamed look the heavy layers create, resembling the fur of its namesake." The wolf cut, like the mullet, tends to be shorter in the front and longer in the back. "A wolf haircut is a mix of the shag haircut and a mullet," explained celebrity hairstylist Neil Moodie (per Stylist). So, how are these two styles different, and how can you pull off this bold haircut?
The difference between a wolf cut and a mullet is in the layers
One of the prime examples of a mullet cut was the look worn by Billy Ray Cyrus when he sang about his "Achy Breaky Heart" in 1992. "The song's popularity made him the mullet poster child," recalled Taste of Country. Cyrus sported a clean-cut, short-trimmed look in the front, with an abrupt switch to lengthy locks in the back.
"A wolf cut is a creative version of a mullet," explained master stylist Nicholas Alexander Willis (via Stylist). "It's inspired by the choppy texture of a mullet and follows a similar pattern and shape, but has the softness and wearability of a shag cut." You'll find more layers in a wolf cut that soften the transition from the shorter front to the longer back. "Insatiable" actress Debby Ryan showed off her wolf cut on Instagram.
Some people may find wolf cuts a little less intimidating than traditional mullets. "They're fun and edgy but aren't as extreme as a mullet," said hairstylist Alexandra Efstratiou (per Marie Claire). "They're less scary and grow out really cute."
How to wear a wolf cut or a mullet cut
While Billy Ray had the traditional famous mullet in the '90s, the look has been updated for today's crowd, adding just a few more layers between the short front and longer back to create the modern mullet. Expert stylist Jarred Liddington advised you should always make sure you have "balance and transition throughout," according to Mane Addicts. "Adding layers and texture will help connect it and make it a current mullet."
The wolf cut is all about movement and a bit of a wind-blown vibe. "If you are open to a more tousled hair vibe and looking for a great way to spice up your look, you should try it out," celebrity stylist Nick Stenson told InStyle.
You'll have a few different styling options, too, with the wolf cut. "You can change up the whole vibe by the way you style it," suggests celebrity hairstyle Lovette Candice (per InStyle). "You can kick the ends out and give it that beautiful blow-dried look or rock it up with a hot tool." Using said tool will give your hair texture.