The Makeup Tutorial That Will Channel Cleopatra In Time For Halloween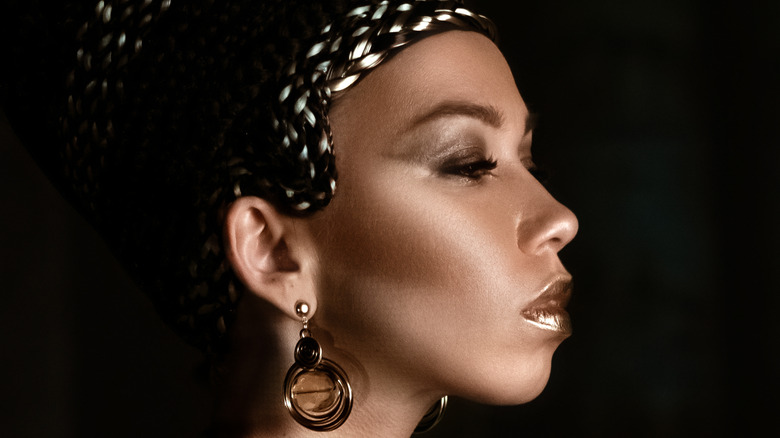 Pereslavtseva Katerina/Shutterstock
For thousands of years, Cleopatra's story has captivated us. Unlike the famous visage of King Tutankhamun, Cleopatra's body has never been found, lending an aura of mystery to this ancient queen. It is unlikely that it will ever come to light since her palace was obliterated by an earthquake during the 5th century (via NPR). According to Discover Magazine, archaeologists have been unsuccessful in their efforts to locate Cleopatra's mausoleum.
When she was alive, sources containing Cleopatra's image likely sacrificed accuracy for political statement. Ancient coins may have depicted her as looking more Roman when she was married to Mark Antony, while Egyptian reliefs show her attired as a pharaoh, per Discover Magazine.
Despite the murky historic record, or perhaps because of it, in modern imagining, Cleopatra is synonymous with beauty and glamour. For almost 60 years, this image is that of Elizabeth Taylor from the Oscar-winning film "Cleopatra." Not surprisingly, this version is less historically accurate and more Hollywood spectacle, 1960s style (via Egyptian Streets).
Still in production, a new Cleopatra film stars Gal Gadot as the iconic Egyptian ruler. "We're going to show not just how sexy and appealing she was, but how strategic and smart, and how much impact she had and still has on the world we're living in today," the actor told InStyle. And now that Halloween is almost here, a variety of online tutorials can help you create your own vision of Cleopatra.
Bold eye makeup is the key to Cleopatra style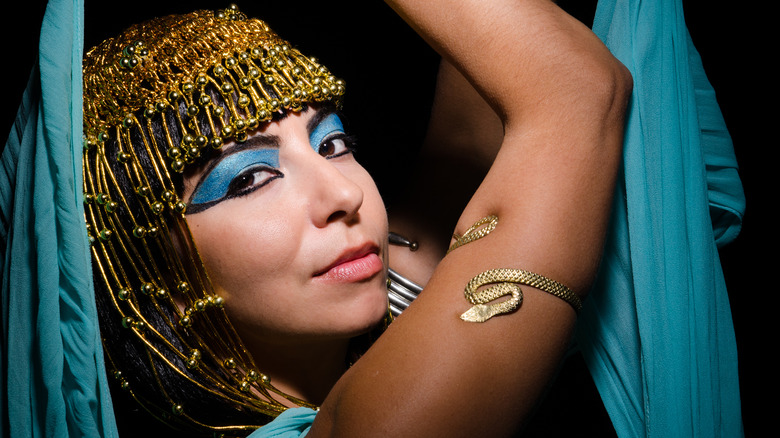 BonnieBC/Shutterstock
YouTuber Zabrena offers a "historically accurate" take on Cleopatra's look, starting with emerald green eyeshadow. In ancient times, green was a popular eye shade made from malachite paste, although according to Indiana Public Media, the real Cleopatra applied it to her lower lids.
For their Halloween take on this ancient Egyptian queen, Glamour's senior artist Keri Blair and makeup artist Manana Saralidze prefer a golden eyeshadow base contoured with brown shadow in the crease and outer corners. A bright turquoise blue triangle extends down from the eyebrow to add dramatic color.
Both tutorials create a perfect cat eye with heavy eyeliner, as well as darkened brows and false eyelashes. Glamour's team applies an even thicker line on the bottom, while Zabrena's eyeliner connects up to the brow. For ancient Egyptians, black kohl makeup was worn to protect the eyes from infections and insects, notes Culture Trip.
To make it easier to apply the eyeliner, Harper's Bazaar uses scotch tape to create guidelines. For a more traditional color choice, their Cleopatra makeup features a brilliant blue eyeshadow on the upper eyelid. In the 1st century BC, Cleopatra and other ancient Egyptians used blue eyeshadow made from pulverized lapis lazuli (via Indiana Public Media).
For the lips, Glamour's tutorial features a striking cobalt blue lipstick, while Zabrena goes with a more traditional red. She explains that in Cleopatra's time, henna was used to stain the lips red.
Cleopatra's hairstyle and clothing choices varied by her location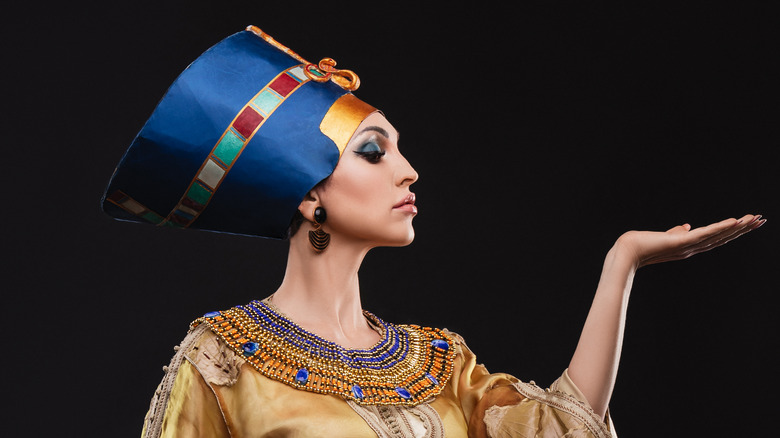 snova.mir/Shutterstock
According to Yale University Professor Diana Kleiner, Cleopatra had three distinctive hairstyles. One, a Macedonian Greek style, featured curls pulled back into a bun. Another was the classic Ptolemaic "melon hairstyle." Speaking to ABC Science, Kleiner describes this look as having "segmented sections resembling a melon or gourd." For her most regal and dramatic coif, Cleopatra donned an Egyptian wig topped with a rearing cobra headdress. This signature style was depicted by Elizabeth Taylor in the 1963 film. 
For their Cleopatra tutorial, Glamour spices up their model's dark tresses with gold and blue highlights. A gold necklace makes a queenly headdress. Harper's Bazaar opts for a black wig and gold beaded headdress that pays homage to the Hollywood depiction. YouTuber Zabrena wears a similar straight black wig with bangs, with a topper of golden chains.
Like her hairstyles, Cleopatra's wardrobe choices varied by country. According to Time, the queen made a legendary first impression on Mark Antony when she showed up looking like the Egyptian goddess Isis. Other outfits were a blend of Greek and Egyptian styles and included long gowns worn with a belt. Based on two Egyptian relief sculptures of her, Cleopatra also wore broad collar necklace and a strap gown–a traditional ancient Egyptian dress made of linen. New York's Fashion Institute of Technology says that these folded linen straps extended down from the shoulders to the breasts.