Here's Where Marilyn Monroe's Iconic White Dress Ended Up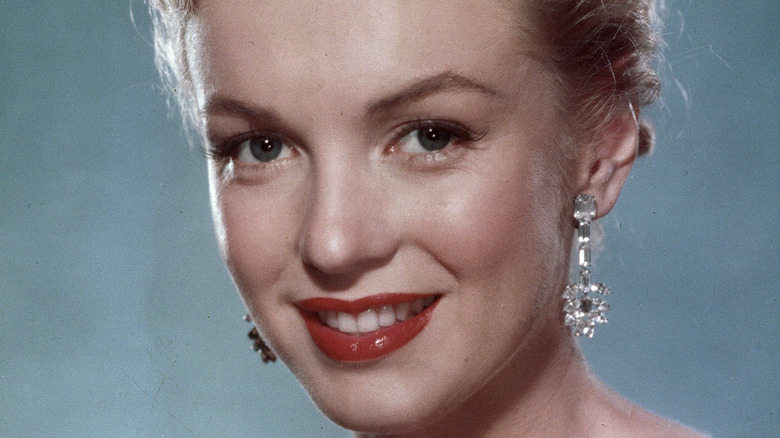 Michael Ochs Archives/Getty Images
Marilyn Monroe is a cultural icon. Although she tragically passed away 60 years ago — her final words were heartbreaking — she has remained one of the most recognizable and popular figures in pop culture (via Euro News).
The legendary actress still has an active fan club, called the Marilyn Remembered fan club, which is run by Greg Schreiner, who told the publication about how Monroe was more than just a pretty face. "Anyone that really knew her, never even thought of her in those terms of a 'blonde bombshell,'" he shared. "I remember talking to her stand-in, Evelyn Moriarty, and she said once she remarked about something Marilyn was wearing, how lovely it was." He continued, "And the next morning, that item was packaged in front of her door. I mean, that's how generous Marilyn was."
Part of her appeal across generations is how alluring, yet endearing, she was (per Newsweek). Her popularity in pop culture has also been preserved over time due to the lasting impact of her films.
One of Monroe's most iconic scenes was in 'The Seven Year Itch'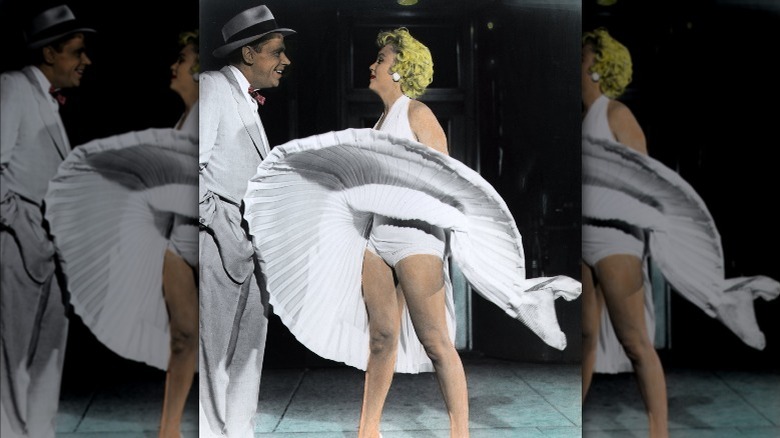 United Archives/Getty Images
Marilyn Monroe has become a timeless pop culture icon and that is partially due to the impact of her films. Arguably the most recognizable star of Hollywood's golden age, Monroe's appearance in films across her career is impressive for how short it was cut — as noted by IMDb, she is credited in 33 movies in the 15 years she was on the silver screen.
One of the most recognized movies of her career is "The Seven Year Itch." This film, directed by the legendary Billy Wilder, is the ultimate Monroe picture (via Turner Classic Movies). The actress plays a blonde bombshell, the character she became synonymous with throughout her career. She ends up charming a married man who lives above her while his wife is out of town.
"The Seven Year Itch" features one of the most iconic moments in Monroe's career — the infamous scene where she is standing over the subway grate in New York City with air blowing up her white dress. That image is ingrained in the minds of Monroe fans everywhere.
So, where is that iconic white dress today?
Where did the dress end up?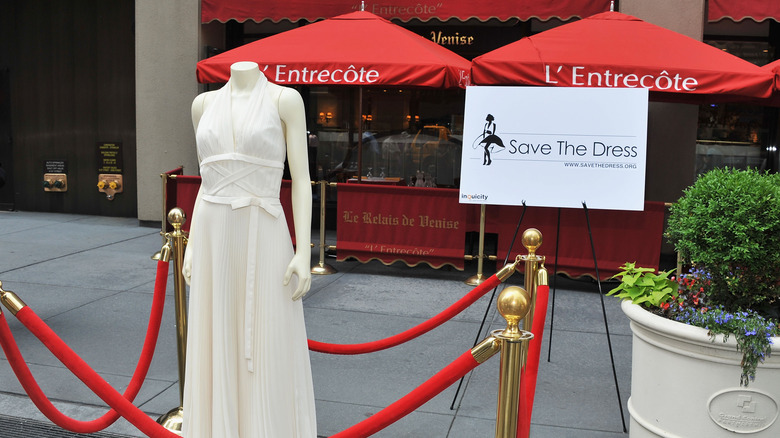 Slaven Vlasic/Getty Images
Marilyn Monroe has worn several iconic gowns. Recently, Kim Kardashian made headlines as she wore the legendary dress Monroe sported as she sang happy birthday to former President John F. Kennedy at the Met Gala (via the New York Post). In order to wear the piece of fashion history, Kardashian lost weight to fit in the dress without altering it. 
If you were bothered by another celebrity wearing a gown once owned by Monroe, you may be a little sad to hear about where the iconic white dress from "The Seven Year Itch" ended up.
For over four decades, the dress was in special hands. The BBC reported that actress Debbie Reynolds had the gown in her memorabilia collection. She had hoped to create a museum to showcase her impressive collection, which also included Elizabeth Taylor's "Cleopatra" headdress and the legendary hat Charlie Chaplin became famous for wearing as The Little Tramp. Sadly, the museum never panned out and her collection went to auction.
Monroe's iconic white dress was sold during the auction over the phone to an unknown buyer. It appears the dress is in a private collection somewhere.