The Real Reason So Many Stars Wore Black To The Golden Globes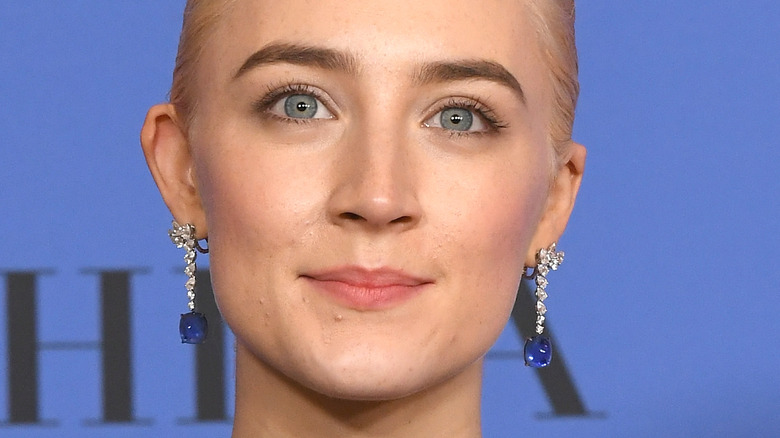 Getty Images
A once-colorful affair, the Golden Globes embraced a much more serious tone in 2018. Celebrities took to the red carpet donning all-black ensembles, save for the occasional metallic embellishment. But the dark sea of gowns and suits wasn't an odd coincidence. Rather, it was a well-thought out plan birthed by those at the top of the entertainment industry. Keep reading to learn all about why stars rocked the awards show with black wardrobes.
To protest sexual misconduct in Hollywood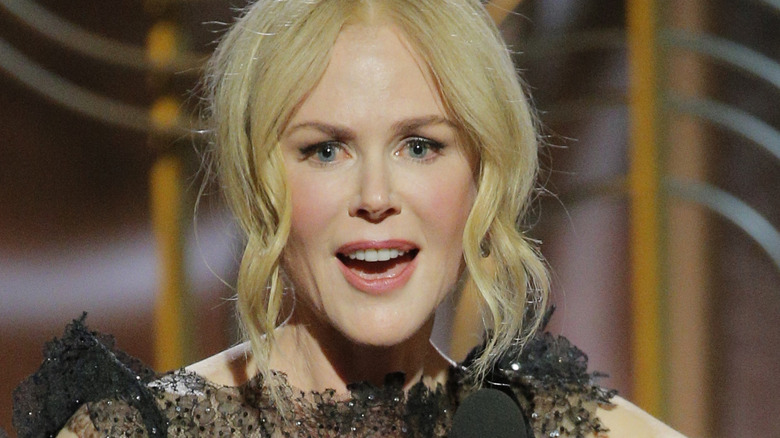 Getty Images
Women in television and movies are demanding change — especially in terms of treatment by their male colleagues. After movie producer Harvey Weinstein was called out by the media for alleged sexual harassment and assault in October 2017, it was soon discovered that he wasn't the only man in Tinsel Town to have reportedly used his power and influence to place people in uncomfortable and potentially devastating situations. Other well-known men in high-up positions, such as Brett Ratner, Louis C.K., and Dustin Hoffman, also faced serious allegations of their own, bringing to light the awful behavior that women in the industry have had to endure for decades.
Wearing black to the 75th Annual Golden Globe Awards was a way to speak out against systemic sexual abuse in Hollywood. Hosts Jackie Oshry and Claudia Oshry confirmed as much on The Morning Breath, stating that all female attendees of the big event were "going to be wearing black, obviously to protest the injustices that have been taking place in Hollywood since forever."
To remind viewers about the #MeToo movement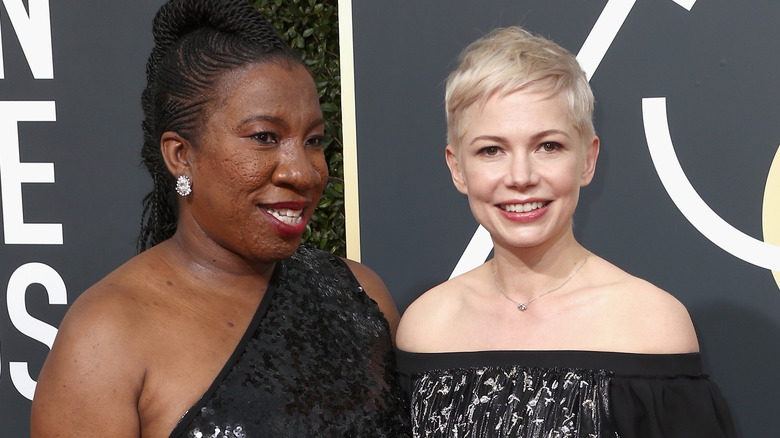 Getty Images
Most hashtags come and go, but the #MeToo tag is here to stay. To further cement the movement in history, both men and women donned black at the Golden Globes to shine a spotlight on all those who've spoken out about their own personal experiences with sexual abuse.
"I'm here because I hear the voices of women who said, 'Me too,' which one of them was me," How to Get Away with Murder star Viola Davis told Al Roker (via The Washington Post). "I hear those voices, those people who are nameless, faceless every day, who don't have a platform to talk about their sexual assault and rape. I hear those voices."
Several other Golden Globes attendees also spoke about the movement, including The Greatest Showman actress Michelle Williams, who brought #MeToo creator Tarana Burke as her date for the night. "I thought I would have to raise my daughter to learn how to protect herself in a dangerous world, but I think the work that Tarana has done and the work that I'm learning how to do — we actually have the opportunity to hand our children a different world," Williams stated during a red carpet interview (via People). "I am honored beyond measure to be standing next to this woman. I have tears in my eyes and [a] smile on my face."
To stand as a unified front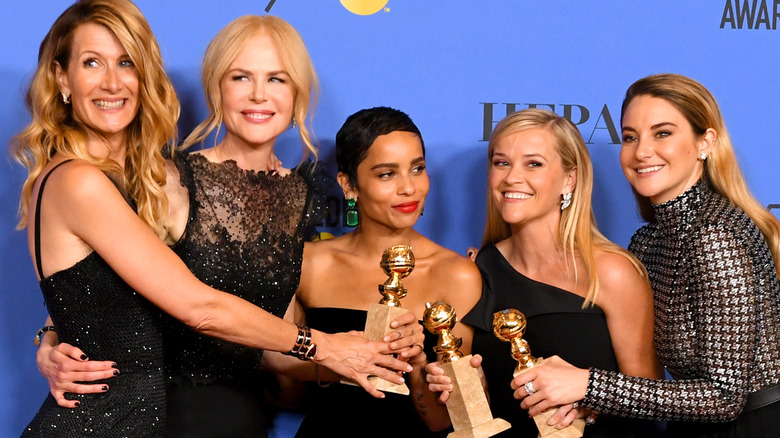 Getty Images
There's something to be said about having strength in numbers, and the women of Hollywood certainly seem to understand that they're stronger together than apart. Adopting the same wardrobe color scheme allowed women to showcase their common belief that sexual misconduct in the industry must end—and that they are beyond ready to march onward toward gender equality.
"I wear black today as a 'we' not as an 'I,' as a celebration of our collective power as women, as an embodiment of sisterhood, solidarity and the work being done to create structural change," Black-ish star Tracee Ellis Ross explained (via People). "We wear black for equity, parity and inclusion across all industries. We wear black to join with the voices of ALL women, particularly women of color, LGBTQX women, disabled women and all other women who have been disproportionately affected by sexual violence."
But, of course, women weren't the only stars to wear all black at the Golden Globes. Many men also donned black in support of their colleagues. "Because everyone keeps asking me... YES, the men WILL be standing in solidarity with women on this wearing-all-black movement to protest against gender inequality at this year's Golden Globes," celebrity stylist Ilaria Urbinanti shared on Instagram, noting, "Safe to say this may not be the right time to choose to be the odd man out here."
To give a voice to women in other industries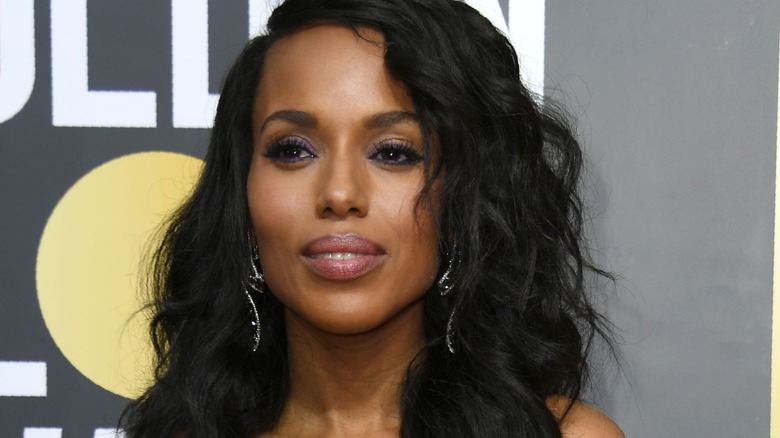 The sexual abuse that's being called out in Hollywood isn't an isolated issue — women across the country and around the world have faced sexual abuse and gender inequality for a long time. And, unfortunately, it's permeated nearly every career field imaginable, as evidenced by Time magazine. However, not all women have the platform to speak out against injustice in their industry. That's where celebrities like Reese Witherspoon, Rashida Jones, and Kerry Washington come in.
"Wondering #WhyWeWearBlack ?!?!?! Because we stand with YOU!" Washington, flocked by Witherspoon, Jones, and other actresses, told fans in an Instagram video. "We stand in solidarity. Together we can end harassment, discrimination & abuse. And create safety, inclusion, equity & parity! FOR ALL PEOPLE. ACROSS ALL INDUSTRIES."
Because Time's Up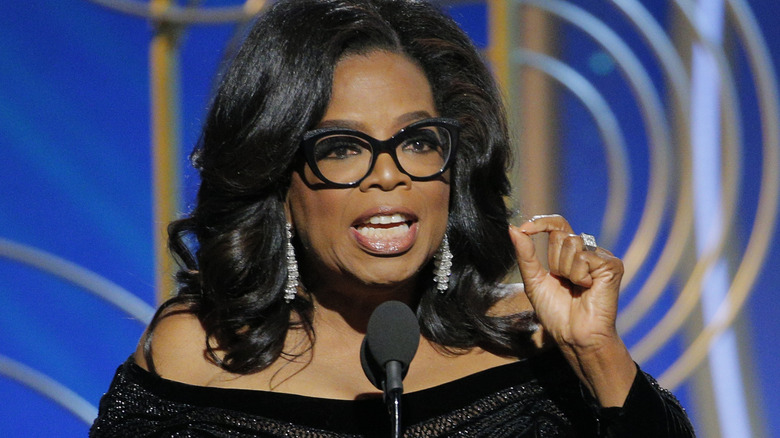 Getty Images
Women in Hollywood kicked off 2018 with a declaration: Time's up. Female leaders of the entertainment industry announced in an open letter that the time for change is now by creating the Time's Up initiative. Described as "a unified call for change from women in entertainment for women everywhere," the movement seeks to address "the systemic inequality and injustice in the workplace that have kept underrepresented groups from reaching their full potential."
"We have been siloed off from each other," Witherspoon told The New York Times. "We're finally hearing each other, and seeing each other, and now locking arms in solidarity with each other, and in solidarity for every woman who doesn't feel seen, to be finally heard."
But men and women didn't just wear black to bring attention to Time's Up. Several, such as James Franco and Chris Hemsworth, also secured Time's Up pins to their awards show ensembles (via HuffPost). And still, many others took the time to promote the cause in pre-show interviews and acceptance speeches (via Entertainment Weekly).
To raise money for victims of sexual harassment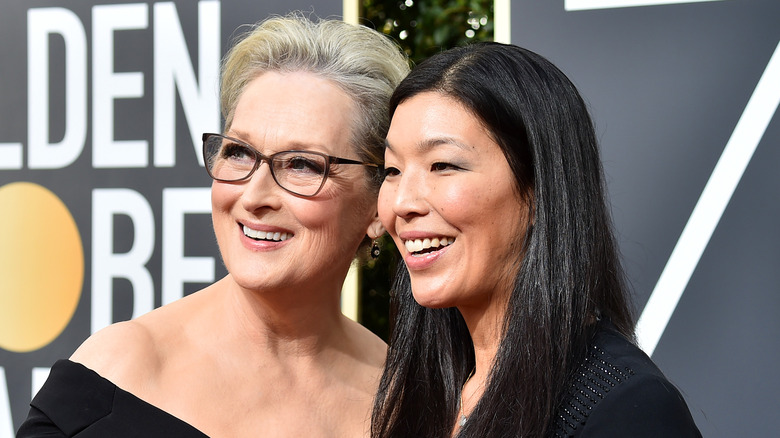 Getty Images
The Time's Up movement seeks to not only move society forward in a positive direction, but also to financially help women who've been victims of sexual abuse in the workplace. As such, the minds behind Time's Up have asked others to donate money so that those in less fortunate positions can seek legal council and fight against predators.
"It's time for change, and we must act now," the description of the movement's GoFundMe page reads. "TIME'S UP Legal Defense Fund will provide subsidized legal support to women and men who have experienced sexual harassment, assault, or abuse in the workplace and while in pursuit of their careers." Stars like Meryl Streep, Shonda Rhimes, and Taylor Swift are among the many who have donated to the fund, contributing to its $16 million goal.
To encourage reporters to ask more important questions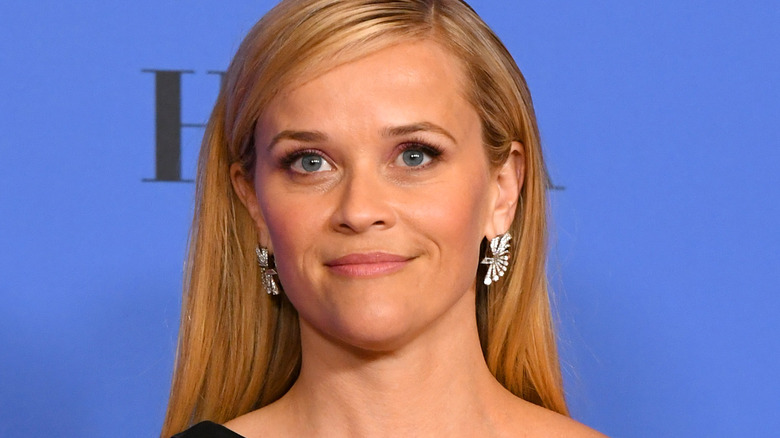 Far too often, women have been asked about their fashion choices rather than their accomplishments and ethics. And while most awards shows would be a safe place to ask about designer clothing, the 75th Annual Golden Globe Awards red carpet was no space for questions about couture. As noted by Page Six, media correspondents like E!'s Giuliana Rancic didn't ask, "Who are you wearing?" Instead, they asked, "Why are you wearing black?"
This move to ask women questions of substance has been a long time coming. In February 2015, the hashtag #AskHerMore pushed for journalists to ask women better questions during the Oscars. "This is a movement to say we're more than just our dresses," Reese Witherspoon explained at the time (via The Hollywood Reporter).
Will celebs continue to wear black for other award shows?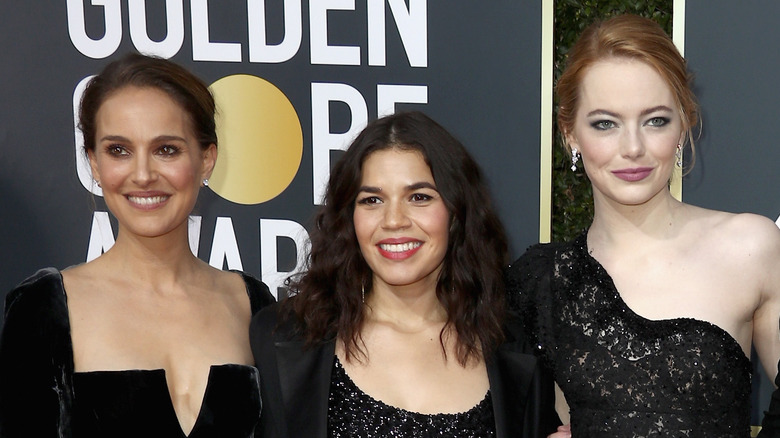 Getty Images
The Golden Globe Awards officially started the 2018 awards show season. And, while its inspiring speeches and show of solidarity undoubtedly made an impact, it begs the question: Will the rest of the year's awards shows follow suit? Will stars adopt all-black attire for the People's Choice Awards or the Grammys? Though nothing can be predicted, it seems likely that, no matter the color of celebrities' gowns or the pins on their lapels, the future of awards shows will forever be changed.