This Is How Much It Costs To Feed Your Wedding Guests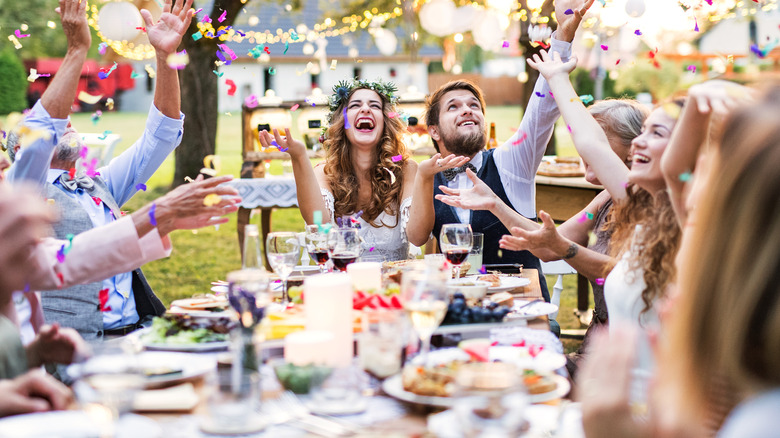 Halfpoint/Shutterstock
Planning a wedding requires a lot of work, especially when budgeting for just about every aspect of it. Rentals for the event will likely include tables, chairs, decor, venues, outfits, and perhaps most importantly, food and catering. Making sure your guests are well-fed during your wedding is key. According to The Knot 2021 Real Weddings Study, the average cost of a wedding is about $34,000. Budgeting for food will amount to about 30% of the overall wedding budget. In fact, 57% of couples say that food and beverage are one of the most important things to plan for.
The amount of guests, type of food, catering company, serving staff, and types of drinks are all things to consider for the food budget. Looking at the average cost of food for a wedding will simply serve as a guide for things to consider as there are many factors — this way, you have many options to make your wedding work for you.
The average cost of wedding catering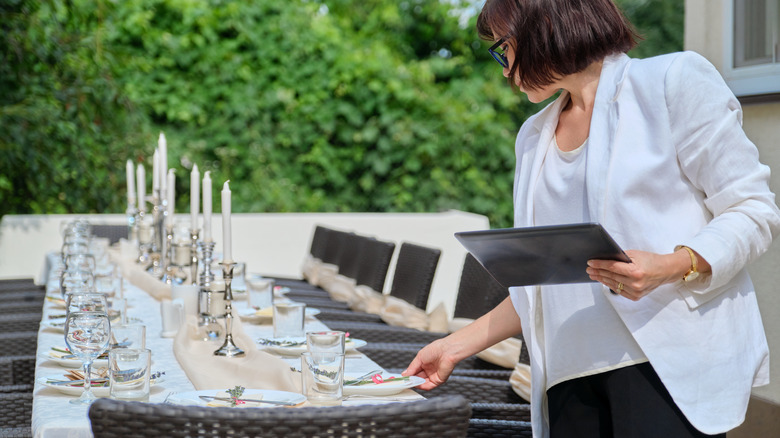 VH-studio/Shutterstock
Whether you choose your venue's catering or go outside of it, the cost is calculated on a "per person" basis. You can choose to serve by plate, where staff members serve the guests a plate of food at their seats; or buffet, where guests get up to serve themselves. This is why it's important to have a pretty solid idea of how many guests will be attending your wedding when figuring out your food options. For alcohol, think about whether you want a full open bar, a limited open bar, or just a signature cocktail. Maybe you won't serve alcohol at all, and that could also impact the budget (via Maroo).
The Knot 2021 Real Weddings Study found that couples spend about $75 per person on average for catering. Still, many couples consider this of utmost importance for their guest experience. Several factors can change this number for your own wedding. For example, plate servings can cost more than a buffet. A destination wedding ups the average cost versus doing it in your hometown. Choosing the time of year can also lessen or decrease the cost. And of course, guest count is the biggest factor (via The Knot).
How to save money on catering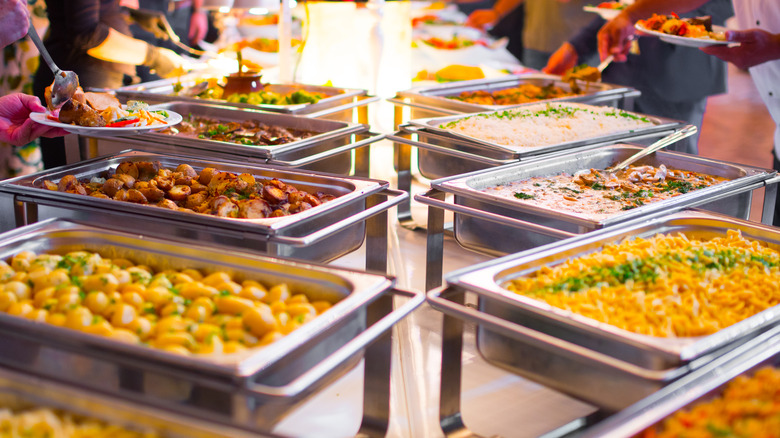 Andrei_Minsk/Shutterstock
Catering doesn't always have to be so big and scary when it comes to the cost. There are several things you can do on your big day to save money with food. Look for the discounts or special offers where you can. Jeremy Michalski from Cutting Edge Catering tells WeddingWire that a good way to find deals is through wedding shows and expos. Many catering companies will have special promotions exclusively for the show, and booking on the spot (or a couple days after) can guarantee you the deal.
When choosing your food, opt for a buffet style dinner with budget-friendly foods such as chicken, pork, or turkey to further cut down on the cost. "There is nothing wrong with a traditional dinner of chicken, potatoes, and vegetables. Just focus on hiring a caterer with well-cooked, flavorful food; so even a simple menu will impress your guests," events director for Savory Cuisines Catering, Emily Stellick, tells WeddingWire.
According to TheStreet, choosing the less expensive foods can save you up to 25% on dining costs. You can also consider having your wedding on a weekday, particularly avoiding Saturday, to cut down on the cost of your overall wedding, which then trickles down to the food budget. Other ways to save money can include having a small guest count, limiting alcohol, or moving the budget around in other parts of the total wedding cost.