The Powerful Meaning Behind Loretta Lynn's Last Album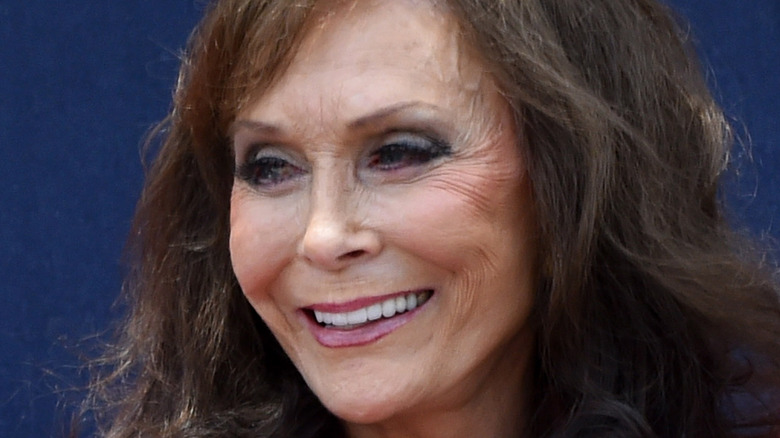 Rick Diamond/Getty Images
Following country legend Loretta Lynn's death on October 4, 2022, her fans and country music lovers have been reflecting on her legacy. Lynn's career started in the humblest of ways when her husband Oliver "Doolittle" Lynn bought her a guitar after listening to her sing to their children (via History). After that, she started to sing professionally, performing locally for a few years before recording her first single, "I'm A Honky Tonk Girl," in 1960. The song instantly became a hit and set Lynn on the path to becoming one of the most recognized voices in country music.
Throughout her career, Lynn recorded just over 50 studio albums (via her official site), with her latest release being in 2021. From her debut in 1960, the singer released a record every year — even sometimes twice a year — until 1983. Then her albums became more sporadic, only releasing one in the 1990s. From the turn of the millennium, she'd put out eight records, her last being "Still Woman Enough," released last year. Its lead single, which the album takes its name from, features Reba McEntire and Carrie Underwood. It was written by Lynn and her daughter Patsy Lynn Russell
Loretta Lynn's last album featured some of her most recognized songs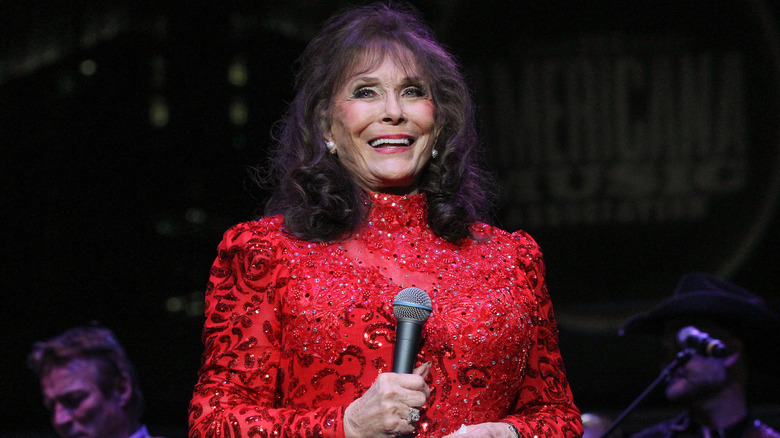 Terry Wyatt/Getty Images
As written on Loretta Lynn's official site, her last album "shows us that all these years later, Loretta still has what it takes to wow her fans... she's still woman enough." Lynn was 88 years old when recording "Still Woman Enough," which found its roots in her book of the same name published in 2002 (via The Boot). But, as her daughter, Patsy Lynn Russell, told The Boot, the country star was "way smarter than all of us" as she managed to bridge the gap between her 1966 hit "You Ain't Woman Enough To Take My Man" and the lead single of her 2021 album.
"My mom saw the broader picture, that this is really about girlfriends standing together, 'cause we're still woman enough, and the struggles — we're woman enough to go through those," Russell said. "I think that's part of Loretta Lynn's genius, is knowing these moments, and those moments are on a broader base."
The record also included reimaginings of some of Lynn's most recognizable songs, including "Coal Miner's Daughter" and "Honky Tonk Girl."
The country star had another album up her sleeve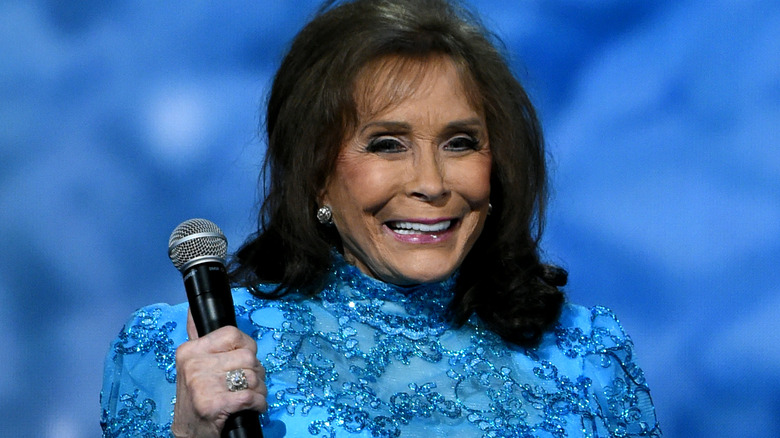 Rick Diamond/Getty Images
Before Loretta Lynn's death, the singer planned to release more music as part of her five-album contract with Sony Legacy (via Saving Country Music). Over the past decade, she's released four of those records, the first being "Full Circle" in 2016, which was nominated for a Grammy (via Forbes). Each album was produced by her daughter, Patsy Lynn Russell, and John Carter Cash (via her official site).
Throughout her career, her songs centered around her experiences as a woman, whether in the industry or outside it, as a mother and wife. "When I would write a song, I would write about my life and what was going around me right at the time, how I was feeling, how some of the other girls were feeling out there, so I tried to write for all of us," she told The Boot.
Looking back on her career during an interview with CBC, Lynn summarised that she always focused on recording for women. "I didn't record for men," she said. "I fought for the women and I recorded for the women."