The Truth About Loretta Lynn's Friendship With Dolly Parton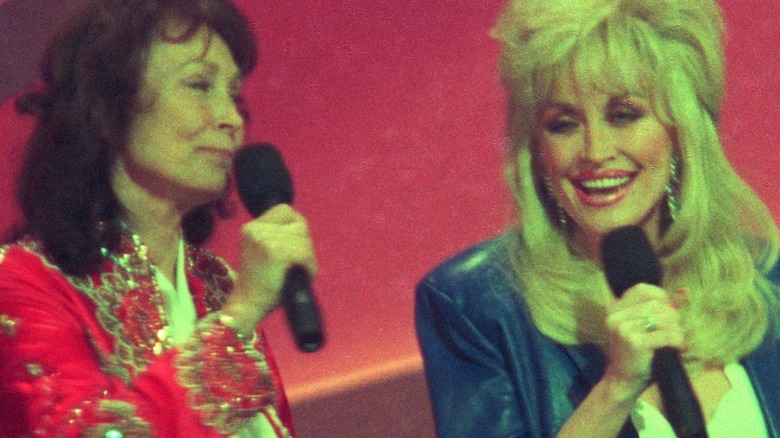 MediaPunch/Backgrid
As tributes pour in for the late Loretta Lynn, her contemporaries like Carrie Underwood, Reba McEntire, and Miranda Lambert have been paying their respects. Sissy Spacek, who portrayed Lynn in the 1980 film "Coal Miner's Daughter," also shared her memories of the singer, whom she considered a close friend. "The world lost a magnificent human being," she said in a statement to Deadline. "Loretta Lynn was a great artist, a strong and resilient country music pioneer and a precious friend."
Spacek and Lynn remained close during and after the film's production, with the singer picking the actress to play her in the first place. Another close friend of Lynn's was Dolly Parton. She too paid tribute to her friend on Instagram, issuing a statement in which she called the country star her sister and friend. "We've been like sisters all the years we've been in Nashville and she was a wonderful human being, wonderful talent, and had millions of fans and I was one of them," she wrote. "I miss her dearly as we all will." But how did Lynn and Parton first cross paths?
Dolly Parton and Loretta Lynn relied on each other in the 1960s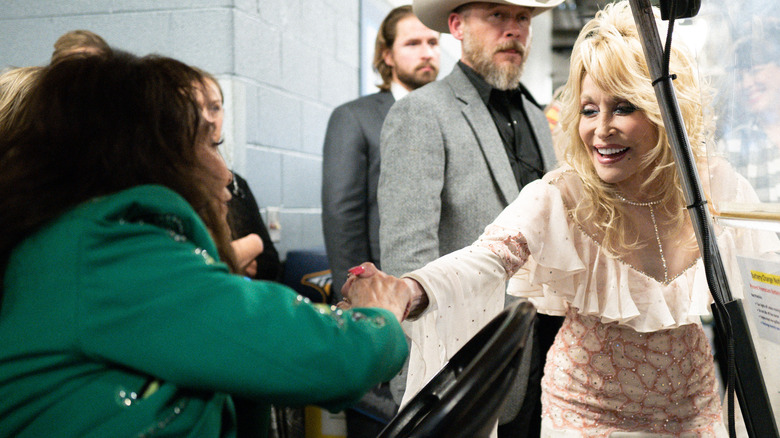 Robby Klein/Getty Images
Loretta Lynn and Dolly Parton met in the 1960s as up-and-coming artists in the country sphere. As she wrote in the foreword for Lynn's 2020 book "Me & Patsy Kickin' Up Dust" (via Google Books), they got to know each other "because we were both girl singers, so to speak, on two of the biggest-ever syndicated country music shows." They relied on each other for support during their appearances on "The Wilburn Brothers Show" and The Porter Wagoner Show."
As Parton recalled, she felt like they could lean on each other when nerves were high. "I think we could both smile with each other and say, 'Hey, girl, we're doin' all right, ain't we?!" Both singers were "very proud" of themselves for "being able to withstand all that we did and just stand up there with the best of them," especially since country music was still male-dominated at the time.
The path they paved enabled more women to become country icons and provided a strong support network between them. Lynn was immensely proud and happy of Parton writing the foreword, sharing on Facebook that she loved the addition. The two regularly shared posts of each other on social media, congratulating milestones like Parton's 50 years as a member of the Grand Ole Opry. "I love her music and I will always love her," Lynn wrote on Twitter.
They formed a supergroup with Tammy Wynette in 1993
In the foreword of Loretta Lynn's "Me & Patsy Kickin' Up Dust" (per Google Books), Dolly Parton also wrote of friendship and how "there's nothing like someone knowing exactly who you are, who you were, who you want to be." Like Lynn and Patsy Cline, Parton shares a similar close friendship with her best friend Judy Ogle, as she noted in the book.
Parton also used the foreword as an opportunity to write about how inspirational Lynn was to her, as well as Cline. "There is not a person in the music industry who does not feel like [they] blazed a trail for the rest of us to follow." Revealing that her favorite song of Lynn's is "Coal Miner's Daughter," Parton added that "everybody loves a story song, and I think Loretta is the true storyteller."
Aside from supporting each other in books and on social media, Parton and Lynn sang a medley of Lynn's songs in the 1980s. In 1993, they collaborated on an album with Tammy Wynette called "Honky Tonk Angels" (via Southern Living). The record featured songs like "Silver Threads and Golden Needles" and "Lovesick Blues" — the latter also featuring Cline.