Kerri Medders And Karen Lam Talk Bring It On: Cheer Or Die - Exclusive Interview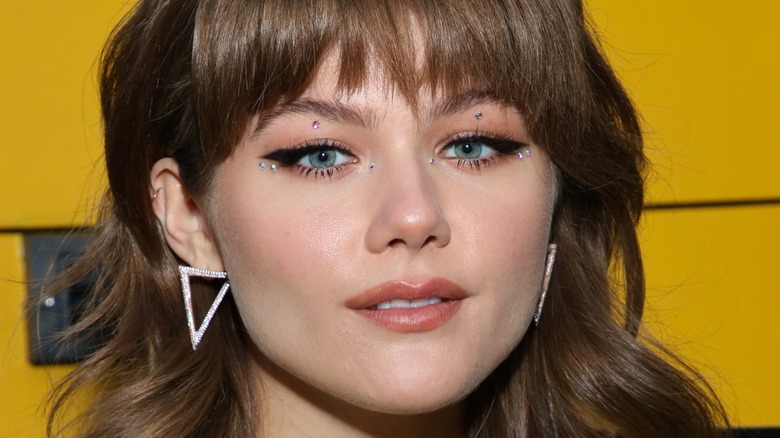 Robin L Marshall/Getty Images
Halloween is upon us, and there's one particular slasher film coming to SYFY that you won't want to miss. "Bring It On: Cheer or Die" is the seventh installment in the popular cheerleading series, but it's the franchise's first horror movie. While "Bring It On" fans might be surprised to see the franchise swerve into horror, "Cheer or Die" retains all of the hilarious moments and fun choreography of its predecessors while incorporating serial killer vibes.
In the fun horror flick, Kerri Medders plays cheerleader Abby, who joins her squad in an abandoned school to rehearse some potentially risky stunts ahead of an upcoming competition. However, the rehearsal goes off the rails when cheerleaders start going missing one by one. Is there a murderer stalking the team? Medders is joined by Missi Pyle, who plays the school's principal, while Tiera Skovbye plays fellow cheerleader McKayla.
The List sat down with the lead in "Bring It On: Cheer or Die," Kerri Medders, and the film's director, Karen Lam, to find out what makes the latest movie in the cheerleading franchise so special.
Making the first Bring It On horror movie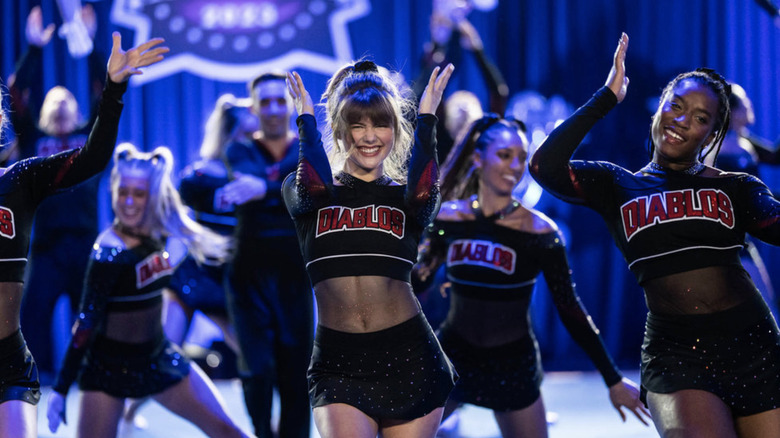 David Bukach/SYFY
"Bring It On: Cheer or Die" is such a fun movie, and I did not expect there to ever be a horror installment in the franchise. Were you both "Bring It On" fans before you signed on, and do you have any favorite installments?
Kerri Medders: I'm very OG. I love Kirsten Dunst, and I always loved [the original "Bring It On"]. It was so energetic and lively, and the fact that I got to be a part of that essence was really cool.
Karen Lam: Embarrassingly, I'm a horror nut and I had never heard of "Bring It On," so I'm embarrassed about it. But I couldn't believe how smart [the first movie] was and how funny. Throughout ["Bring It On: Cheer or Die"], I kept trying to go back to wherever I could add an Easter egg. It was important to me to pay homage to that. Again, the franchise went so far with it, but I kept wanting to go back to the roots of what it actually felt like for me.
Kerri, you have such an exciting role in this film. What drew you to your character?
Medders: Oh my gosh, I love Abby. I feel like she's a lot of me, and I incorporated a lot of my awkwardness into it, especially when she's trying to get everyone's attention and no one is seeing her for her. But I love the eagerness and the excitement she has toward the team, and that's me in my life — very much like, "Let's do it again." I love her arc. Her arc is really cool.
Choreographing the cheers and the kills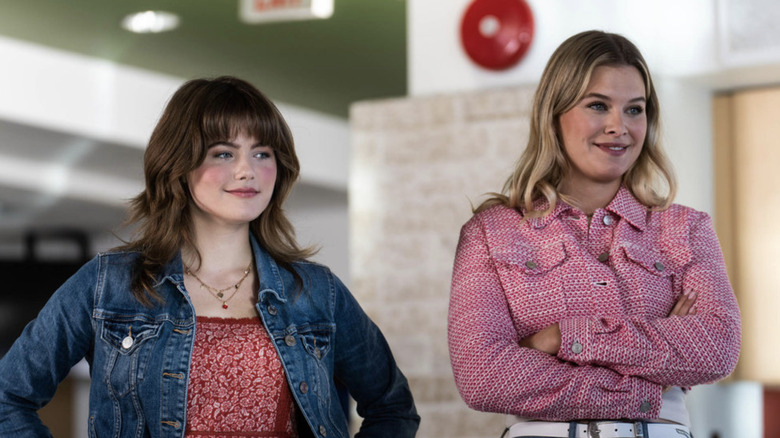 David Bukach/SYFY
There was a lot of choreography in the movie, both with the cheers and with the kills. What was it like combining all of that choreography to make a slasher? 
Lam: We very much wanted to make sure that the kills were what the cheerleaders could do, so I wanted to make sure that the kills and the cheers were symbiotic. We worked with Tony Gonzalez, who's one of the best choreographers I have ever come in contact with. We were also working with our stunt coordinator, Kristen Sawatzky. We'd ask, "How are they going to do this with the cheer skills that they've got?" That was important to us all the way through.
Of course, it helped that [the entire cast was] coordinated, and I envy people who are coordinated. It's amazing ... Not only could you do the cheer stuff, but you could also do the fighting sequences, and that was huge.
Medders: It was so much fun. I'm not going to lie. I'm such a horror fan, and the fact that I got to do all of those stunts but also be a cheerleader at the same time — I was like, "This is so cool." I've honestly never cheered in my life until this film, and I was like, "Stunts and cheer, this is so much fun, I'm learning so much."
It looked like the cast had a good time on set, and it must have been fun to make a horror comedy. Do you have any favorite memories from making this movie?
Lam: Of our four weeks of shooting, three weeks were night shoots. We were doing 5:00 a.m. to 7:00 a.m. [shoots], so there were a lot of 4:00 a.m. starts — where your brain is no longer [working]. You're just going through the motions and you're trying to stay conscious. The cast were always doing something, including some TikTok dances and stuff. They were constantly practicing but also doing sit-ups and TikTok dances in between scenes. That's what I remember.
Medders: I definitely wasn't doing the TikTok dances. I remember everyone else doing it. I was the watcher. I was like, "Wow, this is so Abby of me." My favorite part was when we were on set and it would be late into the night, and all of a sudden, we started bursting out laughing. You could hear us, right before a scene — we'd be making all these crazy jokes that if you heard them in regular life, it would not be crazy or anything. But it was funny. Then we would go into our scene and be super serious, like, "Oh my gosh, there's a killer!"
'Fangirling' over Missi Pyle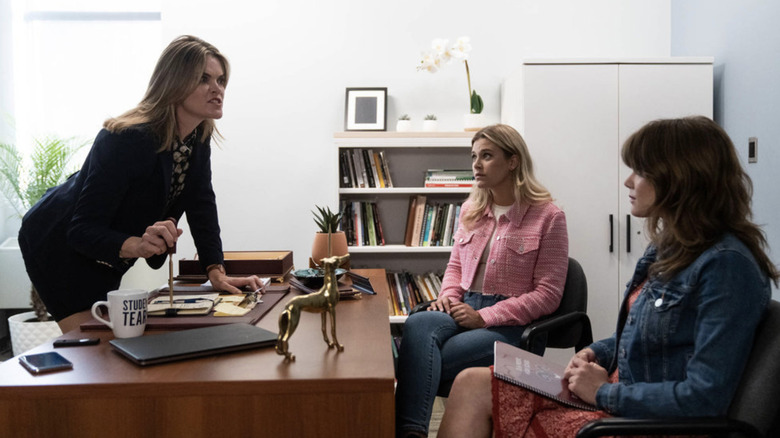 David Bukach/SYFY
Missi Pyle is so funny in this movie as the school principal. What was it like working with her?
Medders: I love her. She is such a ball of energy. Getting to work with her, I was fangirling a little bit because I was definitely a fan of "Charlie and the Chocolate Factory" growing up. She's lovely.
Lam: She's so tall! She's very tall and funny and gracious. One of the most amazing things, especially as a director working with a star, is that you're worried that they're not going to want to get into those dirty places. She was not self-conscious. Here's a beautiful woman who is not afraid. You can put her in weird angles. I had "A Clockwork Orange" angles going up her, and she wasn't self-conscious. She's like, "You need me to scream, you need me to make these faces, I'm good with it." Again, that's such a trust thing. I'm really grateful, and she's lovely and funny, so that helps.
There are so many installments in the "Bring It On" franchise. Now that it's gone in a horror direction, might there be more scary movies in the franchise? How do you both feel about the idea of possibly making more of these in the future?
Lam: I would love to do another horror installment of it. But if they go Christmas, I'm out. Sorry, I can't.
Medders: Right? The whole Diablo squad doing Christmas — that would be ...
Lam: Yeah, with their ugly sweaters. That is the bridge too far for me. If the franchise wants to go there, that's awesome, but for me, that's really off-brand.
Medders: A "Krampus" vibe.
I do love Christmas horror movies — that could be a compromise.
Lam: That I could manage. If they're being tormented by Krampus, I'm there. But if it's literally a rom-com and Abby's going to fall in love, I'm not comfortable with that part.
Finding the fun in horror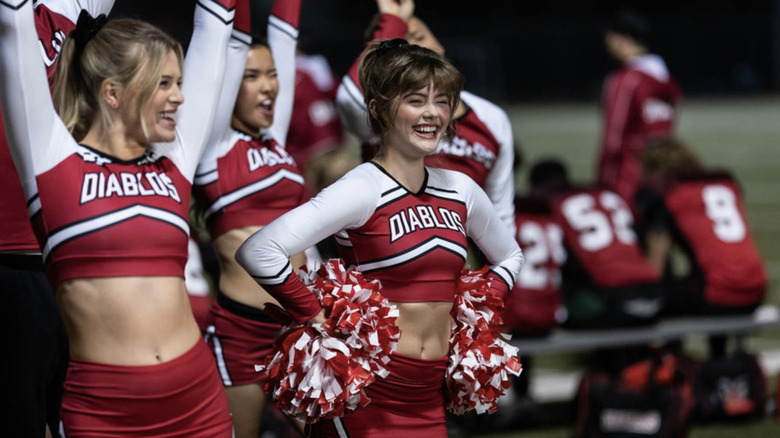 David Bukach/SYFY
Karen, you direct a lot of horror movies. What drew you to the horror genre?
Lam: It's because I don't like people to like me all that much. I do, but it's not important to me to actually have that. Horror is fun because not only do you get to be experimental, you don't have to shoot it in the same way. I love doing stunts and doing the blood sequences, and I love thinking of creepy, dark things, and I love the suspense.
I've always been that girl. Not being a witch has been a failure in my whole life. I don't actually have superpowers; I can't float. I can't hex anyone. This is the consolation prize, my career. I also love female revenge — that's a huge component of what it is. It's not just kills, but if I can actually have female revenge as part of it, that's my driving force.
Do you both have favorite horror movies?
Medders: "Ready or Not" by Tyler Gillett and Matt Bettinelli-Olpin. I love that film so much. I remember watching it right before I did this film, and I was inspired. It's so gory and it's so good. I love it. I'm geeking out over that film. It's my comfort film.
Lam: I love Asian horror. Takashi Miike's "Audition" has always been a favorite. I think it's a comedy — no one else thinks it is a comedy. You know when she's on the phone and she's waiting for the phone to ring, and then you see this burlap sack behind her, and all of a sudden the bag twitches and she smiles? I'm like, "I know you, I get you." That's where I am.
You're the person cackling in the cinema at all the scary moments when everyone else is terrified. I relate to that.
Medders: I'm not going to lie, during our shooting, Karen would start laughing at the most interesting times, like [during] the violence. I was like, "That's so fun, I get you."
Lam: That was one of the most challenging things of doing a "Bring It On" crossover, because it's still PG-13. We had to be careful about how much violence and how much blood we could actually show. It forced us all to be a lot more creative. You can't lean into the violence or lean into the gore the way we normally do. We had to do a lot of things clean. Then it's like, "How much blood?" It's like, "Release the kraken" — how much blood can you actually release at this point? It could never be a lot of blood, and we had to be smart about it the whole time. You can't rely on your tropes of hosing it down [with blood].
Making a slasher for Bring It On fans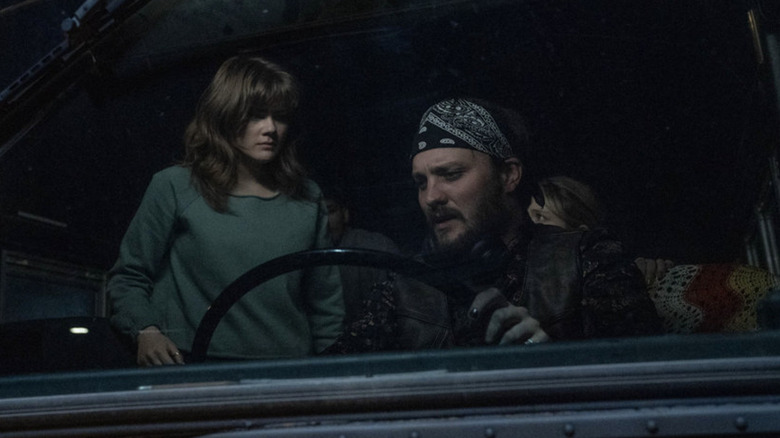 Allen Fraser/SYFY
Some fans of the "Bring It On" franchise might be scared about watching a horror movie. What advice would you give to apprehensive viewers?
Lam: We went for fun death and not for death-death. If you love the "Bring It On" franchise, we didn't decide to go full "Saw" on you. We didn't go "Serbian Tale." Basically, we went Halloween special compared to something really gory or violent.
Medders: I personally think that the deaths are fun. They make me giggle a little bit. Maybe that's me being a horror freak.
Did you have any problems filming this movie with the pandemic still going on?
Lam: I don't think Kerri ever saw my face, for one thing.
Medders: I didn't. It wasn't until the very end when we took a picture, and I was like, "Hold on a minute!"
Lam: The biggest challenge is probably the fact that we had to film in schools, where all the cheer competitions were. We had all these COVID protocols around that. I've never had so many people sticking Q-tips up my nose. Three months, it was a lot — it was pretty invasive. I found out I'm ticklish in my nose. Normally while directing, I could lean out and Kerri could see my face, and because I don't have Botox, I make faces. But in this case, I literally had to go over and talk to people to give instruction.
What's next for you both?
Lam: I'm actually back in the writing room. I'm working on a new television mini-series [and] television series ideas. I'm in development at this point.
Medders: I'm in a just-released psychological thriller called "Jane" on Creator+. I am going to be on "Quantum Leap" for an episode, and it is a Halloween one. Horror fans are going to love this episode. Watch out for that.
"Bring It On: Cheer Or Die" premieres on SYFY on October 8, 2022, at 9 p.m. ET.
This interview has been edited for clarity.