Why These Stars Didn't Wear Black To The Golden Globes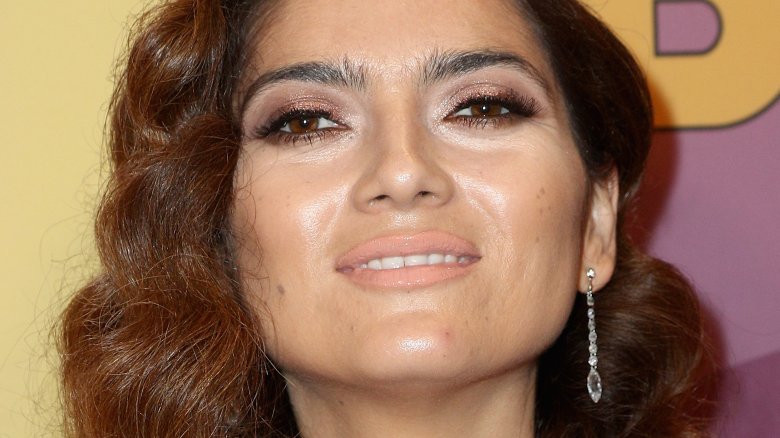 Getty Images
The Golden Globe Awards ceremony broadcast on January 7, 2018 was an historic occasion, not only for the Hollywood Foreign Press Association (HFPA), who celebrated its 75th gala honoring excellence in film and television, but also for activists seeking to highlight the #MeToo and #TimesUp movements.
Representing #MeToo, the "grassroots movement" she founded "over 10 years ago" with the intention of providing "empowerment through empathy to survivors of sexual abuse, assault, exploitation, and harassment in underprivileged communities who typically don't have access to rape crisis centers or counselors," was activist Tarana Burke. She attended the awards with actress Michelle Williams, who, like almost every other actor and actress in attendance, wore black in support of #TimesUp, which is described by Quartz as "a coalition of 300 Hollywood women — actors, directors, producers, writers, agents, and entertainment executives — who have also established a $13 million legal defense fund to provide support for women and men who've experienced sexual harassment or abuse in the workplace."
It was an evening of solidarity and defiance, with Oprah Winfrey tying it all together in a powerful call to action during her acceptance speech for the Cecil B. DeMille Award, honoring her lifetime achievements. In spite of all of that, three people chose not to participate, and wore decidedly not-black dresses. So, who were they, and why did they opt out?
Blanca Blanco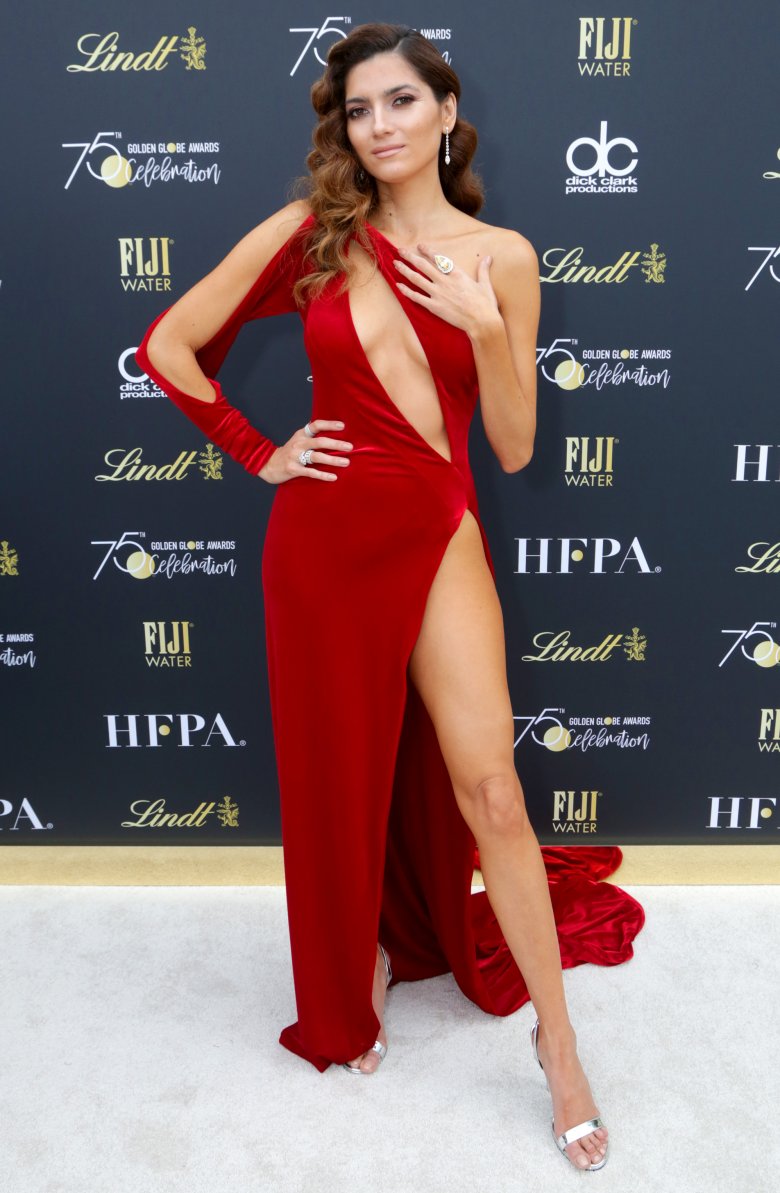 Getty Images
Not only did actress Blanca Blanco not wear black, she wore a form-fitting, fire engine red dress with a torso cut-out and a slit up to her hip. If there could have been an opposite approach to what the activists were attempting to achieve here — solidarity through a muted expression of fashion — this look was quite possibly it. But it's not what you think. Blanco wasn't making a statement of defiance against #TimeUp or #MeToo. She just really likes red. Seriously.
Speaking with Fox News, she said, "I love red. Wearing red does not mean I am against the movement. I applaud and stand by the courageous actresses that continue to break the cycle of abuse through their actions and fashion style choices. It is one of many factors leading women to a safer place because of their status. I am excited about the #TimesUp movement; true change is long overdue."
She also added that she does not feel that she deserves to be shamed for her choice in attire, saying, "It hurts my feelings, but I guess it's part of being in our industry. We have people who appreciate you and others that don't. The designer Atria Couture did an amazing job with my dress and I appreciate them for dressing me."
Barbara Meier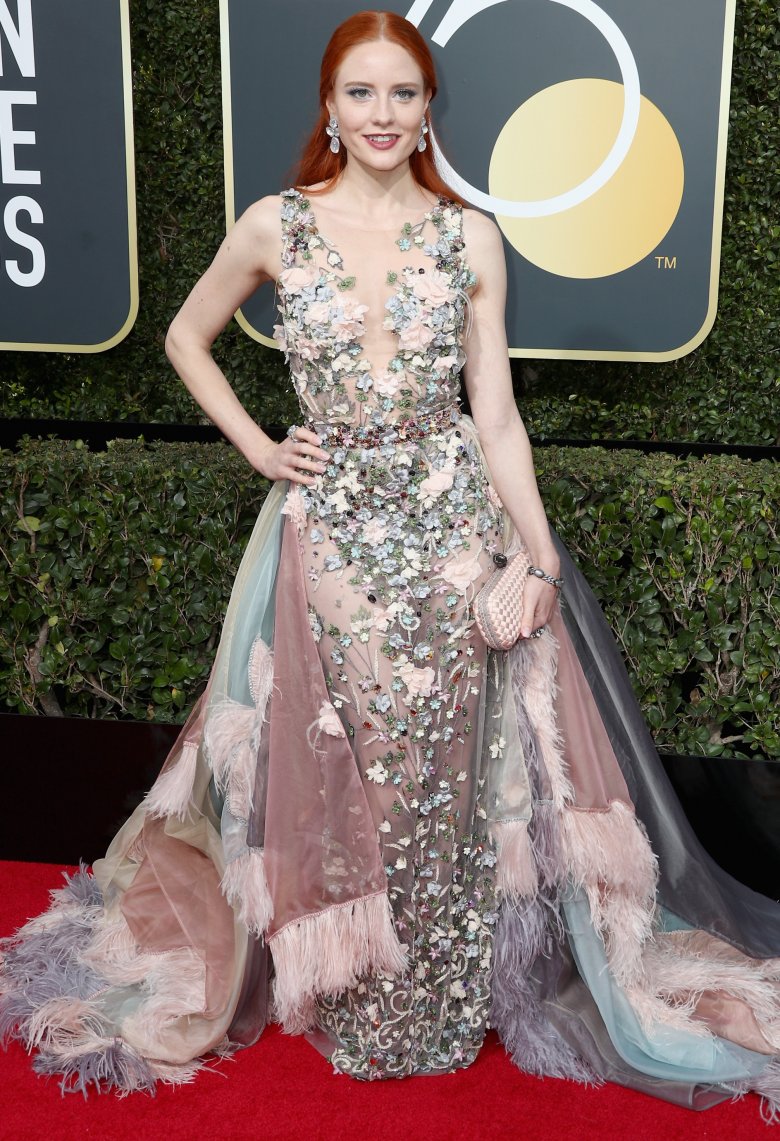 Getty Images
German actress Barbara Meier also eschewed the black, and opted for a multi-colored, partially sheer, pastel floral gown. In an echo of Blanco's statement, she too claims to still be a supporter #TimesUp. In a long Instagram caption posted the night of the Globes, Meier wrote that she feels that expressing herself through fashion is also an integral part of fighting for women's rights. "We women should be radiant, colorful and sparkling. As it is in our nature! This symbolizes in my eyes our freedom and new strength," Meier wrote.
She continued, "A lot of women will wear black tonight to support the time's up movement. I think this is a great and extremely important initiative! Nevertheless I decided to wear a colorful dress tonight. If we want to be the golden globes of the strong women who stand up for their rights, I think, it's the wrong way not to wear any sexy clothes anymore or let people take away our joy of showing our personality through fashion."
Meher Tatna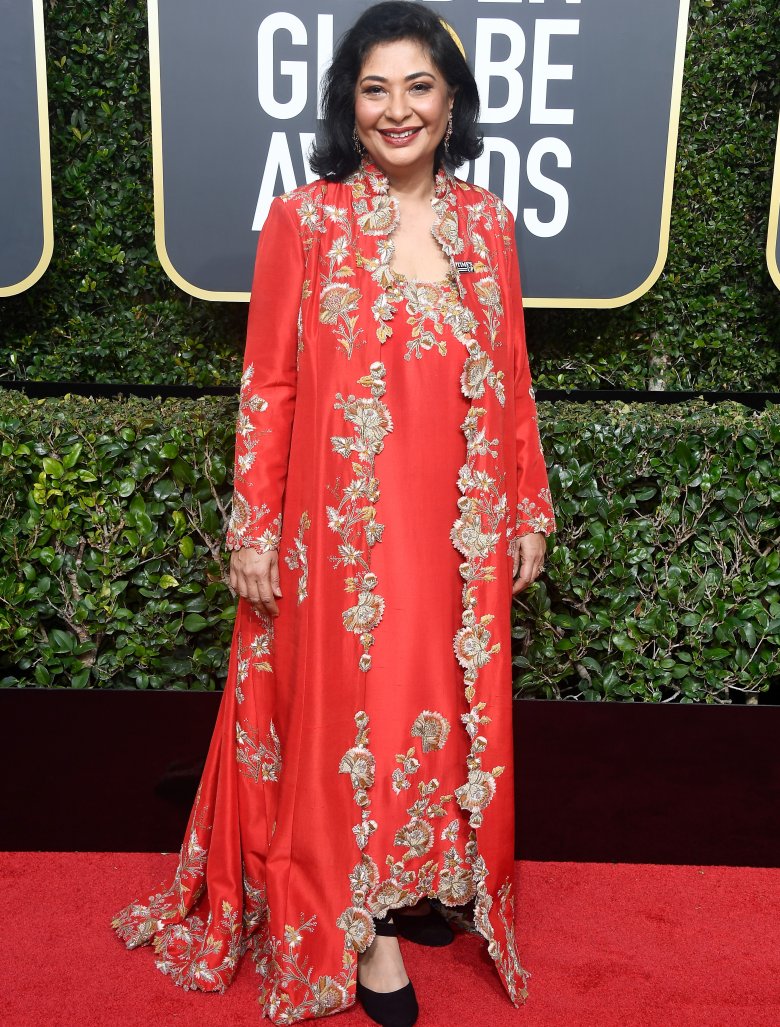 Getty Images
Meher Tatna was also among those who opted for a more colorful outfit during the HFPA's biggest night of the year, and perhaps she had the most understandable reason: she's the president of the HFPA.
Speaking with Entertainment Tonight, Tatna, who was born in Mumbai, explained that her choice of a red floral gown was cultural, and that she'd chosen it "a couple of months ago" with her mother, who still lives in India. "When you have a celebration, you don't wear black," Tatna explained, adding, "So she would be appalled if I were to [have] worn black. And so this is, for my mom."
But she was quick to voice her support for the movements being represented, saying, "I do have my Time's Up button, so [I'm] standing in solidarity with all these other women. The HFPA is 60 percent women, we'll have our stories. We are also journalists, so anybody who expresses themselves, especially on this topic, we are in solidarity with." Tatna also said that she believes the industry is due for a change, and that she's even had her own "experiences" with harassment, although outside of the entertainment industry. "And now I'm glad that people have found their voices and they speak for me as well," she added.
No drama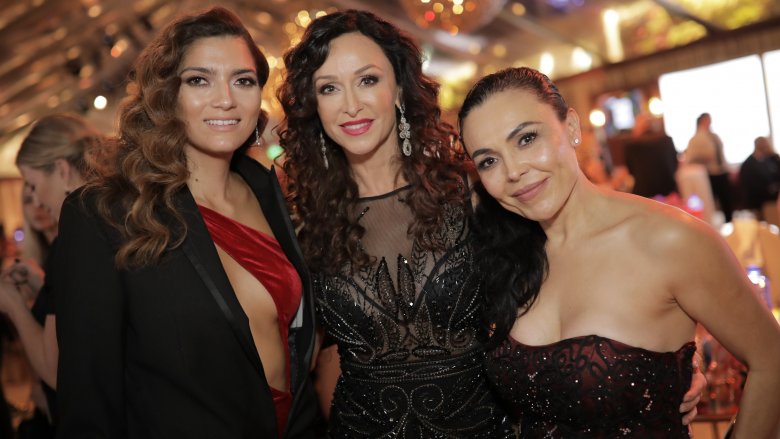 Getty Images
So there you have it — a cultural difference, and two women who similarly felt that self-expression through fashion is also an important feminist rite of passage that should not be diminished or shamed. It would be tough to argue that any of them had bad reasons for not taking part.
And not only that, but #MeToo and #TimesUp seek not only to expose the shameful cover-up of systemic sexual harassment and abuse, but also to encourage solidarity and a more open society in which women are free to have their voices be heard and accepted. That said, it's likely that the contrarian viewpoints of the these three women are welcome in the overall conversation.